Business professor presented UIW Cardinal Impact Award
December 8, 2016
Earl Harmsen honored at Office of Admissions event
San Antonio – H-E-B School of Business and Administration professor Earl Harmsen was presented with the 2016 Cardinal Impact Award – an honor given by the UIW Office of Admissions.
The Cardinal Impact Award is presented to a member of the UIW community who goes above and beyond to welcome prospective families to the university. This is the inaugural year for the award.
Professor Harmsen was presented the award on Tuesday, Dec. 6 at a Counselor Holiday Showcase, hosted by the Office of Admissions. The event welcomed guidance counselors, advisors and educators to campus.
The following are quotes from members of the Office of Admissions selection committee on why they chose Professor Harmsen for the honor.
"Professor Harmsen always has a joyful attitude when talking to students. He infuses excitement into a subject that most would shy away from: Business Statistics."
"Earl is always the first professor to say 'Of course!' when the Admissions team needs a faculty representative at an event or speaking engagement with families."
"Earl exemplifies the adage: everyone is on the admissions team at UIW."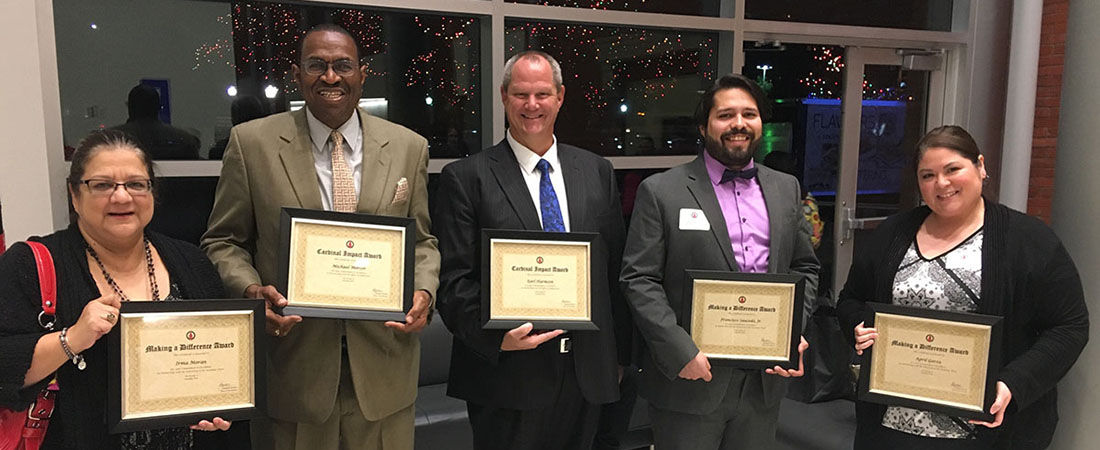 Several other members of the UIW community were honored at the event, including Mr. Michael Mercer, senior instructor of communication arts, who also received the Cardinal Impact Award. Additionally, the 2016 Making a Difference Award was presented to:
April Garza, Guidance Counselor, Incarnate Word HS
Irma Moran, Guidance Counselor, Sidney Lanier HS (UIW alumnus)
Francisco Saucedo, Advisor, Northwest Vista College