Vouloir, c'est pouvoir! HEBSBA Announces Business Plan Competition Winners
February 5, 2015
(Feb. 5, 2015) "Vouloir, c'est pouvoir," – to will is to be able. Translate this French proverb to English and the meaning is a familiar one – where there's a will, there's a way. For international business major, student-athlete and French national, Clementine Kauffman, the will to succeed in business became fruitful as she was selected as the 2015 winner of the Business Plan Competition presented by the H-E-B School of Business & Administration (HEBSBA) on Wednesday, Jan. 28.
After four months of strategy, three revisions and one final product, Kauffman was presented with a $2,000 check for her business plan "Roll-Out," a third-party provider of foam rollers and massage sticks geared towards athlete rehabilitation. Kauffman theorized an online store that would provide 24/7 purchasing ability to consumers across France, though she has bigger aspirations for the business to stretch the European Union.
According to Kauffman's research, the French market provides a comfortable niche; no other online stores specialize in the two products. "Although these specific [foam rollers and massage sticks] are commonly used amongst athletes in the United States, they're relatively unknown in France," explained Kauffman. After Kauffman's dissection of the market, she focused on a comprehensive validation of her business plan including examining international tariffs, customer privacy strategies, and delivery channels. Kauffman has also solidified a backer to invest the necessary start-up funds, which, with the help of some quantitative easing from her newly earned capital, won't be as high as forecasted.
The business plan competition began four months ago with the students attending workshops on business planning and financials. They formulated relevant strategies, refined their ideas and provided their own market research. The competitors delivered verbal and written proposals to judging panels composed of both faculty and local entrepreneurs. "This was a practice in practical application," remarked competition administrator and Associate Professor of Marketing Dr. Scott Roberts. "The final proposals are great examples of how 'dry' classroom theories can become exciting, personal, and even profitable."
Kauffman wasn't the only winner to experience the rigor of the competition. Team Digital Society, comprised of students Jonathan Aur, Joshua Sanchez and Cesar Valdez, took second place for their idea of a two-fold donation collection service that employs the underprivileged and provides an additional arm for charity organizations to reach donors. Digital Society would be an app-based service that hires the homeless in Bexar County as "Independent Contractors" to solicit donors through the use of a tablet; donors can use the tablet to specify their preferred cause and donation amount. Aur described the geneses of the proposal: "I was talking to my neighbor about an encounter she had with a homeless individual and it made me think about how we're becoming less of a cash carrying society. I saw an opportunity to help both situations and that's how we developed Digital Society." Through an inspiration of service, Digital Society sought to give those less fortunate a second chance and infuse charitable causes with good business sense.
The Business Plan Competition is based on one of the many missions of the HEBSBA: to create globally and socially aware leaders who are prepared to compete and succeed in business. Dr. Forrest Aven, dean of the HEBSBA, believes students should see no limitations to their success when participating in an academic extracurricular: "Writing a business plan is how Michael Dell finalized his ideas for Dell Computers, maybe you could be the next Michael Dell." For the competitors, the competition offered an opportunity to showcase their ability to transfer classroom-based knowledge into real-world business scenarios. "It was great getting to compete with all these other entrepreneurs," said Aur. "Everybody has a unique perspective, we're all in the same classes, learning from the same professors, but it branches out into so much more."
For more information on the Business Plan Competition or to get involved in this year's competition contact Dr. Scott Roberts.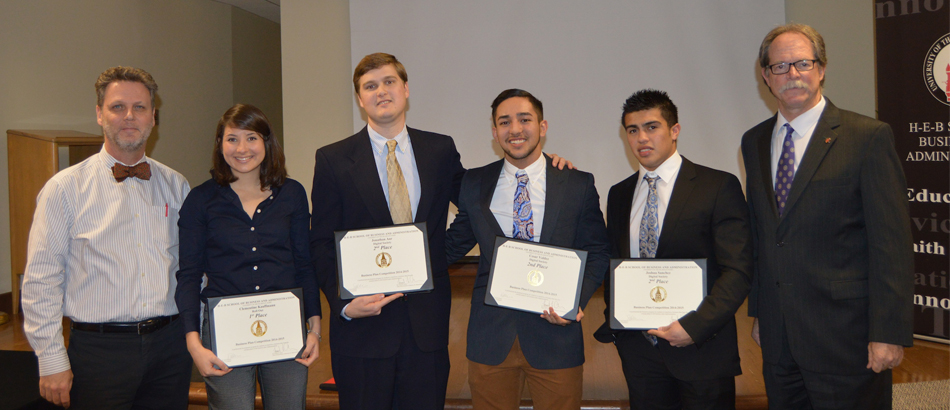 Pictured L to R: Dr. Scott Roberts, Clementine Kauffman, Jonathan Aur, Joshua Sanchez, Cesar Valdez and Dr. Forrest Aven