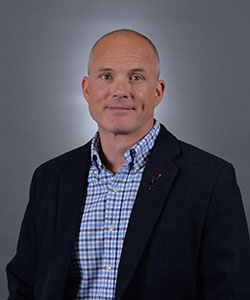 Dr. Raymond Blanton is an Assistant Professor in the Department of Communication Arts in the School of Media and Design where he teaches undergraduate courses in Public Speaking, Business and Professional Communication, and Media Ethics (among others) and graduate courses such as Introduction to Graduate Studies and Research and Writing Techniques (among others).
Born and raised in north-central Texas, he attended Texas Christian University (TCU) on a music scholarship and is a first-generation graduate. After graduation, he married a fellow TCU Horned Frog (Hope) and moved to Philadelphia where he earned a Master of Divinity degree with an emphasis in Counseling from Westminster Theological Seminary.
After working in Student Affairs and Higher Education Administration at Colby-Sawyer College in New Hampshire, Drexel University in University City, Philadelphia and the University of Texas at Austin, he returned to school and earned a doctorate in Communication in the area of Rhetoric and Public Culture at the University of Nebraska-Lincoln. Before coming to UIW, he was a Resident Assistant Professor at Creighton University in Omaha, Nebraska. 
His research includes publications on nostalgia, the American civil rights movement and the work of Martin Luther King, Jr., loyalty and leadership, millennials, Stranger Things, religion/rhetoric, indigenous identity and the films of Taylor Sheridan, American folk music, student travel, public memory and the Lincoln Memorial, and race and film, among others. He has been recognized both for his teaching and research at various institutions. 
He spends most of his time with his wife and three children (Cana, Thea, and Nias) traveling, watching movies and shows, listening and playing music, going to the drive-in, staying fit, cooking, brewing homemade kombucha, baking homemade sourdough, curating his media room poster art walls and dreaming up adventures with friends. 
B.S. Texas Christian University
M.Div. Westminster Theological Seminary
Ph.D. The University of Nebraska - Lincoln
Undergraduate Courses:
Business and Professional Communication 

Media Ethics

Themes: Justice and Dystopia

Organizational Development and Leadership

Public Speaking

Themes: Stan Lee, Marvel Comics, Stranger Things and Civil Rights

Radio Practicum 

Senior Portfolio
Graduate Courses:
Introduction to Graduate Studies 

Themes: Nostalgia, Civil Rights/Mass Incarceration and Music

Nationalism: Soldiers, Spies and Popular Culture 

Research and Writing

Themes: Race in America, Adolescence, Friendship/Community, and Food and Culture

Strategic Communication 

Urban Communication
Study Abroad Courses: Heidelberg Germany - European Study Center:
Art of Story

Organizational Communication: Purpose, Engagement and Change