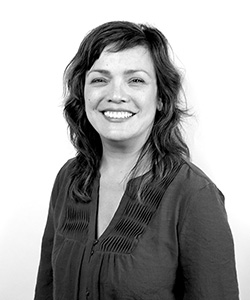 Doris Palmeros is an award-winning graphic designer. She is originally from Laredo, Texas. Her design experience began in NYC at Pushpin Studios, which lead to her own company TwinPop Design working on branding and licensing projects with high profile clients like Dr. Seuss and Mattel. Upon coming home to Texas, Doris spent her first years back working at Giles Design producing award-winning work.
Since arriving at UIW in 2013, her main pursuit is inspiring her students, and helping her clients express their vision. Her design background fuels her interest in research areas that involve Social Design and Design Advocacy. This stemming from her belief that design has the power to make social impact and encourages her students to find their voice and become good social design citizens.
MFA | Graphic Design | Tyler School of Art at Temple University | Pennsylvania | 1997
BFA | Graphic Design | University of Texas at Austin | 1992
Associate Professor | 2019-Present
Assistant Professor | 2013-2019
University of the Incarnate Word | Graphic Design SMD | San Antonio, Texas
Faculty | 2012-2013
Adjunct faculty | 2010-2012
Art Institute of San Antonio | Graphic Design | San Antonio, Texas
Sole Proprietor/Graphic Designer | Doris Palmeros Design Studio | 2011-Present
Senior Graphic Designer and Art Direction | Giles Design, Inc | San Antonio, Texas | 2007-2011
Graphic Designer/Principal | TwinPop Design, LLC | New York, New York | 2001-2006
Senior Graphic Designer | Pushpin Group, Inc. | New York, New York | 1998-2001
Published work "Design a Vote!: Collective Design with Social Impact" in Design Principles and Practices Journal: The International Journal of Design Education, Common Ground Publishing, 2018.
Published article "Replacing the Hate with Design Advocacy" in Print Magazine, June 2018
Invited and presented "Must-Have Branding Lessons for Food Start Ups" at the SXSW Interactive Global Conference in 2016 and "Will Work for Food" at the San Antonio Pecha Kucha #13 at Blue Star in 2014
Multiple academic presentations and workshops include national conferences from UCDA (Madison, Wisconsin, Kean University, Youngstown State University) and the international conferences of Design Principles and Practices (Chicago; Rio de Janeiro, Brazil; Toronto Canada; Barcelona, Spain).
AIGA member since 2012
AIGA UIW Faculty Advisor since 2016
Award winning design featured in Logo Lounge, AIGA Texas Show, Communication Arts, and Print Magazine.