MSE hosts SKYWARN Weather Spotter Training
March 23, 2019
National Weather Service offers free course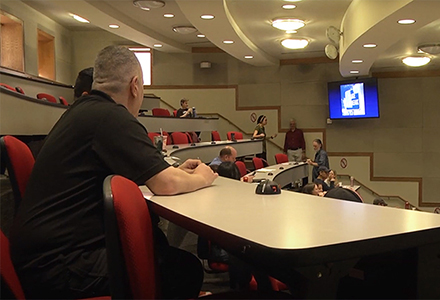 SAN ANTONIO – The School of Mathematics, Science, and Engineering (MSE) hosted a free training course offered by the National Weather Service for prospective weather watchers.
The SKYWARN Weather Spotter training took place Saturday, March 23 in the Bonilla Science Hall and was open to the public. Meteorologists conducted the training for basic and advanced storm spotting.
Every Spring, the National Weather Service sponsors severe weather spotter training classes for anyone interested. The NWS considers weather spotters an important part of their mission to bring the latest news to the public on severe or dangerous weather conditions.
Once a severe weather phenomenon is below the lowest scan of the radar, experts say they rely heavily on trained people on the ground to deliver an eye witness account of conditions. This is especially true in rural areas.
The NWS training session hosted by MSE allowed curious weather observers to be informed by experts on what to look for during a severe storm and where that information should be delivered.
Watch the report below from UIWtv to learn more about the SKYWARN event.