MiniGEMS teaches robotics with help from MSE students
August 2, 2019
Summer camp introduces middle school girls to engineering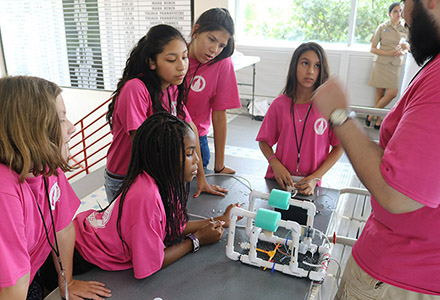 SAN ANTONIO – Middle school girls from around San Antonio put their robotics projects to the test to see how their creations performed at the end of the miniGEMS summer program, hosted by The School of Mathematics, Science and Engineering at UIW.
MiniGEMS (Girls in Engineering, Math and Science) is a free two-week engineering camp for middle school girls to introduce them to opportunities in STEAM (Science, Technology, Engineering, Art and Mathematics) through robotic projects, competitions, guest speakers and field trips.
One group of girls built aquatic robots and tested whether they would sink or swim in the UIW natatorium pool. Another group tested their land-based robots in the Bonilla Science Hall.
Now in its fifth year, the program has grown into four two-week camps that focus on everything from computer coding to the science of food preparation. This year, miniGEMS is expecting to host a record number of campers.
Almost 200 students from three area school districts (SAISD, Judson ISD and Southside ISD) attended over the course of the summer. This year, for the first time, the program includes high school students with a two-week megaGEMS camp.