Whether pioneering breakthroughs in the lab, providing up-to-the-minute coverage of severe weather or countless applications in between, alumni of the School of Mathematics, Science and Engineering excel in their various fields after graduation.
UIW Meteorology Graduates in the Eye of the Storm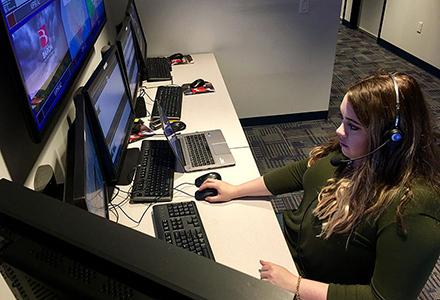 For many UIW alumni, the commitment to serve doesn't end at graduation. Alumni of the Department of Meteorology are in a unique position to assist and inform the public. When Hurricane Harvey was approaching U.S. soil in summer 2017, those skills were more critical than ever.
Weather graphics producer and meteorologist Carolina Jones (class of 2015) was at the Pennsylvania-based AccuWeather at all hours of the day and night before the storm hit. Mike Saenz (class of 2013) was working as a bilingual meteorologist at the Weather Channel, providing updated forecasts to the Spanish-speaking population. Read more of their stories below.
Carolina Jones, weather graphics producer and meteorologist for AccuWeather, was at the Pennsylvania-based station at all hours of the day and night before the storm hit. "We knew about a week out that it would make landfall in Texas and it was going to be significant," she said. "Everyone was saying it was going to be catastrophic. It was going to be really bad, something we had never seen."
It was personal for Jones, a 2015 graduate, whose friends and family are based in Texas. At work, she created graphics with her team that communicated urgent weather news, including inches of rain anticipated and potential tornado warnings. But, she was also checking in with Houston friends to ensure they had plans in place. "It was surreal," she said.
In times of approaching storms, when fear and panic are in danger of setting in, directness and accuracy are paramount. Meteorologists are charged with providing the best, most accurate, up-to-the-minute information and arming viewers with knowledge so they can make life-saving choices. In a way, they are broadcast's first responders.
She recalled the lessons from her former broadcast and meteorology professor Alex Garcia, who stressed clarity when communicating complicated scientific information.
"That was important for forecasting for Harvey, we needed to create graphics that were simple and easy to read, so people would know what was happening, and understand right away what they would need to be prepared," she said.
That's also a principle that alumnus Mike Saenz, weather producer and bilingual meteorologist for The Weather Channel, utilizes in his work.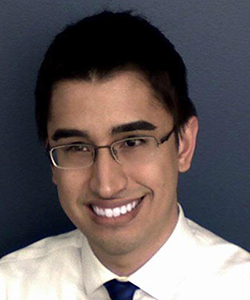 "I am the only bilingual meteorologist at The Weather Channel," said Saenz. "One of the things we have recently done is expand coverage to reach out to the audience in the Spanish-language community."
Some areas don't have bilingual meteorologists, he said, so providing clear forecasts in times of major weather events, is critical. Saenz, the former chief meteorologist at Telemundo in Oklahoma City, puts viewers' comprehension and safety at the forefront. Via graphics shared on the air and via social media, his messages are widespread. He often recalls the lessons of Dr. George Frederick, the UIW adjunct professor who taught him critical news techniques.
While weather science is at the core of what these meteorologists do, UIW's Mission also serves as a guiding tenet. "I never even realized how much attending UIW has changed my perspective of helping others," said Jones. "I think the community service we put in to earn our degree is so important because you learn to be selfless and have empathy. I try to always put myself in another person's shoes and this was the basis in creating a clear message for people preparing for Hurricane Harvey. I thought about what I would want to know if I was in the path."