Spooktacular Cybersecurity Event Returns to UIW for Cybersecurity Awareness Month
September 18, 2023
As the fall semester is now in full swing, we have some exciting news to share. October is Cybersecurity Awareness Month, and here at the University of the Incarnate Word (UIW), we're thrilled to bring back our annual Spooky Cybersecurity Event!
Date and Time: Tuesday, October 31 from 10 a.m. to 2 p.m.
Location: SEC Concourse
This event is a testament to the creativity and dedication of our students, as it is entirely student-led and organized. The driving force behind it includes students from the Computer Information Systems/Computer Security (CIS/CSEC) programs, the Women in Cybersecurity (WiCyS) group and the Crypto Cardinals student organization. We are also proud to announce partnerships with the GEMS, IEEE and SWE organizations, making this year's event bigger and better than ever.
Our students in the CIS/CSEC Orientation & Law/Ethics classes have been hard at work planning a series of engaging activities that revolve around a unique cardboard box theme, inspired by the global cardboard challenge. We also anticipate that participating students will be able to earn service hours for their involvement, as they actively raise awareness about the importance of cybersecurity not only on our campus but also within our local community. Don't miss it!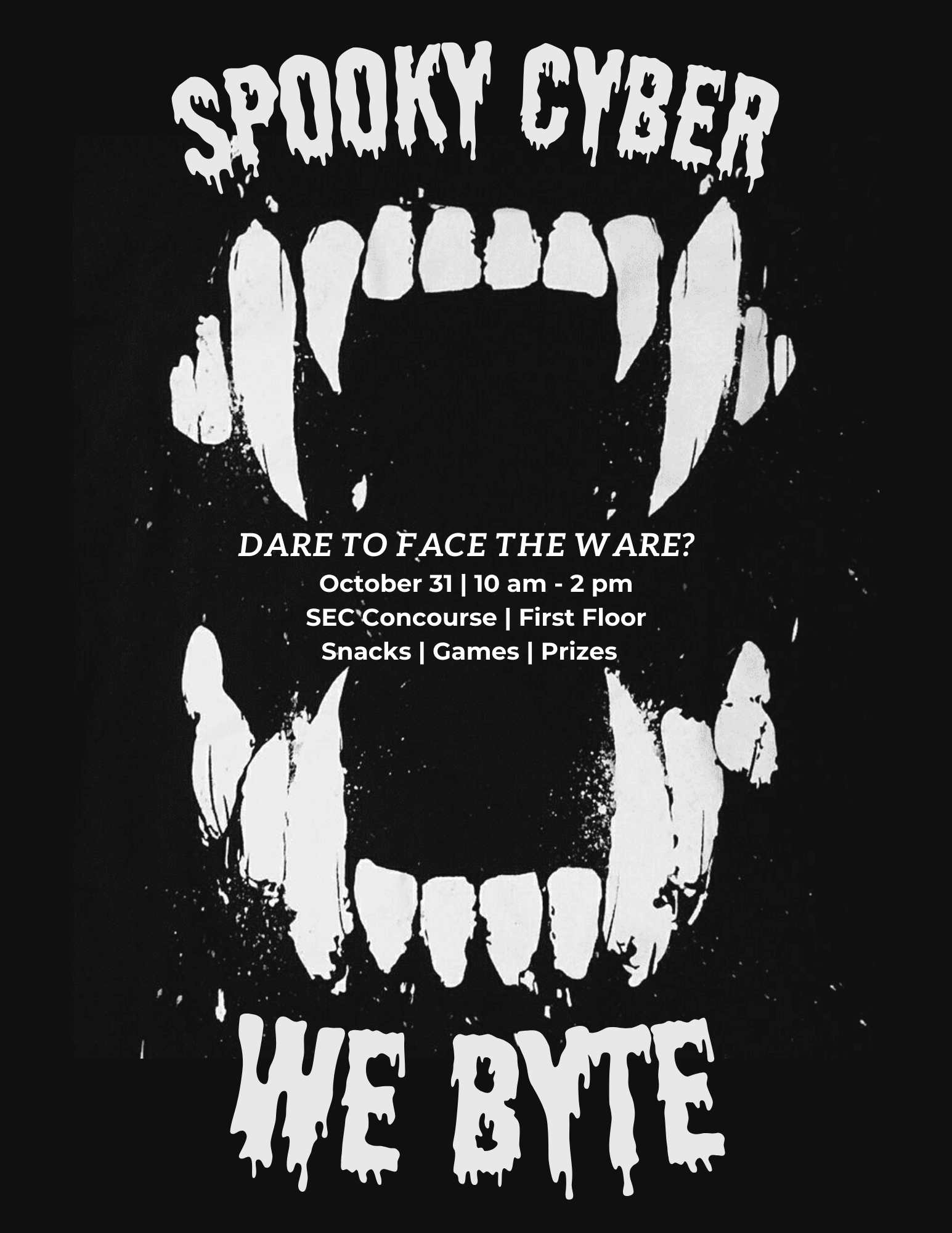 Here's a sneak peek at some of the spine-tingling activities that await you:
Cryptocurrency Cauldron Challenge: Design a cardboard cauldron with slots representing different types of cryptocurrency wallets. Test your knowledge by matching the cryptocurrency (represented by cardboard coins) with the correct wallet based on its characteristics and security features.

Haunted Password Graveyard: Venture into a cardboard graveyard scene with tombstones inscribed with encrypted passwords. Can you decipher the passwords using your encryption know-how to "release" the trapped spirits?

Zombie Phishing Escape: Beware the cardboard zombies adorned with phishing emails. Identify the phishing emails and save the day by removing them from the zombies to prevent a cyber outbreak.

Spooky QR Code Hunt: Embark on a scavenger hunt featuring Halloween-themed QR codes hidden throughout the area. Scan the QR codes to uncover clues related to cybersecurity challenges, such as distinguishing safe links from malicious ones.

Witch's Brew Firewall Maze: Navigate a cardboard maze resembling a witch's cauldron. Inside, face cardboard obstacles symbolizing different layers of a network firewall. Guide a "magic potion" through the maze while avoiding "curses" (malicious elements) and choosing only the secure paths.

Vampire Password Defense: Confront cardboard "vampires" with passwords written on them. Protect yourself from vampire attacks by selecting strong and secure passwords, then place them in a protective shield representing encryption.

Halloween Crypto-Castle Puzzle: Assemble a cardboard castle with various pieces symbolizing different aspects of cryptography (keys, locks, encryption methods). Solve the castle puzzle while discussing the importance of cryptography in cybersecurity.

Cybersecurity Cosplay: Dress up in cybersecurity-themed costumes and learn about their relevance to cybersecurity, from firewalls to antivirus software and encryption.

Phantom's Secure Network: Explore a cardboard haunted house with rooms representing components of a secure network. Navigate the house, solving puzzles in each room to reinforce your understanding of network security.

Wicked Ransomware Maze: Conquer a maze made of cardboard with ransomware-related challenges at different checkpoints. Navigate through the maze, avoiding ransomware traps and solve puzzles to decrypt locked paths.
We look forward to seeing you on October 31 for a day of spooky fun and cybersecurity enlightenment. Let's make this year's event the best one yet!