Congratulations on your retirement, Professor Herbers!
June 23, 2020
Retiring faculty named professor emerita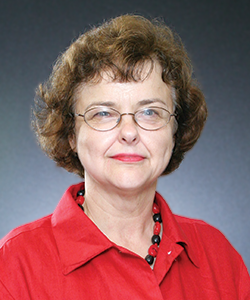 SAN ANTONIO –  The Dreeben School of Education congratulates Sharon Herbers, Ed.D., on her retirement this year after more than 15 years at the University of the Incarnate Word. She served as a professor for the Graduate Studies Department and received her official title of professor emerita.
During her career at UIW, Herbers taught adult learning, program development, educational gerontology, reflective practice, college environments and women's leadership in the civil rights movement.
She has received numerous honors and awards for her work including the 2015 UIW nominee for the Minnie Stevens Piper Award, 2016 Mission Continues Award, 2016-2017 Sr. Margaret Rose Palmer Award for Education, and 2018-2019 UIW Moody Professor Award. In addition to her awards, Dr. Herbers has contributed to scholarly publications.
"This semester has been memorable and not the way I would have chosen to wrap up 15 years of teaching at UIW. Yet, it is full circle for I came to UIW just weeks before Hurricane Katrina where I witnessed the crisis and the response," said Dr. Herbers. "As a nation and as a community, we go through cycles of turmoil and rebuilding. I feel so blessed to have benefited from the grounding of UIW in our Mission and the legacy of the CCVI. I am in awe and have a deep respect for Susan Hall and other DSE faculty who played significant roles in moving us to online formats within a week. We are a community of problem solvers."
Denise Staudt, Ed.D., dean of the Dreeben School of Education, praised Dr. Herber's excellence in teaching.
"Working with Sherry over these past years has enlightened me on how to collaborate effectively within the UIW context and community. She exemplifies a collaborative spirit and always has the mission front and center when we discussed difficult issues, worked on collaborative research projects and shared ideas about best practices in guiding students' learning and our growth. She will be missed," said Dr. Staudt.
When remembering Dr. Herbers's commitment to the UIW mission, Dr. Norman St. Clair, director of the Graduate Studies Program, shared a message of gratitude.
"The thing I will remember most about Dr. Herbers is the personal nature of her social justice research that influenced her professional and personal life. Throughout her tenure at UIW, she promoted inclusiveness and created an environment that supported all people," said Dr. St. Clair.
Dr. Herbers will continue to support doctoral students through the rest of the year by helping students complete their dissertation through committee work.
"It has been a privilege to be in the classroom with a rich and diverse group of students from Saudi Arabia, China, South Korea, Mexico, and many other nations. It has been a joy to work with faculty who are invested in social justice and finding new ways to move from thought to action. I am grateful for the support of my creative endeavors and teaching by Dean Staudt. I felt called to be here and I leave stronger because of you. Thank you for the many blessings and good wishes. Praised be the Incarnate Word," said Dr. Herbers.