Teacher Education Welcomes New Faculty: Dr. Mariannella D. Núñez
May 6, 2021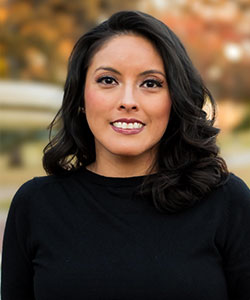 Mariannella Núñez, PhD, assistant professor, joined the Teacher Education Department at the Dreeben School of Education. She earned her Ph.D. in Reading Education from Texas Woman's University and specializes in bilingual and ESL education.
"It was a joy to find out that I would be coming back to my hometown as faculty with my esteemed colleagues in the Dreeben School of Education. I am looking forward to serving my community as an educator and resident," shared Dr. Núñez.
Dr. Núñez is an outstanding dissertation award recipient of the National Association for Bilingual Education. She presented "Collaborative presentation: Recognizing and Sustaining Latinx Indigenous Identities in Classrooms through Culturally Relevant Texts" at the 2021 NABE International Conference.
She recently co-published " Translingual Disciplinary Literacies: Equitable Language Environments to Support Literacy Engagement" in the International Literacy Association.
Dr. Núñez has taught in elementary bilingual and ESL settings for 10 years. Prior to coming to UIW, she was a graduate research associate with a grant working with adolescent newcomers in high schools. Her certifications include EC-6/4-8 Bilingual (Spanish) Generalist and K-12 Reading Specialist.