Meet our newest faculty member: Dr. Chunling Niu
September 2, 2021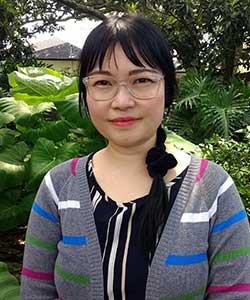 The Dreeben School of Education would like to welcome Chunling Niu, Ph.D., Ed.D., assistant professor of Education, as the newest faculty member in the Graduate Studies Department. She is teaching courses this fall in Qualitative Research Methods and Analysis, Program Evaluation Theories and Methods, Academic Writing for Research, Contemporary Issues in Higher Education and Contemporary International Issues.
Dr. Niu is a program evaluator and educational research methodologist specialized in causal inference approaches, performance assessment, classroom assessment, adaptive testing and tutoring, systematic evaluation of teacher education and teaching effectiveness as well as school reforms and improvement. Before earning her Ed.D., she focused her teaching and research on second language acquisition, ESL and cultural responsiveness in P-12 education.
When asked about her teaching philosophy, she said, "Learning without thinking is labor lost; thinking without learning is perilous," a quote by Confucius.
Her postdoctoral work and employment experiences highlighted the use of causal inference and mixed-method approaches in evaluating various state-level and/or federal-level educational and social work programs.
"I have always felt strongly motivated to improving the public awareness of and access to learning and applying various evaluation/measurement methods. As a professional program evaluator, I have been committed to empowering community members to increase their active roles in data collection and management, as well as program evaluation design development and refinement," said Dr. Niu.
"As a methodologist, I have co-led a peer-support organization called the Applied Psychometrics Society, offering free research and evaluations methods consultation services to researchers, evaluators, professionals and/or learners from various disciplines and fields."
Dr. Niu earned her Ph.D. in Quantitative and Psychometric Methods, specializing in psychometrics, assessment and measurement, and program evaluation, at the University of Kentucky and Ed.D. in Educational Leadership, specializing in educational assessment, program evaluation, and organizational leadership, at Western Kentucky University. She completed her B.A. in English Language and Literature and M.A. in Applied Linguistics at Guangdong Foreign Studies University. Her research interests include causal inference approaches in evaluation/research, mixed-methods evaluation/research, rater-mediated performance assessment, cognitive diagnosis, adaptive testing and tutoring, data mining and machine learning, and teacher education and teaching effectiveness.