Faculty Member Chairs National Intellectual Freedom Award Committee
October 14, 2021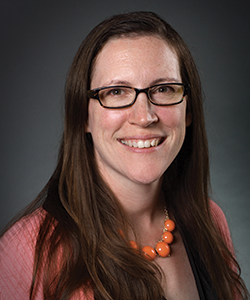 Ann D. David, PhD, associate professor of Teacher Education, chaired the 2021 Intellectual Freedom Award Committee of the National Council of Teachers of English (NCTE), a national organization devoted to improving the teaching and learning of English and the language arts at all levels of education. The Intellectual Freedom award is given to individuals and organizations who advance the cause of intellectual freedom.
"The committee and I appreciated reading nominations for this award, people who see the value in free speech, free press, and the right to read. When too often the news is filled stories of those seeking to limit intellectual freedom that being able to lift up people who are working for the community and young people is an honor," said Dr. David.
This year's awardees defended student journalists' First Amendment rights, wrote books that have change the lives of millions, and stood up for students' right to read. More information on the awardees can be found here. A virtual award ceremony to honor the award recipient and honorable mentions will be held on October 21 at 8 p.m. ET. All are welcome to attend the 2021 NCTE Awards by registering here.
"I have been involved with NCTE for over 20 years and it is my professional home. What draws me to the organization now goes back to its founding—organizing against exclusion in education and making education more equitable and accessible. As a member of the Standing Committee Against Censorship, I get to work with colleagues across the country supporting teachers facing censorship challenges. Classroom teachers face so many pressures in these pandemic times, yet they stay focused on students and their access to high-quality books."
Dr. David is a teacher educator who prepares students in the Teacher Education Program to teach in middle and high school. She is a teacher-consultant with the National Writing Project. She presents at national conferences, publishes in state and national journals, conducts professional development workshops for teachers, and is the co-director of the San Antonio Writing Project.