Dr. Sandra Guzman-Foster Named Moody Professor
April 23, 2021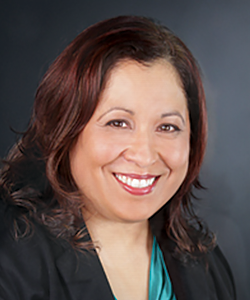 The Moody Professorship was established in 1971 at the University of the Incarnate Word and Our Lady of the Lake University through a grant made to the two institutions by the Moody Foundation. A faculty member is named Moody Professor from each institution and in turn delivers two public lectures. The awarding of the Moody Professorship reflects the level of scholarship attained by the recipient.
The UIW Moody Professor is traditionally a senior faculty member who is recognized for teaching excellence, scholarship, and community service. The Moody Professor delivers two public lectures, one at UIW, and one at OLLU. The Moody Professor also serves as the December Commencement speaker and carries the University Mace at all official functions. The UIW faculty have selected Dr. Sandra Guzman-Foster (Dreeben School of Education) as the UIW Moody Professor for 2021-2022.
Dr. Sandra L. Guzman-Foster is the Sister Theophane Power Endowed Chair and an associate professor in the Graduate Studies Department in the Dreeben School of Education. She currently serves on the editorial boards of the Journal of Trauma Studies in Education and the Curriculum and Teaching Dialogue Journal. Additionally, she serves as an executive board member of the SoL (Source of Light) Center at the University Presbyterian Church in San Antonio and is a member of the research and evaluation team for Compassionate San Antonio, a grassroots movement that promotes, supports and celebrates San Antonio's commitment to be a world-class compassionate city. Dr. Guzman Foster conducts research on topics related to the social, historical, philosophical, and political contexts of education such as critical thinking and critical pedagogy, the school to prison pipeline, social identities, and diversity, equity, and inclusion in education. She challenges her students to think critically and achieve more than they may think is possible and creates an environment where her students are both motivated to learn and are provided with the opportunity to learn. Dr. Guzman Foster emphasizes academic excellence and encourages her students to commit themselves to practices of lifelong learning and exhibits her own dedication to the same principle. Her goal is to prepare her students to live and work in a globally diverse world and to help them develop a critical lens, so they are able to analyze the world around them by applying what they have learned in class.