Alumnus Elected to the Division for Early Childhood of the Council for Exceptional Children Executive Board
January 28, 2021
Alumnus Elected to the Division for Early Childhood of the Council for Exceptional Children Executive Board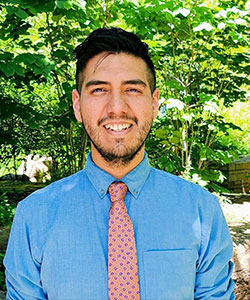 Teacher Education Alumnus Victor James Young, Ph.D., BCBA, was recently elected as a member at large for the Division for Early Childhood of the Council for Exceptional Children Executive Board. He received both his bachelor's and master's degrees in the Teacher Education Program at the University of the Incarnate Word Dreeben School of Education before completing his Ph.D. at the University of Texas at San Antonio.
"As a first-generation and Gates Millennium Scholar from the southside of San Antonio, I would have never thought that I would achieve an executive board position for a national organization. I am eager to collaborate with other professionals that seek to understand how structured institutions of learning can build relationships with families from low socioeconomic status (SES) and minority backgrounds, in order to support a student's holistic growth," said Dr. Young.
Dr. Stephanie Grote-Garcia, professor of Education, said, "I have known Dr. Young for 10 years. I first met him when he was an undergraduate student in our teacher education program and later, I had the opportunity to be on his dissertation committee. It has been a memorable journey watching Dr. Young progress from undergraduate, to doctorate, and now to executive board member. I look forward to seeing all the wonderful things that Dr. Young accomplishes as an educator, advocate, and researcher."
Dr. Victor James Young '12 BA '15 MAT is a Board Certified Behavior Analyst (BCBA). His research focuses on early childhood special education, language acquisition for children with speech delays and behavior management strategies. He has written grants to promote outdoor play by bringing indoor learning into outdoor learning spaces. Dr. Young will be working on the advocacy of child-centered conversations within inclusive settings through the New Jersey Coalition for Inclusive Education. The project is a grant funded by the New Jersey Department of Education.