2021 Doctoral Graduate: Deborah Poole Shares Her Story
May 28, 2021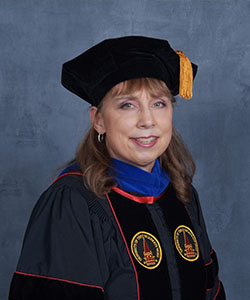 Deborah Poole '21 PhD graduated from the Graduate Studies Program at the Dreeben School of Education where she earned a concentration in Organizational Leadership and Evaluation. Learn more about Deborah and her perseverance to pursue a doctoral degree.
Why did you choose to study at UIW?
My goal was to move into teaching and so I chose a teaching university for my PhD to provide opportunities to be a teaching assistant and gain experience. I also needed one that had a schedule in the evenings so I could work full-time.
How has UIW contributed to your success?
Historically, I have a high level of self-efficacy and can find ways around any challenges. However, having the level of support that UIW has created for their students has made the difference between getting through a big challenge or a small obstacle. I ran into some difficulties several times, and I tried to solve it myself. I've always been a big believer in following the rules, but I asked for help. I didn't know what a difference it could make actually having an advocate for me. I have attended three other schools and NONE of them championed me as a student. They were all set up with hoops you have to jump through and it's your problem if you can't do it. UIW has hoops to go through of course, but you have advisors and professors and administrators and other students all there with you. And changing things if they need to be changed. I feel very blessed to have had such a team of people all rooting for me throughout my journey. Dr. Norman St. Clair needs special acknowledgement for being an outstanding champion.
What's your favorite memory of UIW? 
There are a multitude of memories but my favorite one and saddest one is graduating.
What advice do you have for current students?
Never ever give up on yourself. If you started, you can finish. It's not if you will succeed but when. And if all of it seems impossible reach out to your professor, advisor, your director, your dean and ask for help to find a way you can succeed. You are never on your journey alone. As long as you're willing to stay open and growing you will never fail—either at UIW or in life.
Is there anything else you would like to share?
My personal life changed dramatically from the time I started at UIW to now. In 2014 when I began, I was working full-time as a regional director with 60 hours plus work weeks, traveling, a husband and three sons. My goal was to get a PhD to become an organizational development consultant and teacher where I had more control over my hours. My veteran husband was diagnosed with early onset Alzheimer's dementia which rapidly progressed. In 2016, he could no longer be home by himself and at 54 years of age he was too young to be happy in adult "day care". Realizing while we had 30 years together then, there were not many years left, I made the decision to stop working and use my 401k savings so we could spend the remaining time together and I continued to go to UIW. I was fortunate to have my husband's military educational benefits to pay for school. One of my sons got married. My husband was hospitalized for 3 weeks last year and recovered. I recently became a grandmother. My nephew got married. Life goes on. This year will be our 35th wedding anniversary. My husband is now completely dependent and doesn't know who any of us are, but I know he remembers in his heart. These last few years I realized I was getting my PhD for ME, to improve myself, to stretch, to grow, to challenge my mind and focus on something outside of being focused on my husband. I don't know what the future will bring but I do have control over ME and developing myself is the best thing I could have done to get through the last few years. I am actually sad that it has ended. So, I will find new ways to grow and learn.