UIW Alumna Presents at UIW Teacher Network Series
December 2, 2020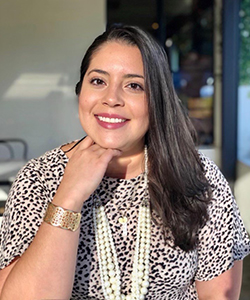 In a series hosted by the UIW Teacher Network, educators across San Antonio joined together in a virtual workshop to listen to UIW Alumna Adriana Moreno '13 BA present "Can We Talk? Using Current Events to Create Meaningful Conversations Around Critical Thinking."
Moreno spoke to area teachers, students, faculty and community members as part of a 2020-2021 Professional Development Series titled Social Justice in Action: Empowering Educators and Their Communities, which uses Teaching Tolerance's social justice standards of identity, diversity, justice and action.
"We invited Adriana to lead this discussion because she undertook a purposeful exploration of controversial topics. At a time when many choose to avoid controversy or to focus on their own opinions, Adriana sought to learn more about the issues from various perspectives. This is a great example of respecting others, practicing social justice, and living our University's mission," said Elda Martinez, Ed.D., professor and director of Teacher Education.
In this session, Moreno identified strategies to help students analyze how messages are presented in the media to reflect social and cultural views. Participants learned how to help students synthesize and make logical connections between ideas and details in texts that reflect a range of viewpoints on the same topic and support those findings with textual evidence.
"Now more than ever, it is vital for educators to have a meaningful conversation with their students around current events in our society," said Moreno. "These conversations will equip students with the tools they need to respectfully express their beliefs and ideas with others."
"The UIW Teacher Network has hosted several amazing workshops in the past, however this professional development workshop series is timely because it addresses various social justice issues that are occurring within our country," said Brandi Coleman, induction coordinator of the UIW Teacher Network. "We were excited to have one of our very own UIW Teacher Network alumna contribute engaging and empowering lessons that educators can utilize in their classrooms."
The UIW Teacher Network is an induction program in the Dreeben School of Education at the University of the Incarnate Word designed to serve as a bridge between teacher preparation and the teaching profession offering support to UIW graduates with an emphasis on the first three years of teaching.