Faculty Presents at Early Childhood Education Conference
November 4, 2020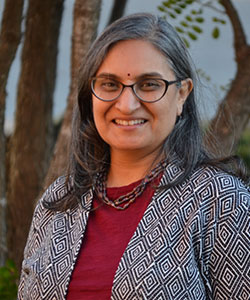 Deepti Kharod, Ph.D., assistant professor of Teacher Education at the Dreeben School of Education, presented "Play and Nature in Times of Stress" at the 2020 Texas Association for the Education of Young Children (TXAEYC) 56th Annual Conference on Oct. 13 with co-presenters John A. Sutterby, Ph.D., associate professor at UTSA and Linda Charlton, M.Ed., nature school lead educator of Cibolo Nature School.
The annual TXAEYC conference brings together teachers, faculty and students across Texas to learn about the latest early childhood education research and trends. The theme this year was "Diversity in Action: The Power of the Multicultural Community."
"According to Frost & Sutterby (2017), nature-based and outdoor play are critical for young children's growth and development across all domains," said Dr. Kharod. "This presentation focused on the benefits of risky play (including emotional and physical risk-taking) and sensory play (water, mud, shaving cream and even sunshine)."
"Participants learned about play in a nature preschool and family gardening program. Presenters shared research and resources with educators to develop and support their own nature-based learning opportunities and to share information with parents," she said.
Dr. Kharod's teaching focuses on early childhood and elementary education. Her research involves young children's relationships with nature including the role of play and caring. Dr. Kharod serves as co-editor of Early Years, the official journal of TXAEYC. She also serves as the UIW chapter counselor for Kappa Delta Pi, an international education honor society. Prior to teaching pre-service teachers, Dr. Kharod taught elementary students for 10 years in San Antonio, Texas.