Faculty member presents at National Council of Teachers of English
November 19, 2020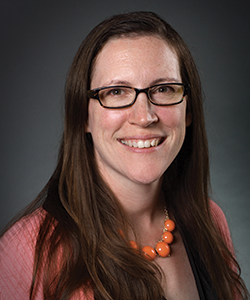 Ann D. David, Ph.D., associate professor of Teacher Education in the Dreeben School of Education, co-presented "Changing Instruction, Changing Culture: One District's Emerging Model for Moving to Student-Centered Writing Instruction" at the virtual 2020 National Council of Teachers of English Annual Convention.
The National Council of Teachers of English (NCTE) is a professional organization with more than 100 years of experience working to improve the teaching and learning of English and the language arts at all levels of education. NCTE holds an annual convention for members to access the latest research, teaching strategies, expertise and resources.
The panel presentation shared the experiences of four people engaged in decision making around writing instruction in a single district over the past six years. Dr. David co-presented with Dr. Susan Diaz, executive director of secondary education; Allison Dunsmore, English language arts teacher; and Heathcliff Lopez, English language arts teacher, all from North East ISD in San Antonio, Texas.
"Most people can agree that people who write well are bound to succeed in school, college and the workplace. Over the last six years, I have worked with North East ISD to create professional development for K-12 teachers to support student-centered writing instruction across the district," said Dr. David. "By writing for real purposes and audiences about topics they are interested in, students become proficient and passionate writers. North East ISD serves 64,000 students and the opportunity to be in dialogue with the district and their teachers in this work has been an incredible privilege. I'm excited to share their story at NCTE this year."
Dr. David is a teacher educator who prepares students in the Teacher Education Program to teach in middle and high school. She is a teacher-consultant with the National Writing Project. She presents at national conferences, conducts professional development workshops for teachers and is the co-director of the San Antonio Writing Project. Dr. David was nominated for the Presidential Teaching Award and received the Faculty Endowment Research Award at UIW. She is the curriculum coordinator for Called and Consecrated: An online curriculum exploring women religious. The project was funded by the Conrad N. Hilton Foundation which seeks to increase the visibility of Catholic women religious.