Faculty Member Presents at Literacy Research Association Conference
December 9, 2020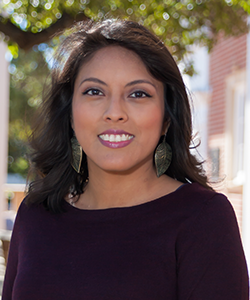 Mariannella Nuñez, Ph.D., visiting assistant professor of Teacher Education at the Dreeben School of Education, presented "Applying a transcaring literacy framework: A case study of a Guatemalan indigenous youth's translingual practices," held on Dec. 2 at the 70th Literacy Research Association Annual Conference. The Literacy Research Association is a professional organization of scholars committed to advancing literacy theory, research and practice.
The virtual presentation covered a secondary setting that continues to face challenges to achieve educational equity as public figures set barriers that trickle into the K-12 classroom. Educators have found ways to take steps to empower students through fostering language acquisition, academic success and identity development.
"Much of the research about translanguaging pedagogy has focused on elementary schools, given bilingual program requirements, access to materials and people who share the same L1 are more accessible than in secondary schools. I hope to add a different perspective to the bilingual and secondary education community, and to recent research on immigrant adolescents who use translanguaging pedagogy," said Dr. Nuñez.
She also co-published "Descubriendo los recursos culturales de estudiantes indígenas Latinoamericanos a través de la literatura [Discovering the cultural resources of Latin American indigenous students through literature]" (Duran, Y., Mojica, Z., & Stewart, M.) in the Journal of Latinos in Education.
Dr. Nuñez earned her Ph.D. in Reading Education from Texas Woman's University and specialized in bilingual and ESL education. She has taught in elementary bilingual and ESL settings for 10 years. Prior to coming to UIW, Dr. Nuñez was a graduate research associate with a grant working with adolescent newcomers in high schools. Her certifications include EC-6/4-8 Bilingual (Spanish) Generalist and K-12 Reading Specialist.