Undergraduate Student Experience
October 10, 2019
Rozlyn Bermea, Current Student in the Teacher Education Program, B.A. Interdisciplinary Studies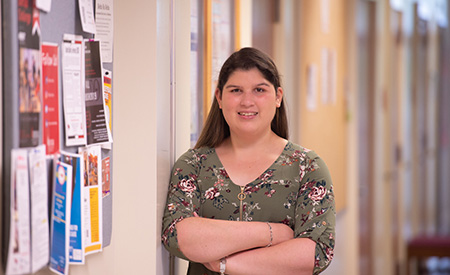 In the Fall of 2016, Rozlyn Bermea began classes at University of the Incarnate Word. Bermea chose the school because of the school's reputation for having an excellent Education program. As excited as she was to start her journey to becoming a teacher, she would soon find that her first days at college would not be without their challenges.
By the end of the first week, Bermea found herself in a difficult situation after she sustained a knee injury that would require surgery, and this only served to deepen the feelings of homesickness she was already feeling after having moved away from her home and family in Del Rio, Texas. What she soon discovered was that UIW is more than just a university. It is a community that cares deeply about its students.
"My mom was not here to take care of me and it made my homesickness worse," said Bermea. "The people at Mission and Ministry helped to create a home away from home and provided a safe environment for me."
Bermea said that the school's inviting and nurturing environment created by University Mission and Ministry (UMM) helped her get past her homesickness, the injury and subsequent recuperation.
Over the next four years, Bermea would become a standout student adding roles as a peer minister, campus court regent and UMM women's group coordinator. Now a senior with a graduation target date of December 2020, she is moving closer to her dream and to completing a Bachelor of Arts in Interdisciplinary Studies with a double minor in Reading and Special Education.
What drew you to UIW's program?
I had applied to four other universities and considered distance education, but I really loved the environment here at UIW when I came to visit. The small class sizes were a big plus for UIW because the other universities that I applied to had very large classroom sizes. I felt that with big class sizes, the connection with the professors wasn't going to be as strong.
I had heard from other students who had gone through the Teacher Education Program and they highly recommended it because of the class sizes and because of the interaction between the students and the professors.
Do you feel that you have a close connection with the professors?
The connection I have with my professors is strong. I know if I ever need to speak with them one-on-one, during office hours or even if I just pop into their office, they are always willing to meet with me.
What do the professors offer as non-classroom educational opportunities?
The professors encourage us to learn not just through classroom work but also to seek out real-world learning experience. They provide opportunities to go to schools, to museums, and they have taken us to The DoSeum in San Antonio several times.
What was the transition like for you as student coming in from out-of-town?
My first year was difficult for me because I didn't just have to work through being away from home for the first time, but I also had to contend with my injury, surgery and recovery. The professors worked with me to accommodate the needs that I had and they are still accommodating any needs that I have now.
What has living on campus been like for you?
I lived on campus from Fall 2016 to Summer 2019, so this is my first semester living off campus. Living on campus was convenient because if there were other students living on campus that I had classes with, we would get together at the library or dorm rooms to study. Of course, there are the resources that are on campus, such as the library and study rooms in our dorms. Those things make getting things done so much easier.
Are you a part of any student organizations?
I am very involved in University Mission and Ministry. If I'm not working with Mission and Ministry, then I am working with the students I have in my education courses. The environment here at UIW provides for a lot of groups that you can get involved with. There is always something you can do or someone you can talk to or study with.
The community here is very inviting.