Students, faculty organize UIW SOAR party for children
May 20, 2019
Posted by the Dreeben School of Education | May 20, 2019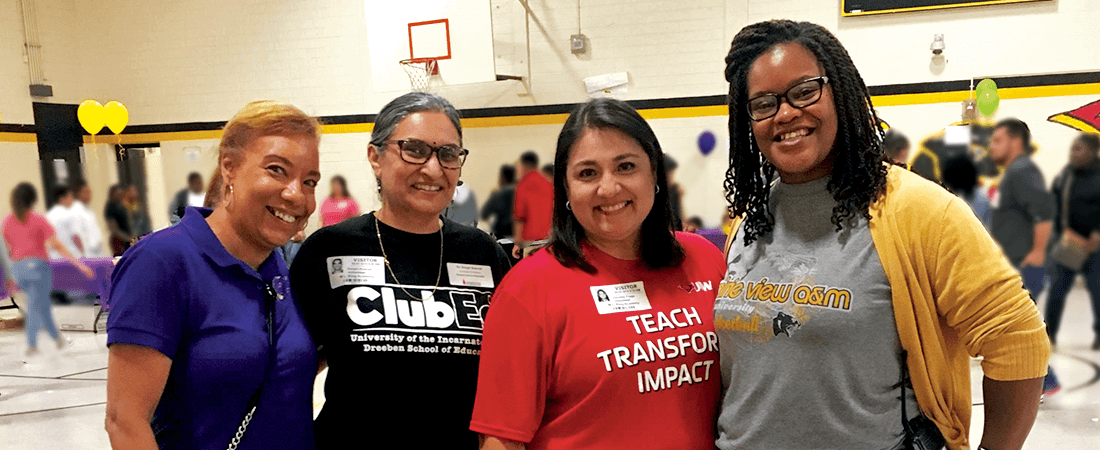 UIW faculty members attending the SOAR party (from left) Tracie Edmond, Ph.D., Deepti Kharod, Ph.D., and Lucretia M. Fraga, Ph.D., pose with Natasha Flowers Pinnix, M.Ed., principal of Martin Luther King Jr. Academy.
---
Students from the Dreeben School of Education, H-E-B School of Business and Administration, School of Media and Design, and Athletics Department, teamed up to participate in a service-learning project on May 3 with the Martin Luther King Jr. Academy in the San Antonio Independent School District.
The project provides an opportunity for children at the academy to earn their way to a UIW SOAR party by demonstrating excellence in the following areas: community service, goal setting, academics, attendance, and citizenship.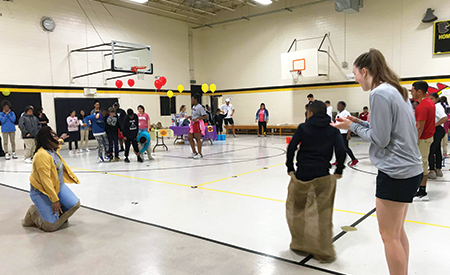 "The project has expanded over the years," said Tracie Edmonds, Ph.D., associate professor of accounting. "Thanks to the UIW Ettling Center, we are now able to provide multi-disciplinary service projects. This last project was our biggest one to date. Our UIW students partnered with the nonprofit service organization Cavalry. As a result, we were able to serve 282 children this year."
In preparation for the party, Dr. Edmonds's accounting students used the skills they learned in class to create a social entrepreneurship business by selling candy bags to raise funds for the SOAR party.
There were plenty of games and activities for the children facilitated by student volunteers and organized by Deepti Kharod, Ph.D., and Lucretia M. Fraga, Ph.D., associate professors in the Teacher Education Department.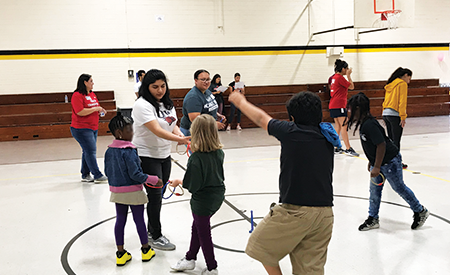 Students studying fashion management set up a service project station for children to create handwritten notes and t-shirts tote bags to give to the homeless. Athletes from golf, volleyball, track, and football, worked as team leaders and displayed amazing mentorship skills.
"Martin Luther King Jr. Academy had such an awesome turnout, and the children were so motivated to earn their way into this party. The academy wants to partner with us again and expand this awesome event next year," said Dr. Edmonds.