Doctoral Student Experience
October 10, 2019
Elizabeth L Payne Wueste, Current Ph.D. Student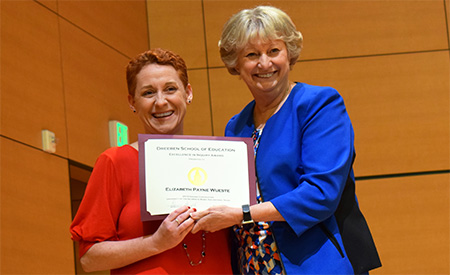 Since she began her college education in the early 2000s, Elizabeth L. Payne Wueste has attended night school at the University at the Incarnate Word and worked at the UT Health San Antonio. Although a big commitment, Elizabeth's UIW education has been instrumental in her continuous advancement at work. She now holds the position of associate program director and director of academic programs a significant advancement from the position she held before she began her college education.
Her persistent dedication has earned her a Bachelor's of Interdisciplinary Studies degree and a Master of Education, M.Ed., degree, both with honors. It's also helped propel her to her current role working in the pediatric residency program.
"I train residents, write the curriculum and the policy for the program and maintains its accreditation," she said. "I currently work with global health. I've been setting up medical schools, and pediatric hematology/oncology programs all over the world for the last six years."
Because of her love to her field of work, Payne Wueste knew she would continue on in the field of education by pursuing a Ph.D. after completing her master's degree, but initially she was uncertain of where she would attend or what area of education she would study. Eventually, she opted for UIW's Ph.D. in Education Administration.
What drew you to UIW's Ph.D. program?
UIW was my first choice because my education there had been so significantly meaningful and useful in my career. I knew I would get the education that I needed and the learning environment I wanted - small, intimate – with highly qualified researchers, which was my goal at that point.
What helped you decide that your current studies were right for you?
Doing all the administration work of setting up a program in Thailand helped me to decide. When I went to Thailand, my counterpart was pursuing his Ph.D. in higher education administration in Bangkok. I realized that was the route I wanted to take after spending time with him.
Did the school itself make a difference?
During my master's program, I worked on a project that had me looking at the culture of UIW. It required me to dig into the school's history and review both Catholic social teaching and social justice. The knowledge that the University was founded by women is empowering. The campus itself is breathtaking. It makes you feel very collegiate and instills in you the sense that you are an academic.
What has your experience been in the program thus far?
It has been a humbling experience. It's intense and academic in every sense of the word. It is enlightening to realize how much more I can learn despite my level of education. There's always another layer to perceive. Similar to turning a cup and seeing it in a different way.
Are you in student organizations?
I am a member of the Doctoral Student Association and I was recently inducted into the Golden Key International Honor Society, which requires a faculty nomination by someone who is a member.
Where would you like for this degree to take you next?
There are some opportunities that I look forward to such as becoming a dean, getting a full professorship, and becoming the Chief Academic Officer at UT Health. Those are my ultimate goals. I don't think there's actually a single closed door once you have a Ph.D. in a researched based program.