Teacher Education Induction Coordinator Recognized for Commitment to Service
May 2, 2019
Posted by the Dreeben School of Education | May 2, 2019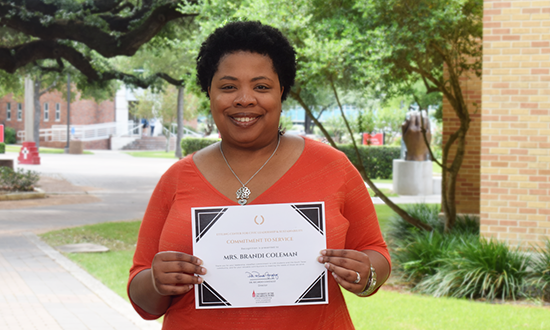 Brandi Coleman, M.Ed., induction coordinator in Teacher Education at the Dreeben School of Education, has received a Commitment to Service award from the Ettling Center for Civic Leadership and Sustainability for a mentorship program called The Lemonade Circle.
She was recognized for her commitment to service for her leadership, steadfast commitment to UIW students and the South Texas community, and for her valuable contribution to helping those in need.
Coleman has been with the University since 2013. She served in the field of education for over 13 years as both an elementary teacher and as an assistant principal. As the UIW Teacher Induction Coordinator, she works collaboratively with UIW Teacher graduates during their first three years of teaching.
The Lemonade Circle is a year-long mentorship program for young women of color in sixth grade through 12th grade. The program provides a circle of support to establish healthy relationships among peers and mentors. Coleman started the mentorship group to motivate and uplift young women to become leaders in the community.
"I am grateful that God continues to guide and order my steps in my life. It gives me great joy to be a part of these young ladies' lives as they mature into impactful leaders of tomorrow. The Lemonade Circle is more than just an organization. It's a circle of sisterhood," she said.
This year, Coleman served as the chair for UIW's 2019 Black History Month. She has also participated in other community events and organizations over the years dedicated to mentoring young minority women from at-risk communities. She is passionate about exposing them to collegiate opportunities, building self-esteem, and providing them with the essential skills needed to become leaders in their communities.
Coleman earned her B.S. in Interdisciplinary Studies at Southwest Texas State University and completed her M.Ed. in Educational Leadership at Concordia University. In her current position, she works closely with San Antonio school leaders and community stakeholders to support UIW teacher graduates in the Teacher Education Program.