Teacher Certification Candidates Awarded Sid Richardson Foundation Scholarships
April 3, 2019
Posted by the Dreeben School of Education | April 3, 2019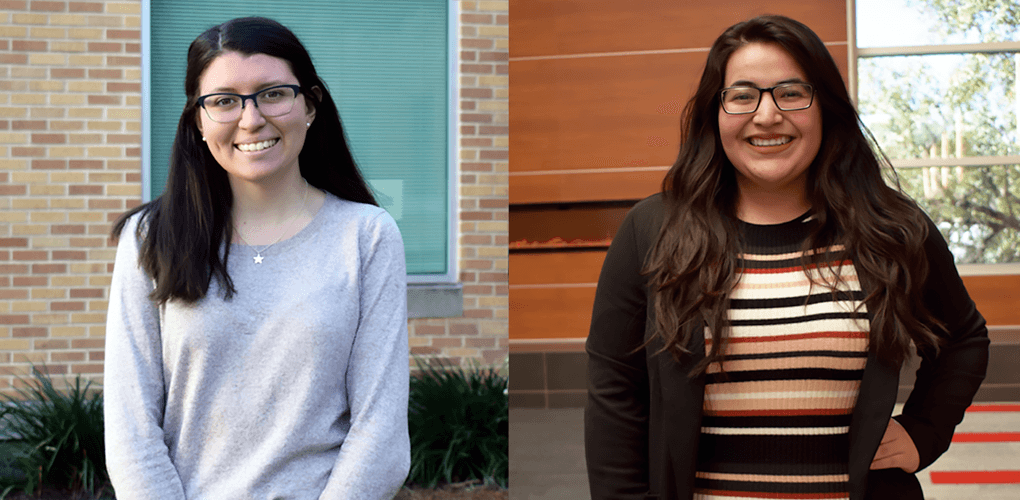 Dorothy Hanson (left) and Valerie Mallen (right) received the Sid Richardson Foundation Scholarship from the Dreeben School of Education.
Dreeben School of Education teacher certification candidates, Dorothy Hanson and Valerie Mallen, earned the Sid Richardson Foundation Scholarship which supports math and science preservice teachers. Each student received a $1,900 award to advance their education.
The UIW Teacher Education faculty nominated Hanson and Mallen for the scholarship based on their academic excellence in mathematics and education.
"We are very pleased to congratulate them on this honor," said Dr. Elda Martinez, director of Teacher Education. "These two outstanding students represent the values of scholarship, service, and commitment that represent the Sid Richardson Foundation Scholarship."
The Sid W. Richardson Foundation, established in 1947, provides grants to help advance the mission of educational, healthcare, human service, and cultural serving nonprofit organizations in Texas.
Hanson is currently pursuing a degree in mathematics with an education minor in secondary certification. She is a member of the UIW Math Club, Mathematics Scholars Program, Kappa Delta Epsilon, and the Triathlon Club.
"The Sid Richardson Foundation Scholarship means a lot to me. I am very thankful to have been nominated by the faculty. The fact that this scholarship is awarded specifically to math (or science) preservice teachers makes me proud to be included in this esteemed group," Hanson said. "I hope to teach high school or middle school for a few years, then continue my academics in a master's program. I want to pursue my master's degree because I genuinely love learning and I know that with more education, I can be an even better teacher for my future students."
Mallen is also pursuing an undergraduate degree in mathematics with an education minor in secondary certification. She is actively involved in the UIW Honors Program, Math Club, and San Antonio Mathematics Scholars (SAMS).
"The Teacher Education Program has made a difference in my life. I have been able to have great experiences through our student observations and have learned so much from the professors," Mallen said. "I couldn't believe that my professors nominated me for this scholarship, but I am so grateful."
The Dreeben School of Education's Teacher Education Program at the University of the Incarnate Word is a field-based program that provides intensive, authentic, and high-quality experiences in settings where preservice teachers can integrate theory with practice, observe effective teaching practices, embrace diversity, and develop their teaching in collaboration with university faculty.
Upon completion of the program, both Hanson and Mallen will be qualified to teach in middle school or high school.
"I truly love mathematics and hope as a teacher I can share my passion for math with my students to reach their full potential. This scholarship enables me to be able to cover my school expenses during my senior year. I am very thankful to have received this economic aid," Hanson said.
Learn more about the UIW Teacher Education Program.