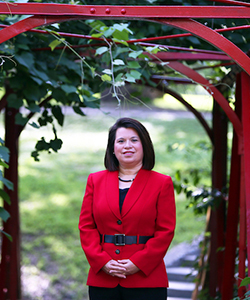 Cynthia Sanchez Escamilla
Vice President of Legal Affairs and General Counsel
General Counsel
Office Location: Second Floor of the Student Engagement Center - Room 2053
Phone: (210) 829-3136
Email: cyescami@uiwtx.edu
Ms. Escamilla has served as Vice President and General Counsel at the University of the Incarnate Word since 2006.
A member of the President's Executive Council, Ms. Escamilla is responsible for directing all legal matters that pertain to the University and its two high schools (Saint Anthony Catholic High School and Incarnate Word High School), including facilities, personnel and students.  She is admitted to the State Bar of Texas, the U.S. District Courts for the Southern and Western Districts of Texas and the United States Fifth Circuit Court of Appeals.
Ms. Escamilla is board-certified by the Texas Board of Legal Specialization in Personal Injury Trial Law.  She is a member of the State Bar of Texas District 15 Grievance Committee, an appointment that runs through 2008.  She is also a member of the State Bar of Texas, the San Antonio Bar Association, the American Corporate Counsel Association and the Bexar County Women's Bar Association.  She previously served on the Board of Directors of the Houston Hispanic Bar Association.
Prior to joining Incarnate Word, Ms. Escamilla served as a corporate senior legal counsel for a Fortune 200 company managing all aspects of corporate risk and litigation throughout state and federal courts in the U.S.  She was previously in private practice with a law firm and several insurance companies' staff counsel operations as a trial attorney handling civil litigation.
A native of San Antonio who graduated from Highlands High School, Ms. Escamilla holds the J.D. from the University of Texas at Austin.  She also has a Bachelor of Science in Advertising from UT-Austin.