Bachelor of Arts in Music with an Emphasis in Music Industry Studies
The Bachelor of Arts in Music with an Emphasis in Music Industry Studies degree in the College of Humanities, Arts and Social Sciences (CHASS) at the University of the Incarnate Word combines the study of music with business courses and provides students with the tools to build careers in the multifaceted music business.
Why Music Industry Studies?
The music business is multifaceted, and opportunities range from studio and talent management, to publishing and content rights, to music marketing and sales. It is also just as far reaching, as industries all over the world work with music professionals to secure scores for film and projects, produce live events, contract talent and manage the business of integrating music into daily life. With its emphasis on building business acumen, and musicianship and instrument proficiency, Music Industry Studies develops well-rounded students prepared for roles across this fast-paced industry.
---
Music Industry Curriculum
The B.A. in Music with an Emphasis in Music Industry Studies is a 126-credit hour interdisciplinary program that integrates courses in both music and business. That includes 31 credit hours of musicianship, 16 credit hours of applied music, with 10 credit hours of lessons in voice or principal instrument and six credit hours of major ensembles, and 21 credit hours in Music Industry courses. Students are also required to complete 18 credit hours in business courses through the H-E-B School of Business and Administration and 40 credit hours in general studies.
Students learn from exceptional educators with deep experience in the music industry and with advanced tools. UIW Music Industry students take two courses, Record Production and Advanced Audio Production, that are taught in a state-of-the-art recording studio housed in the Luella Bennack Music Center. The studio was designed by Russ Berger and features a Solid State Logic AWS - 924 analog mixing console, Pro Tools HDX, Yamaha C-7 Disklavier, 2-inch 24-track Sony/MCI tape recorder, and a large selection of microphones and outboard gear.
In order to graduate, degree candidates will demonstrate the acquisition of essential musical skills, including functional proficiency in one instrument, arranging skills and a solid grasp of current music technology tools. They will also successfully complete a music industry internship.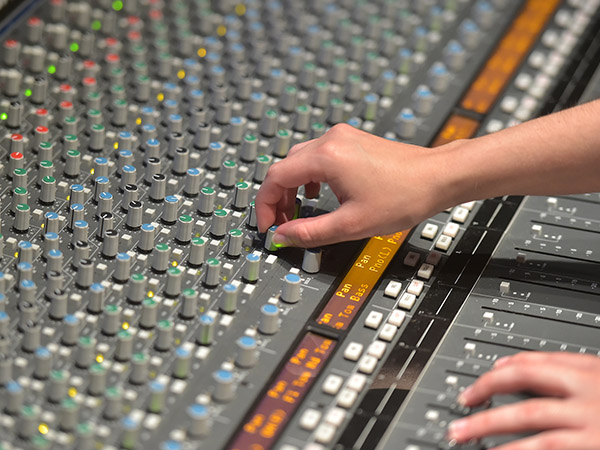 Music Industry Internship
As part of their degree requirements, students take MUST 4359: Internship in Music Industry Studies, which is designed to prepare the student in a focused area related to the music industry. Through this course, students gain valuable work experience through merchants, recording studios, music publishers, professional entertainment management and more. Music Industry students have completed these internships in such music hubs as Los Angeles, Nashville and New York at major record labels including Interscope Records, Virgin Records, Warner Bros Records, and other music related venues such as ASCAP, Jimmy Kimmel Live Show, Texas Music Office, Atlantic Records Recording Studio and with other music industry leaders.
The UIW Department of Music is housed in a new, state-of-the-art building, featuring:
500-seat Concert Hall* with a Steinway D grand piano featuring performances by UIW ensembles, guest artists and performers from the civic community
Ingrid Seddon Recital Hall*, a 101-seat venue with a Steinway B grand piano
Choir* and Band* rehearsal halls
A state-of-the-art recording studio* that includes a 7-foot Yamaha Disklavier grand piano
A music therapy suite, including a services center for offering clinical sessions to the community
Piano lab with 17 new Clavinova digital pianos
A computer lab with 17 iMacs
18 Wenger modular practice rooms
7 teaching studios* and 2 general classrooms*
A 45-seat lecture hall
A percussion studio*
A listening library
*Acoustics by Russ Berger Design Group
The Choir Room, Band Hall, Concert Hall and Recital Hall are wired to the recording studio, allowing for remote recording of rehearsals and performances throughout the building.
Careers in the Music Industry
The B.A. in Music with an Emphasis in Music Industry Studies at UIW provides opportunities for a wide range of careers. Some careers covered in this major include recording engineer, entertainment attorney, publisher, songwriter, record producer, personal manager, record label executive, music editor, film composer, concert promoter, talent agent, studio musician, studio owner, professional musician, arranger, musical director and recording artist.