Bachelor of Music in Music Therapy
The Bachelor of Music (B.M.) in Music Therapy in the College of Humanities, Arts and Social Sciences (CHASS) at the University of the Incarnate Word is an accredited professional degree program designed to train students in clinical applications of music, blending musical skills with specialized training in the areas of psychology and the behavioral and natural sciences. UIW is one of only five Texas universities that offer an undergraduate degree in Music Therapy.
Why Music Therapy?
Music has long been known to impact health and wellness and has been used in clinical settings to treat or provide care for stress, anxiety and depression, as well as support immune function and pediatric and palliative care, among its many other applications and functions. With their musicianship and deep knowledge of therapeutic techniques, music therapists can become critical parts of interdisciplinary teams that support people's health and wellness goals.
---
Music Therapy Curriculum
The B.M. in Music Therapy program at UIW is a 135-credit-hour program that incorporates Music courses and Behavioral/Natural Sciences courses to train graduates to use their music abilities in various clinical settings. UIW's program includes classes in guitar, voice, keyboard and percussion, the basic instruments for a music therapist. Theory courses prepare students to use the language of music with the people with whom they are working.
In addition to courses in Musicianship and Applied Music and Ensemble, UIW students take 32 credit hours in Music Therapy, including six hours of a Music Therapy internship, and 19 credit hours of Behavioral/Natural Sciences. Core Behavioral/Natural Science courses include Introduction to Psychology, Anatomy and Physiology I and Laboratory, and Introduction to Probability and Statistics.
In order to graduate, UIW degree candidates will demonstrate technical command of three instruments (voice, guitar, keyboard) sufficient to be able to communicate and improvise through music in various clinical settings. They will also successfully complete a Music Therapy internship and a capstone research project.
UIW's Music Therapy program is accredited by the American Music Therapy Association (ATMA) and trains students to use their music abilities to work with adults and children with varying degrees of psychiatric disorders, cognitive and developmental disabilities, speech and hearing impairments, physical disabilities and neurological impairments.
Please check the Technical Standards and Essential Functions Required in the Music Therapy Program to review the types of skills, abilities, and aptitudes required to successfully complete the program.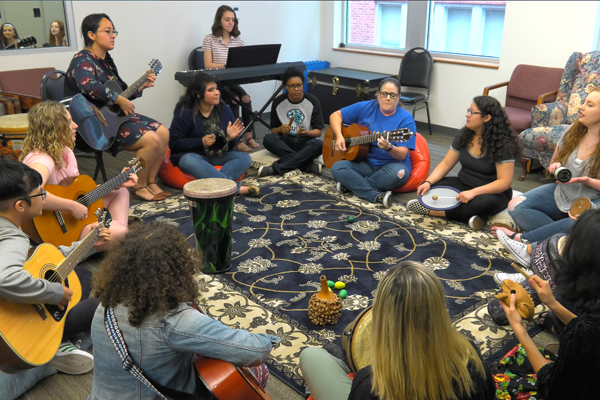 Music Therapy Suite
UIW's state-of-the-art Luella Bennack Music Center houses a music therapy suite that includes a service center for offering clinical sessions to the community. UIW's Music Therapy students have the opportunity to work in the music therapy suite over a period of three semesters.  
Music therapy majors complete a 1,056-hour internship at an approved site in South Texas. During this time they work as a music therapist, support clinical staff, see the applications of music therapy in practice and add to their overall professional preparation.
Careers in Music Therapy
UIW students working toward a B.M. in Music Therapy have the opportunity for a very rewarding career path following graduation. UIW graduates can work in medical settings, education, rehabilitation centers, hospice, day centers for children and adults and geriatric living centers.
UIW graduates who become music therapists can find jobs at general and psychiatric hospitals, community mental health agencies, rehabilitation centers, day care facilities, nursing homes, schools and in private practices.
Accreditation
UIW's B.M. in Music Therapy is accredited by the American Music Therapy Association (ATMA). There are fewer than 100 AMTA-approved schools in the United States. UIW students who complete the Bachelor of Music in Music Therapy are eligible to sit for the national examination offered by the Certification Board for Music Therapists. Music therapists who successfully complete that independently administered exam earn the "music therapist - board certified" credential (MT-BC).