Bachelor of Arts in Music with an Emphasis in Performance
The Bachelor of Arts (B.A.) in Music with an Emphasis in Performance in the College of Humanities, Arts and Social Sciences (CHASS) at the University of the Incarnate Word is designed for students who wish to achieve a high level of proficiency in performance, with a primary focus on the classical tradition. The student can choose either an instrument or a vocal track. Please view our Degree Plans for more information.
Why Music Performance?
Musicianship, instrumental proficiency and stagecraft are all skills that will be honed and refined in the Music Performance program, which prepares students to become exceptional musicians and performers. UIW students have performed with international artists, and many sing and play in concert and chamber choirs, orchestras and bands, and perform in full productions of musicals and operas. Students have also performed with professional and civic groups such as the Chorus of Opera San Antonio, YOSA and have competed annually and placed locally and regionally in National Association of Teachers of Singing competitions.
Music Performance Curriculum
The B.A. in Music Performance program at UIW is a 120-hour degree program that combines courses in musicianship, applied music, recital and ensemble. There is an opportunity for free electives to provide students with in-depth training in performance, with a primary focus on the classical tradition. Students receive thorough instruction in music theory and history and take courses in a variety of other disciplines to achieve the breadth of learning that characterizes a liberal arts degree.
Students take 40 credit hours of musicianship, 14 credit hours in voice or principal instrument and six credit hours of major ensembles, in addition to 21 credit hours of free electives. This coursework, combined with 40 credit hours of general electives, prepares students to achieve a high level of performance in either voice or their chosen instrument. Music Performance students must take a minimum of 36 credit hours of upper-division (3000-4000) courses.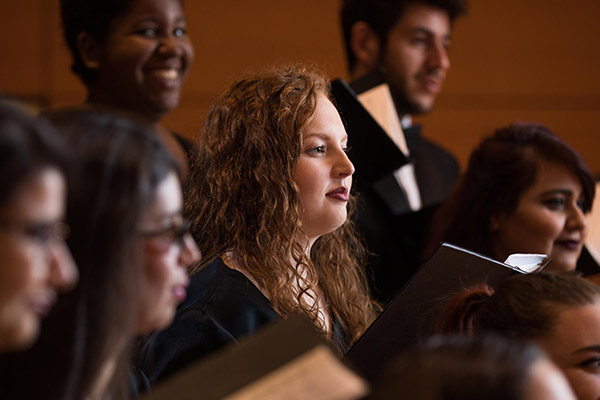 Performance Recital
In the final semester of the degree program, students complete MUAP 4088: Recital, a capstone course in which students demonstrate their achievement in performance at the end of their degree through a public performance of repertoire on their principal instrument. These courses are referred to as a "capstone" because they are one of the final pieces in a student's degree and a culmination of their program education. The capstone course asks students to harness all the knowledge and skills gained from their other courses and apply them to a specific project.
The UIW Department of Music is housed in a new, state-of-the-art building, featuring: 
500-seat Concert Hall* with a Steinway D grand piano featuring performances by UIW ensembles, guest artists and performers from the civic community 
Ingrid Seddon Recital Hall*, a 101-seat venue with a Steinway B grand piano 
Choir* and Band* rehearsal halls 
A state-of-the-art recording studio* that includes a 7-foot Yamaha Disklavier grand piano 
A music therapy suite, including a services center for offering clinical sessions to the community 
Piano lab with 17 new Clavinova digital pianos 
A computer lab with 17 iMacs 
18 Wenger modular practice rooms 
7 teaching studios* and 2 general classrooms* 
A 45-seat lecture hall 
A percussion studio* 
A listening library 
*Acoustics by Russ Berger Design Group 
  
The Choir Room, Band Hall, Concert Hall and Recital Hall are wired to the recording studio, allowing for remote recording of rehearsals and performances throughout the building.
Careers in Music Performance 
UIW graduates with degrees in Music Performance can seek careers in a wide variety of areas. In addition to roles as performers, career options may include musician, educator, audio engineer, music director or composer.