Hard Work, Determination and Passion Lead Alumnus to Successful Career as CNN Sports Journalist
April 12, 2023
Meet Raul Saenz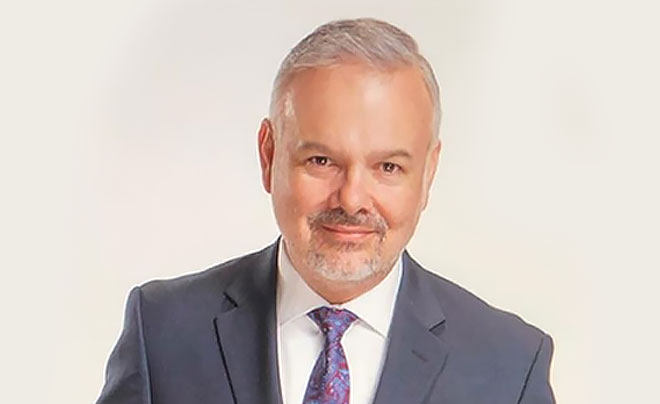 "Sports have the power to change the world, sports have the power to inspire."
These are the famous words by former South African President Nelson Mandela at the inaugural Laureus World Sports Awards in 2000.
Sports did just that for 1994 Communication Arts graduate Raul Saenz - inspire him.
Today, Saenz is the sports anchor and producer for CNN en Español, a Hispanic multi-media platform geared towards Spanish-speaking audiences around the world; it reaches over 50 million households across Latin America and the United States alone.
His passion, determination and perseverance has led him to cover NBA Finals, Super Bowls, World Championship Boxing events, Major League Baseball games and other international sporting events.
However, it was not an easy road for the Laredo native who has been leaving a mark in the Hispanic sports communication industry for over 20 years.   
Growing up, Saenz knew he wanted to be involved in sports. Not possessing the physical attributes necessary to compete at the highest level, he was determined to find an alternative.   
"As much as I loved sports, I didn't have an ounce of talent to play it at the college level, so I wanted to figure out a way to be close to the action," Saenz said. 
After graduating high school, Saenz decided to shift his focus into studying communications. UIW marked the start of his journey. 
"I had a cousin who was a student at UIW a couple of years before I graduated from high school," he recalls. "She told me nothing but great things about the school - its campus and the whole student community. I also didn't want to go too far from my hometown, and I thought San Antonio would be a good transition for me."
Enrolled as a Communication Arts major and prepared for the challenges ahead, Saenz quickly experienced the support and influence from his professors. 
"My professors were very influential," he said. "Not only in making sure that I learned the courses they were teaching, but supporting me when opportunity knocked."
Just a few months prior to crossing the stage, a golden opportunity presented itself for Saenz. The former Alpha Phi Omega member recalls the moment he was offered a job, and it was his professors who encouraged him to go after it. 
"During my last semester, I got hired for my first job as a sports anchor in my hometown television station," Saenz said. "Every one of my professors encouraged me to take advantage of that opportunity while allowing me to complete my assignments towards my graduation. I will never forget that kind of support from my professors."
In addition to the guidance provided by professors inside the classroom, Saenz looks back on the impact outside the classroom. Through service opportunities - a core value of UIW since its inception - he found joy in giving back to the local community.
"I liked the fact that the school required a specific amount of community service hours before our graduation; it truly allowed me to learn about different organizations and charities," he remembers. 
Thinking about his experiences at UIW has allowed Saenz to reflect on the opportunities given to him as a student. For future journalists looking to follow his footsteps, the former Communication Arts major has simple advice.
"Be fair, work hard and treat everyone the same," Saenz said. "No one is above anyone in this business. We all need each other to produce a good segment or show. Try to be genuine - don't try to emulate anyone else. This is a very competitive industry and you'll definitely get a lot of doors closed on you. All it takes is one opening, one opportunity, and you have to make the most of it."