Bachelor of Music in Composition
The Bachelor of Music (B.M) in Composition at the College of Humanities, Arts and Social Sciences (CHASS) at the University of the Incarnate Word is a professional degree that prepares students for careers as composers and/or for graduate studies in composition and related fields such as film composing and music theory.
Why Composition? 
Original compositions and arrangements are central to artistic and entertainment experiences from symphony and live music, to film, television and video games, to advertising campaigns and branding. A B.M. in Composition at UIW provides students with a supportive environment of faculty and staff who want to help students discover and develop the talents they have as they learn to write and arrange original music. Composition students at UIW concentrate on classical (art music) style and will become well-versed in the composition of music, ultimately performing a public recital of his or her original composition. UIW students in composition also have the opportunity to study jazz through electives.
---
Composition Curriculum
The B.M. in Composition at UIW is a 126-hour degree program that gives students the tools needed for professional careers as composers, music creators or for further study in graduate school in composition or related fields.
Students in this degree program learn directly from experienced composers whose music has been performed regionally and internationally. Music faculty also include scholars in musicology, performance, music theory, music history, ensemble direction, voice, conducting, music therapy and other specializations.
UIW students take 49 credit hours of Musicianship, 16 credit hours of Applied Music, nine free elective credit hours, 40 general studies credit hours and 12 credit hours of Composition. At UIW, the Composition courses are through private instruction, giving students individualized learning opportunities.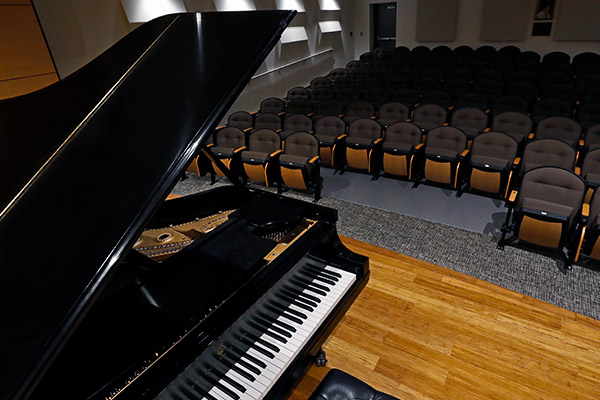 Composition Recital
In the final semester of the degree program, students will present a public recital of their original compositions. The recital provides an opportunity for students to showcase the different styles and kinds of music they've composed, demonstrating the skills acquired during the past years of study.
The UIW Department of Music is housed in a new, state-of-the-art building, featuring: 
500-seat Concert Hall* with a Steinway D grand piano featuring performances by UIW ensembles, guest artists and performers from the civic community 
Ingrid Seddon Recital Hall*, a 101-seat venue with a Steinway B grand piano 
Choir* and Band* rehearsal halls 
A state-of-the-art recording studio* that includes a 7-foot Yamaha Disklavier grand piano 
A music therapy suite, including a services center for offering clinical sessions to the community 
Piano lab with 17 new Clavinova digital pianos 
A computer lab with 17 iMacs 
18 Wenger modular practice rooms 
7 teaching studios* and 2 general classrooms* 
A 45-seat lecture hall 
A percussion studio* 
A listening library 
*Acoustics by Russ Berger Design Group 
  
The Choir Room, Band Hall, Concert Hall and Recital Hall are wired to the recording studio, allowing for remote recording of rehearsals and performances throughout the building.
Careers in Composition
UIW students who earn a B.M. in Music Composition are prepared for careers in composing, arranging or directing music. UIW graduates can attend graduate studies to further their abilities in composition, working towards careers such as a conductor for a symphony orchestra, or related fields, such as film composing and music theory. They can also work in theatre, film, television, video games, advertising or other performing arts media industries, as well as become writers/authors or producers/directors.