2022 - 2023 Season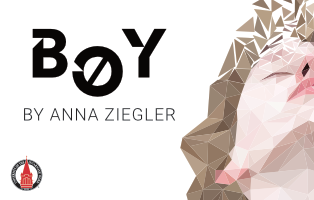 Boy
by Anna Ziegler
Oct. 7, 8, 9 and Oct. 13, 14, 15, 2022
Directed by Gabriella Ramirez
Inspired by a true story, Anna Ziegler's Boy explores the tricky terrain of finding love amid the confusion of sexual identity, and the inextricable bond between a doctor and patient. In the 1960s, a well-intentioned doctor convinces the parents of a male infant to raise their son as a girl after a terrible accident. Two decades later, the repercussions of that choice continue to unfold. Produced in arrangement with Dramatists Play Service, Inc.
---
Silent Sky
by Lauren Gunderson
Nov. 11, 12, 13 and 16, 17, 18, 2022
Directed by Liz Fisher
This inspiring true story traces the life of Henrietta Leavitt, a living "computer" who charted the night skies at the Harvard Observatory during the beginning of the 20th century. While society and her bosses contend that a woman doesn't belong behind a telescope, Henrietta proves that hard work and determination can change the world. Her discoveries rewrote the science and history books, while she navigated family obligations, romantic entanglements and life's everyday travails. Produced in arrangement with Dramatists Play Service, Inc.
---
Eurydice
by Sarah Ruhl
Feb. 24, 25, 26, and March 2, 3, 4, 2023
Directed by Liz Fisher
When tragedy strikes on her wedding day, Eurydice is sent hurtling into the Underworld. In this surreal land of talking rocks and strange characters, Eurydice reunites with her dead father while her husband, Orpheus, plots to save Eurydice from the Land of the Dead. But Orpheus' quest presents Eurydice with a tricky choice: What is home and how do you know where you belong? Sarah Ruhl reimagines this classic myth with its reconsiderations on love, loss and sacrifice. Produced in arrangement with Concord Theatricals.
---
The Reluctant Dragon
by Margaret Mitchell
April 14, 15, 16 and 19, 20, 22, 2023
Directed by Mark Stringham
In this beloved classic story, a young boy befriends a poetry-loving dragon living in the Downs above his home. When the townsfolk send for St. George to slay the dragon, the boy needs to come up with a clever plan to save his friend and convince the townsfolk to accept him.
---
UIW 2022-2023 Theatre Season Performance Times
Wednesdays and Thursdays at 7 p.m.
Fridays and Saturdays at 8 p.m.
Sundays at 2 p.m.
Please join us for talkbacks immediately following each Thursday night performance:
Thursday, Oct. 13, 2022 - Boy
Thursday, Nov. 17, 2022 - Silent Sky
Thursday, Mar. 2, 2023 - Eurydice
Thursday, April 20, 2023 - The Reluctant Dragon