2023 | 2024 SEASON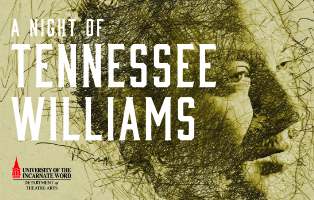 A Night of Tennessee Williams
by Tennessee Williams
Sept. 29, 30, Oct. 1 and Oct. 5, 6, 7, 2023
Directed by Liz Fisher and Toria Trevino
It is said that the peak of Williams' virtuosity was in the one-act plays, some that were like firecrackers on a rope. His lesser-known one-act plays reveal a tantalizing and fascinating perspective to one of the world's most important playwrights. Written between 1934 and 1980, the one-act plays of a very young Tennessee Williams turning into a troubled man of the 1970s offer a panoramic yet detailed view of the themes, demons and wit of this iconic playwright. The one-act plays in this triumvirate are Lady of Larkspur Lotion, Portrait of a Madonna, and Auto da Fe.
Produced in arrangement with Dramatists Play Service, Inc.
---
Sunset Baby

by Dominique Morrisseau
Nov. 10, 11, 12 and 15, 16, 17, 2023
Directed by Ya'ke Smith
Kenyatta Shakur is alone. His wife has died, and this former Black Revolutionary and political prisoner is desperate to reconnect with his estranged daughter, Nina. If Kenyatta truly wants to reconcile his past, he must first conquer his most challenging revolution of all – fatherhood. Sunset Baby is an energized, vibrant, and witty look at the point where the personal and political collide written by one of the most exciting and distinctive voices in America.

"Sunset Baby" is presented by arrangement with Concord Theatricals on behalf of Samuel French, Inc. www.concordtheatricals.com
---
Fade 
by Tanya Saracho
Feb. 23, 24, 25 and Feb. 29, March 1, 2, 2024


When Lucia, a Mexican-born novelist, gets her first TV writing job, she feels a bit out of place on the white male-dominated set. Lucia quickly becomes friends with the only other Latino around, a janitor named Abel. As Abel shares his stories with Lucia, similar plots begin to find their way into the TV scripts that Lucia writes. Fade is a play about class and race within the Latinx community, as well as at large, and how status does not change who you are at your core.

"Fade (Saracho)" is presented by arrangement with Concord Theatricals on behalf of Samuel French, Inc. www.concordtheatricals.com
---
The Taming of the Shrew 
by William Shakespeare
April 12, 13, 14 and 17, 18, 20, 2024
Directed by Liz Fisher
Lucentio loves Bianca but cannot court her until her shrewish older sister Katherina marries. The eccentric Petruccio marries the reluctant Katherina and uses a number of tactics to render her an obedient wife. We turn Shakespeare's fierce, energetic comedy of gender and materialism on its head to offer a fresh perspective on its portrayal of hierarchy and power.
---
Please join us for talkbacks immediately following each Thursday night performance:
Thursday, Oct. 5, 2023 - A Night of Tennessee Williams
Thursday, Nov. 16, 2023 - Sunset Baby
Thursday, Feb. 29, 2024 - Fade
Thursday, April 18, 2024 - The Taming of the Shrew