Office of Alumni Relations Staff
Our staff is here to answer any questions you may have about alumni news, events, benefits, reconnecting with the campus and more.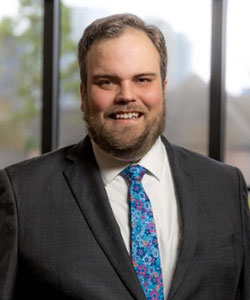 William Bailey '15
Senior Director of Alumni Relations
Phone: (210) 805-3596
Email: wlbailey@uiwtx.edu
For the past decade, Will has been committed to serving nonprofits through various leadership and frontline philanthropic roles. These opportunities to serve have positively impacted communities from Beaumont to Sonora and Wimberley to Brownsville. Being of service to others is his personal mission in life.
Currently, Will serves as the Senior Director of Alumni Relations for the University of the Incarnate Word and is a proud alumnus.
Additionally, Will serves as Counsel of Record to Lee+ Associates, a non-profit consulting firm based in San Antonio, Texas that brings a holistic approach to help nonprofits grow capacity, strengthen leadership and most effectively deliver on their mission. In Will's role he provides counsel to non-profits around Texas on various topics from governance to fundraising and strategic planning.
Prior to his call to UIW, Will served as vice president of Philanthropy at the Hope and Healing Center & Institute in Houston where he provided leadership, coordination, and implementation for all fundraising & marketing strategies, all while advancing the mission, vision, and values of the HHCI. Before HHCI, Will served as Chief Development Officer for Good Samaritan Community Services. While there, he grew the fundraising efforts, helped build the strategic plan and expand the donor base. Upon graduating from UIW, Will started his professional career by serving in various roles at the Children's Hospital of San Antonio Foundation where he helped with the success of their $86 million campaign. He assisted with the growth of their annual giving programs as well as major and planned giving initiatives.
Additionally, Will enjoys spending time mentoring other development professionals and non-profit board members on strategy and relationship building. He has spoken to various groups on topics surrounding the different facets of philanthropy. Will was born in San Antonio and graduated from UIW with a Bachelor of Arts in International Affairs.
In his spare time, he enjoys spending time with his wife, Rebecca, and their three dogs. He loves the outdoors and volunteering in his church and community.
Susan Lavenant
Associate Director of Alumni Relations for Signature Events
Phone: (210) 829-6076
Email: slavenan@uiwtx.edu
Susan Lavenant serves as the Associate Director of Alumni Relations for Signature Events for the University of the Incarnate Word.  Her primary responsibilities in this role include creating, coordinating, and enhancing signature events to promote alumni relations which are designed to connect alumni with the University.
Lavenant is a graduate of the University of Texas at San Antonio where she earned a bachelor's degree in human resources. Her and her husband, Javier are proud UIW parents from the class of 2023 of their two sons.
She previously worked at Trinity University as the Assistant Director of Special Events under Alumni Relations and Development, Corporate Office of Vision Works in the Human Resources department and Pearson in the Human Resources department.
In her spare time, she enjoys traveling, volunteering and trying new BBQ restaurants.
Clarissa Gauna, MS '23
Alumni Relations Manager - Chapters, Programs and Reunions
Phone: (210) 805-5899
Email: clgauna@uiwtx.edu
Clarissa Gauna (Gown-ah) joined the University of the Incarnate Word as the Athletics Administrative Coordinator in January 2021. In this role, Gauna worked with the Athletic Director and senior staff on a daily basis to manage the administrative affairs of the department. Then, in July 2021, she moved into the Development Coordinator role where she ran the Cardinals Club, the fundraising arm of UIW Athletics. Currently, she serves as an Alumni Relations Manager, focusing on chapters, programs and reunions.
Prior to UIW, spending nearly three years with Texas Athletics, Gauna was a marketing intern/gameday leader who engaged with fans while overseeing other marketing interns, managing the schedule and ensuring game-day assignments were understood. In working with the marketing team for baseball, she created the Texas Baseball 360 External Plan for the 2020 season.
A San Antonio native, Gauna graduated from Incarnate Word High School before spending a year at the University of Texas at Tyler as a collegiate cheerleader. She spent the next three years on National Cheerleaders Association (NCA) Staff and obtained her bachelor's in sociology with a sports media certificate from the University of Texas at Austin in 2020. Clarissa obtained her master's degree in sports management from UIW in May, 2023.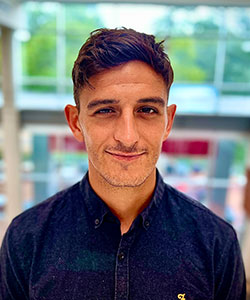 Callum Riley '13
Alumni Relations Manager - Communications and Special Projects
Phone: (210) 805-3595
Email: criley@uiwtx.edu
Callum Riley received his Bachelor of Psychology with a concentration in Business Marketing from UIW in 2013. He joined the Alumni Relations team in 2022 after serving UIW Athletics as the Director of Resource Development. Callum is a proud alumnus of the UIW men's soccer program. In his time as a student-athlete at UIW, he helped the Cardinals to two NCAA national tournaments and earned All-American honors. Callum returned to his native England in 2014 and worked in marketing and communications roles in London before returning to south Texas in 2020. He provides outreach to UIW's alumni through communications, events and initiatives. Please send Callum all of your alumni stories and announcements to share.