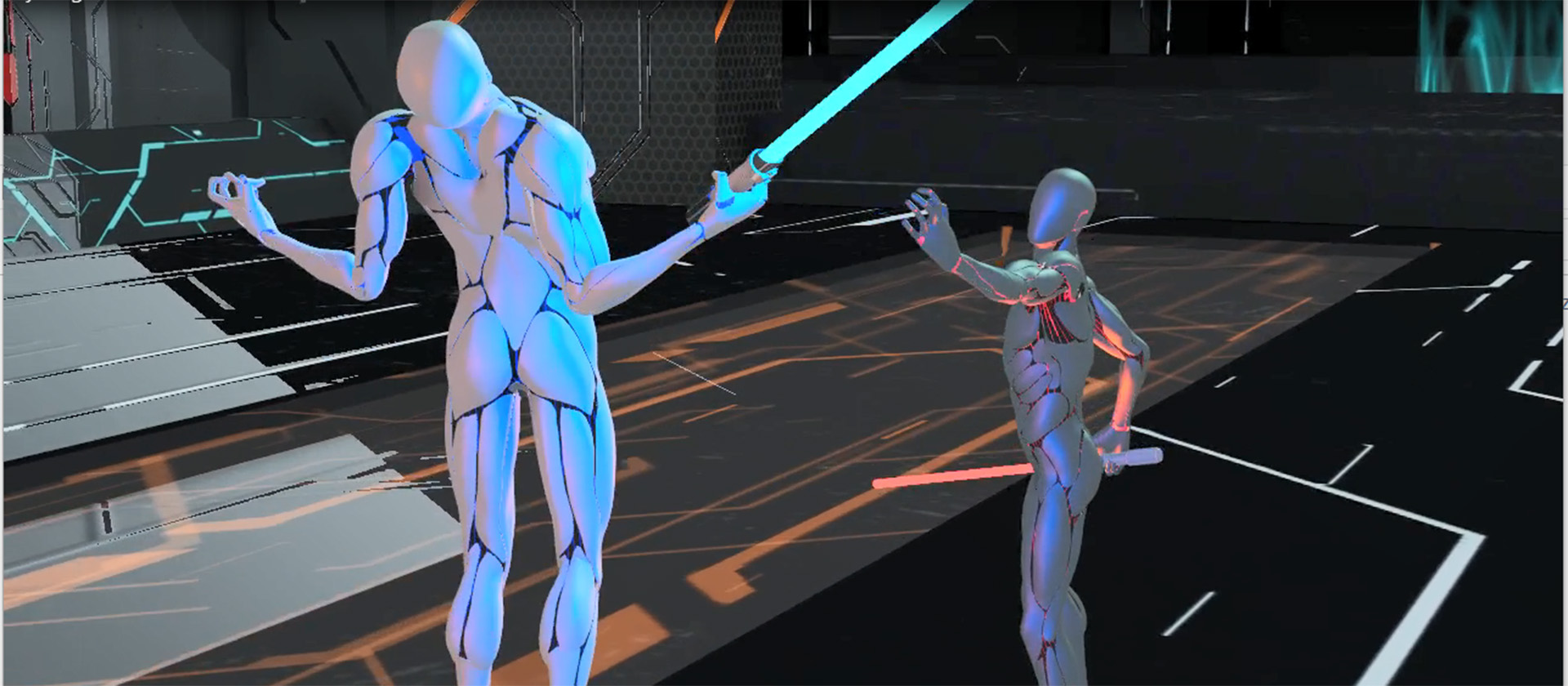 | Bachelor of Fine Arts in 3D Animation and Game Design
Level up your career in the Gaming industry
HELLO / HOLA / 你好 / नमस्ते
Welcome to the 3D Animation and Game Design program at UIW
The 3D Animation and Game Design program provides intensive hands-on courses by seasoned educators and industry professionals. With small class sizes (usually 14 or less), students engage with knowledgeable faculty who not only continue to engage with industry, but are committed to student success. Students receive personalized support and create a portfolio to prepare them for future careers.
In-Person Instruction
In-person instruction ensures that students get personalized help and critique. Don't just be another number or face in the crowd. Here, you will know your professors.
Learn From the Pros
Afraid of learning outdated skills? Learn from faculty with the relevant experience you need to succeed.
Specialty Degrees
Pick from concentrations in 3D Animation, Modeling, Game Programming, or Production Management. Specialized training provides specialized portfolios targeted for industry jobs.
Program Overview
The BFA in 3D Animation and Game Design is a four year program training students for careers in film and games as modelers, animators, programmers, or production managers. We do this using industry- standard techniques, pipelines, and softwares preparing student to secure careers.
Curriculum and Admission Requirement
Students in the program can choose to specialize in various subjects. To apply to the program, complete a UIW undergraduate application and submit required documents.
Bachelor of Fine Arts in 3D Animation and Game Design Degree Plan
The BFA in 3D Animation and Game Design degree requires completion of 120 semester hours of coursework and offers four program tracks.
Animation
Through classes like Anatomy for Animators, Motion Capture, History of Animation, and our Animation I-IV series, students learn more about the connection between the story, performance, movement and mechanics for film and games.
Modeling
Through a series of courses on both Character Modeling and Environment modeling, students learn about the processes and pipelines to creating the environments and characters of games and film. From box modeling, to procedural modeling, to digital sculpting, students gain the knowledge of industry-standard workflows to the worlds players and viewers inhabit.
Production Management
The best of the technique and skill of animation and the production administration of management are emphasized in the Production Management Concentration. Students also learn more about managing projects and productions for different mediums from computer games to virtual reality projects to mobile projects to name a few.
Programming
An interdisciplinary concentration, Programming integrates mathematics courses, programming languages and deep study into the technical mechanics of advanced game systems, including augmented reality, virtual reality, animation, and emerging technologies, and ultimately prepares students to develop game professionally.
View the Course Descriptions
Technical Standards and Essential Functions
Programming for Games
The Programming for Games minor provides students with a hands-on approach to creating the coding backbone for video games. This collection of courses provide project-based, game-engine driven instruction that helps broaden a student's programming skills to include those required in the video game industry.
Production Management
The Production Management minor provides students with the skills and hands-on practice to manage production teams in animation, film, or video game production. Taught by industry practitioners, this minor includes both theoretical backing, and management practice to effectively prepare students for careers in the entertainment industries.
The 3D Animation and Game industries are highly competitive and demanding.
Finding work in this environment requires a strong portfolio that can compete in a national and international arena.
There is no Portfolio Review for incoming freshmen. If it's your first semester in college, we welcome everyone – regardless of your high school experience.
Understanding this reality, the ANGD department strives to help students find if they will be successful in this major as early as possible in their academic career.
The first year of the program provides an overview of all the areas of 3D Animation and Game Design.
After the completion of the first year, all ANGD students are required to submit a portfolio of the work completed in the ANGD first-year core.
Only upon passage of this Portfolio Review can students enter the Animation or Modeling concentrations and continue study within the major.
Portfolios are reviewed at the end of the first year.
All transfer students who wish to start in the Modeling or Animation concentration classes must submit a portfolio at the scheduled portfolio review time the spring semester before they plan to attend.
Since the number of applicants will vary each year, passing grades in first-year classes will not guarantee admission to the major.
Students who do not pass the portfolio review may resubmit a portfolio the following year. Students who plan on resubmitting a portfolio for review should retake some or all of the first-year courses to enhance their portfolio.
Please note that acceptance to the University does not guarantee admission to the 3D Animation and Game Design major.
The 3D Animation and Game Department is ranked as a top program in the nation and statewide:
UIW graduates have worked at companies such as: