Bachelor of Arts in Pastoral Ministry
Why Pastoral Ministry? 
Students seeking a B.A. in Pastoral Ministry will be well prepared for lay leadership careers in church and other ministry settings upon graduation. A major in Pastoral Ministry readies students to make a difference in the lives of those who need it the most. With this degree, students become ready to serve in general pastoral ministry or as members of church planning teams. Graduates are also well-prepared to serve in diverse and Spanish-speaking communities, Christian colleges or camps, churches, mission agencies, prisons, or seminaries.
---
Pastoral Ministry Curriculum
The B.A. in Pastoral Ministry is a 121-credit hour cooperative and bilingual degree program where students take classes both at UIW and at the Mexican American Catholic College (MACC). This intercultural degree will prepare all students for ministry in today's multicultural church. Upon admission, applicants who are not bilingual will be assisted in gaining language proficiency through the MACC language program.  
Learning Outcomes
In keeping with its mission, the program is designed to:

Provide students with a breadth of knowledge in the liberal arts and Catholic culture
Offer a solid foundation in biblical and theological studies
Ensure language proficiency for ministry in a bilingual pastoral setting and for English-language graduate studies
Equip students with leadership skills and intercultural competencies
The degree program is housed in the UIW Pastoral Institute, which serves the Catholic community through education and formation for contemporary ministry and religious education.
Concentrations
Students of the Catechetics concentration take courses that help prepare them for careers in religious education or formation of children and adults. Religious pedagogy, baptismal catechism, ecclesial documents and models, and youth ministry are among the many topics explored.
The Catholic Leadership concentration prepares students for leadership or management positions in Catholic institutions and parishes. Courses in cross-cultural competencies, multicultural and Hispanic communities, stewardship, ethics and canon law ensure that students have a deep understanding of what drives and unifies communities and have the administrative skills to support that community through the Church and associated programs and organizations.
The Philosophy concentration emphasizes the study of different branches of philosophy, eras of philosophy (medieval, modern and contemporary) and philosophical approaches to anthropology and ethics. This concentration fulfills the requirements for admission to Catholic seminary programs.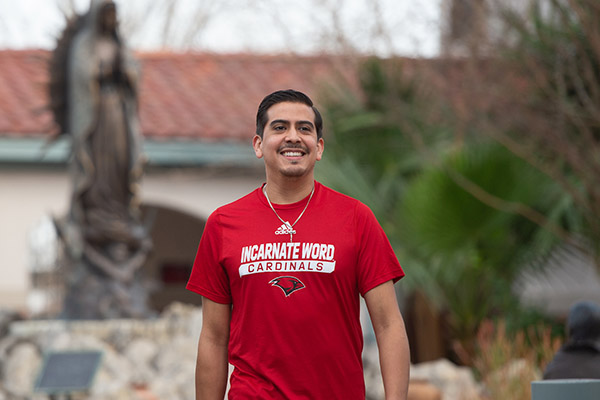 Automatic Financial Aid
Supporting student's journeys academically, spiritually and financially is critically important to the Pastoral Institute. As such, all students in this degree program receive the Sr. Eilish Ryan, CCVI Grant, equal to 25% of UIW tuition. Students may also apply for other financial aid in addition to this grant.
Careers in Pastoral Ministry
This major is primarily designed to prepare students for graduate studies in theology, religious education or ministry. Students are also prepared for lay leadership careers in church and Catholic school settings, campus ministry work and service in non-profit organizations. Students can go on to work in campus ministry, education, missions, ministry coordination, humanitarian aid, social/human services, disaster/aid relief or chaplaincy (with additional training).