Sunday, April 30, 2023 | 1 p.m. | Chapel of the Incarnate Word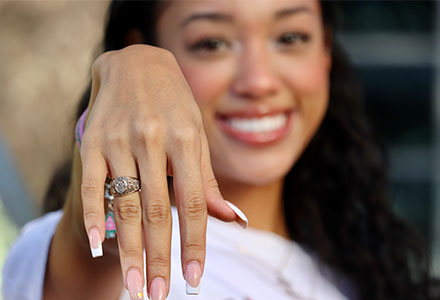 Reception to follow - Marjorie Jordan Carillon Plaza
The Ring Ceremony is for all junior, senior and graduate students who purchased an official class ring from Herff Jones or a spirit ring from other jewelers. Students will receive their rings during the ceremony in the Chapel of the Incarnate Word. The toast will be held at the Marjorie Jordan Carillon Plaza.
Registration
All participants are required to pre-register for the celebration by Monday, April 24.
UIW Ring Ceremony Preparation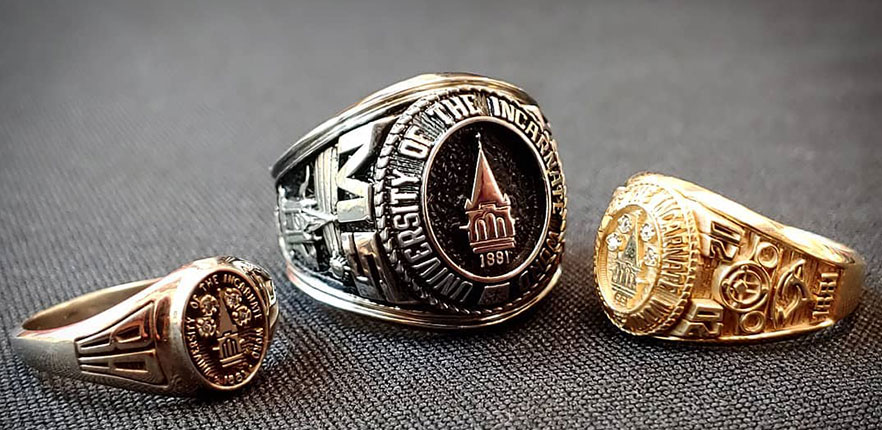 Check-In/Assembly
Student participant check-in will open at 12:15 p.m. All students must be checked in no later than 12:45 p.m at the Chapel of the Incarnate Word.
Ceremony Service
The night before the ring ceremony, class rings are placed securely in the Chapel of the Incarnate Word where they stay overnight in the holy space used for significant celebrations for our founders, the Sisters of Charity of the Incarnate Word, and their ministries. The following day, the Sisters will offer a blessing over the rings and the students and families present. Following the blessing, guests and participants will make their way to the Marjorie Jordan Carillon Plaza where each student's name will be called as they cross the stage and receive their rings. Students are asked to keep their boxes closed until the presenter guides everyone to open them together. The commemoration is capped off with a celebratory toast.
Seating
Seating for families and guests attending the ceremony will begin at 12:15 p.m. in the Chapel of the Incarnate Word. Each guest is required to have a ticket. Each student is allowed up to four guests.
Contact Information
If you have questions about the Ring Ceremony please contact, the Department of Alumni Relations at alumni@uiwtx.edu or (210) 829-6014.
Ring Drop-Off
All rings ordered through our official class ring provider, Herff Jones, will be delivered directly to the Department of Alumni Relations office. If your ring was ordered through a different provider, please deliver it to the Student Engagement Center Concourse on one of the following days: Tuesday, April 18, 10 a.m. – 4 p.m. or Wednesday, April 19, 11 a.m. – 3 p.m.
Parking
Parking will be available in front of the Administration Building. The University of the Incarnate Word provides reasonable accommodations for special events with adequate notice. To request disability accommodation for this event, please visit UIW's ADA site.
Attire
All participants are asked to dress in business or church attire. Please keep in mind that you must arrive dressed for the occasion; you will not have time to change before the ceremony.
Additional Ceremony Information
No facility will be available to store purses or other valuables, and no one will be available to assist you with these items if you carry them into the Chapel of the Incarnate Word or Marjorie Jordan Carillon Plaza. Please make prior arrangements should you choose to carry these items.
Guest seating is on a first-come-first-serve basis and family members may not reserve or save seats for guests who are not present.
UIW security will remove guests who are disrespectful of others, do not comply with a request of a school official, or who disrupt the ceremony in any way. For more information, please call (210) 829-6014 or email alumni@uiwtx.edu.