Going Spring 2022
To sign-up for this Faculty-Led Program, please contact:
Dr. Adesegun Oyedele
H-E-B School of Business and Administration
oyedele@uiwtx.edu
(210) 930-8010
Check our this program's website: Guanajuato, Mexico – Universidad Incarnate Word Campus Bajío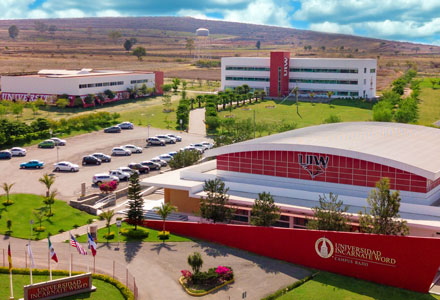 Startup Models Beyond Borders – HON BINT 4360
What are the steps and processes involved in creating, funding and operating a startup in emerging markets? This course seeks to answer this question by developing in students an understanding of global business models, market innovation and the ethical considerations of managing a cross-border startup business.
This course is offered in the spring semester on the UIW main campus in San Antonio. As part of the course, students travel to historic Guanajuato, Mexico, over Spring Break for a cultural immersion experience in partnership with Universidad Incarnate Word Campus Bajío in nearby Irapuato. The week-long, faculty-led excursion includes visits to local businesses and the opportunity to network with successful startup entrepreneurs.
Contact Dr. Adesegun Oyedele ( oyedele@uiwtx.edu) or Gabriella Cordina ( gcondina@uiwbajio.mx) to learn more about this study abroad experience.
Quick Facts
Learn more about the Startup Models Beyond Borders (HON BINT 4360) course.
This is an honors course open to all students at UIW.
There are no prerequisites.
The course is only offered in the spring semester.
$1,600 – The price of the week-long excursion to Guanajuato, Mexico, over spring break is $1,600. Students may receive up to $1,300 toward the cost of the trip through a sponsorship from the Office of the Provost.
Course Outcomes
This course explores entrepreneurship as it relates to building a business to operate in the marketplaces of multiple countries, specifically the United States and Mexico.
Students will work individually and in teams to create mentor-supported startups in emerging markets. The course will use institutional framework, variations of the lean startup framework, global business model innovation framework and real-world case studies to explain startup creation and institutional challenges in emerging markets. Students will develop entrepreneurship skills, design-thinking skills and intercultural competence skills.
Click here to download the course syllabus.
Student Experience | Guanajuato, Mexico
The Cardinals who made the trip from San Antonio in Spring 2020 were introduced to students from the Campus Bajío in Irapuato, who served as guides and became local friends throughout the trip.
The group visited several businesses including a strawberry processing and production company called Congeladora Niño, where the owner gave a personal tour. Other company tours included Dealba, a metal fastener producer, Conagra, which owns hundreds of well-known food brands, and Bimbo, the popular pastry and baked goods manufacturer.
Learn more about the student experience
In addition to tours, students had the opportunity to meet with business owners and entrepreneurs for a roundtable discussion to learn more about operating a business in the region and the increased emphasis on professional relationships that exists in the Mexican marketplace.
"Relationships are very important to business in Mexico. It really matters who you know. It was incredible how these businesspeople took time from their busy schedules to show us their businesses. We had over 15 businesspeople spend an evening with us teaching us about business in the Bajío region and offering us advice," student Gisel Torres said.
Students experienced the unrivaled culture of the Bajío region of Mexico first-hand by visiting local markets, museums and restaurants while touring Guanajuato and San Miguel. While exploring the city center of San Miguel, the students even joined in the celebration of a newlywed couple as they were serenaded by a mariachi band.
The Startup Models Beyond Borders course and study abroad excursion offers students a unique opportunity to learn the fundamentals of entrepreneurship with a special emphasis on the bountiful possibilities of Mexico-United States commerce.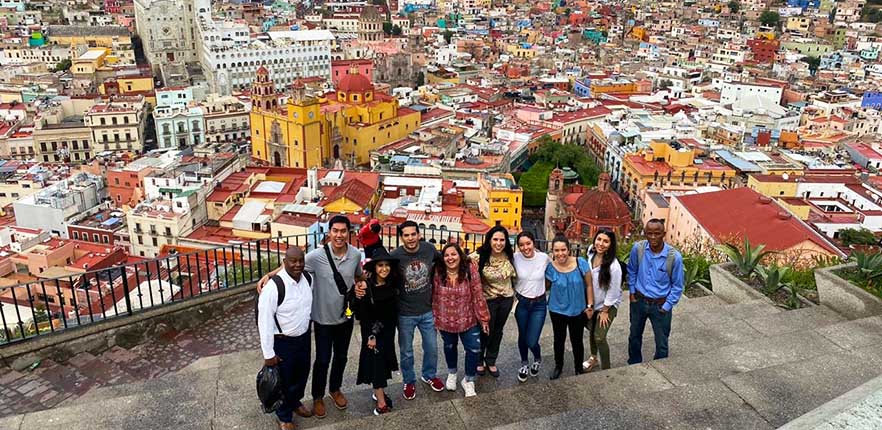 To sign-up for this Faculty-Led Program, please contact:
Dr. Kathleen Tilton DNP, RN, CDE, CNE
Ila Faye Miller School of Nursing and Health Professions
Office: Nursing Building #141
E-mail: ktilton@uiwtx.edu
Phone: (210) 283-6901
Global Health Perspectives: Paraguay - NURS 399
Course Description
This course is designed to provide an optimal cultural immersion in Paraguay. Students will engage in course work that studies the culture, health care, health, concerns, nursing practice, and nursing education in Paraguay. Students will travel to Paraguay where they will be immersed in the culture and participate in nursing courses and clinical with Paraguayan nursing students and nurses. Applied field study is a requirement of the course. The course is offered in the spring semester, with the clinical and applied field study to be completed in the summer.
Course Context
Successful completion of Level 2, 3, or Level 4 of the traditional BSN program.
Requires concurrent enrollment in the traditional BSN program. 
Course Overview
This course will provide nursing students, in their 3 semesters of the UIW traditional BSN track opportunity to study and explore health, nursing, and health care in another country. Topics include health promotion and disease prevention, chronicity, community health, acute care nurse, and nursing education.
Going Summer 2022
To sign-up for this Faculty-Led Program, please contact:
UIW Ettling Center for Civic Leadership
Social Justice Leadership - RELS 3380
The purpose of this course is to help students develop the knowledge, attitudes, and skills necessary to become concerned, enlightened, and effective leaders; they will become involved in local and global community service for social justice. The course will help students learn to use a social justice model of leadership. Topics covered in this course include introduction to leadership, understanding self, enhancing collaboration and communication skills, learning social justice principles (based on Catholic Social Teaching), becoming more aware of social and global issues, and becoming familiar with local civic leaders. In addition to participation in class activities and assignments, all students will be expected to be involved in service with non-profit organizations. Guided reflection on their service experience will help students to improve their leadership capacity. Student work is assessed through a portfolio, written reflection exercises, group and personal presentations.
Quick Facts
This course is open to all students at UIW.
The course, with travel, is only offered in the spring semester.
$1,195 – The price includes airfare and transportation, some meals, excursion fees, and insurance.
Course Outcomes
Explain how social justice values can be derived from Catholic Social Teaching and other sources, such as the "Declaration Toward a Global Ethic" and the "Charter for Compassion"
Demonstrate development of knowledge and attitudes about leadership
Critically analyze their personal leadership styles
and more!