Marieke Oldenbroek Burleson, Ph.D.
Assistant Professor, Biology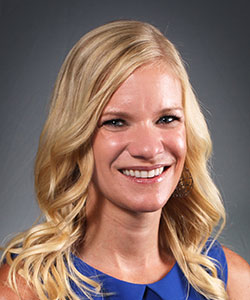 Dr. Burleson has been working at UIW since the Spring of 2016 and lives in New Braunfels, TX with her husband and sons. She enjoys spending time with family, working out, and hiking.
Contact Information
B .S. Biology, Texas A&M University
Ph.D. Molecular biology w/ focus on Genetics and Development, University of Texas Southwestern Medical Center
Research technician at the University of Texas Southwestern Medical Center from 2008-2009
Postdoctoral fellow at the UT Health at San Antonio from 2014-2016
Adjunct faculty of biology at UIW in the Spring of 2016
BIOL1402 – Introductory Biology I for majors
BIOL1403 – Introductory Biology II for majors
BIOL2122 – Anatomy and Physiology Lab II
BIOL2474L – Introductory Microbiology Lab
BIOL3202 – Research methods in Cell and Molecular genetics
BIOL3361 – Genetics
BIOL4399 – Special topics: Cancer Biology
BIOL4370/6370 – Molecular Biology
Meet the mission faculty leader 2017-2019
Advisor for the International Golden Key Honor Society
Chair of the MSE social events committee
The Burleson lab focuses on finding new therapeutic strategies for specific subtypes of cancer. Cancer is currently the second leading cause of deaths worldwide, following in close proximity behind cardiovascular disease. Though radiation and chemotherapy have been the frontline choice of treatment for cancer over the past few decades, due to the detrimental side effects, personalized treatment is rapidly rising as a superior treatment method. This is largely due to recent advances in genome-wide DNA sequencing that have allowed for the identification of cancer-related mutational landscapes. Through these technologies, it is now feasible to identify oncogenic mutations that are unique to particular cancer patients. Once a mutation is identified, a personalized treatment regimen can then be designed that will specifically target the oncogenic signaling pathway(s) that are affected by the mutation thereby eliminating all the detrimental side effects of global drugs, such as chemotherapy. It is thus critical to identify novel oncogenic mutations and, more importantly, to investigate the signaling pathways affected by these mutations.
One gene that has recently been identified as highly mutated in a variety of cancers is SPOP. SPOP is the substrate binding subunit of an E3 ubiquitin ligase that, when mutated, acts as an oncogene by disrupting the degradation of a variety of proteins that are critical for tumor suppression. For instance, the Burleson lab identified GLI3, a downstream effector of Sonic Hedgehog (SHH) signaling, as an SPOP target. Through the use of CRISPR/Cas9 genome editing strategies, it was found that SPOP binds directly to GLI3 in prostate cancer cells to target it for degradation in a manner that is disrupted by cancer-associated SPOP mutations. In congruence with this, it was found that the oncogenic properties of SPOP-mutant prostate cancer cells can be effectively reversed by blocking SHH signaling, thereby indicating that hyper-activated SHH signaling plays a critical role in SPOP-mutant prostate cancer progression. These findings are consistent with previous studies that have reported hyper-activated SHH signaling in highly advanced prostate cancer. These studies therefore highlight SPOP as a key player in promoting prostate cancer through dysregulation of SHH signaling and indicate that targeting the SHH signaling pathway in SPOP mutant prostate cancer could be a highly beneficial therapeutic approach for these patients.
The current interests of the Burleson lab focuses on the role of SPOP in additional cancer subtypes. In addition to SPOP being mutated in a high proportion of prostate cancers (15%), SPOP has also been found to be mutated, downregulated, or overexpressed in a variety of other cancers, including breast, ovarian, endometrial, and thyroid cancer. Therefore, the Burleson lab is utilizing CRISPR/Cas9 genome editing to engineer SPOP mutations in a variety of cancer cell lines. Furthermore, lentiviral shRNA strategies are also being employed to engineer stable SPOP knockdown and overexpression cell lines. Once stable cell lines have been generated in the various cancer subtypes, a variety of natural compounds are then tested on their ability to reverse the oncogenic effects of the specific SPOP alteration. These studies will ultimately lead to the discovery of novel therapeutic strategies for specific subtypes of cancers that contain SPOP alterations.
Oldenbroek M, Robertson SM, Guven-Ozkan T, Gore S, Nishi Y, Lin R. Multiple RNA-binding proteins function combinatorially to control the soma-restricted expression pattern of the E3 ligase subunit ZIF-1. Developmental Biology. 363(2), 388-398. PMCID: 22265679. 2012
Gallagher T, Kim J, Oldenbroek M, Kerr R, You YJ. ASI Regulates Satiety Quiescence in C. elegans. J Neuroscience. 33(23), 9716-9724. PMCID: 3726252. 2013
Oldenbroek M, Robertson SM, Guven-Ozkan T, Spike C, Greenstein D, Lin R. Regulation of maternal Wnt mRNA translation in C. elegans embryos. Development. 140(22), 4614-4623. PMCID: 3817945. 2013
Spike C, Coetzee D, Nishi Y, Guven-Ozkan T, Oldenbroek M, Yamamoto I, Lin R, Greenstein D. Translational control of the oogenic program by components of OMA ribonucleoprotein particles in Caenorhabditis elegans. Genetics. 198(4), 1513-1533. PMCID: 4256769. 2014
Oldenbroek M, Clark AD*, Boyer TG. Mediator kinase module and human tumorigenesis. Crit. Reviews in Biochem. and Mol. Biol. 50(5), 393-526. 2015. PMCID: 4928375
Robertson SM, Medina J, Oldenbroek M, Lin R. Reciprocal signaling by Wnt and Notch specifies a muscle precursor in the C. Elegans embryo. Development. 144(3) 419-429. 2016. PMCID: 5339420