Angel Joaquin Perez Linde, Ph.D.
Visiting Scientist and Associate Professor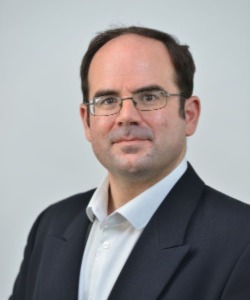 A.J. Perez Linde holds a position as a Visiting Scientist and Associate Professor at UIW since January 2021. As a Visiting Scientist he works in Nuclear Magnetic Resonance (NMR) on solid state samples with a Cryogen Free magnet. As a lecurer he likes to introduce his laboratory students to the production of scientific papers and reports.
He participated in the development and improvement and improvement of cryogen free superconducting electromagnets including those for Magnetic Resonance Imaging as Senior Engineer at Cryogenic Ltd in London. during this six previous years industry experience he contributed to shortening production time and product quality improvement. 
Through earlier academic experience in Lausanne, Switzerland he was author/coauthor in several publications in scientific journals and presentations in conferences. He implemented techniques such as Electron Paramagnetic Resonance in addition to Dynamic Nuclear Polarization (DNP) probed for dissolution and worked with Magic Angle Spinning NMR with DNP.
Contact Information
Office Location: Agnese-Sosa 113
Phone Number: (210) 829-3151
Email: perezlin@uiwtx.edu
2005 - 2010, Ph.D. in Physics, "Sir Peter Mansfield Nuclear Magnetic Resonance Center", University of Nottingham, England, UK.
2004 - 2005, MSc in Medical Imaging in the University of Aberdeen, Scotland, UK.
2002 - 2003, Pedagogic Course, University of Cordoba, Spain.
1997 - 2002, Physics Degree, Univeristy of Cordoba, Spain.
2021 - 2023, Visiting Scientist and Professor at the University of the Incarnate Word, San Antonio Texas.
2015 - 2021, Senior Engineer at Cryogenic Ltd, London UK.
2013 - 2014, Postdoctoral fellow at

É

cole Polytechnique F

é

d

é

rale de Lausanne (EPFL), Lausanne, Switzerland.
2012 - 2013, Physics teacher in the Santa Victoria School, Cordoba, Spain.
2011 - 2012 Physics and Mathematics teacher in the Las Francesas School, Cordoba, Spain.
PHYS 1301
PHYS 2106
PHYS 1101
Physics Summer Camps
Nuclear Magnetic Resonance (NMR) and Solid State Nuclear Magnetic Resonance
Instrumentation in NMR
Methods for Hyper-polarization in NMR
Dynamic Nuclear Polarization (DNP)
Electron Paramagnetic Resonance (EPR)
Education methodology for Physics
A.J. Perex Linde, R.E. Cardenas. "Dipolar Bath Mediated Cross Polarization in Dissolution Experiments" APS March Meeting 2023, Poster presentation.
E. Kryukov, M. Owczarkowski, D. Philips, A.J. Perez Linde, S. Burgess, J. Good, " A new method to measure the temporal magnetic field instabilities in cryogen-free magnets for magnetic resonance" . Solid State Nucl. Magn. Reson., 113, 2021, 101732, ISSN 0926-2040, https://doi.org/10.1016/j.ssnmr.2021.101732.
A.J. Perez Linde, S. Chinthalapalli, D. and G.Bodenhausen. "Rotation-induced recovery and bleaching in magnetic resonance" Phys. Chem. Chem. Phys., 2015, 17, 6415-6422 doi: 10.1039/C4CP05735J
A.J. Perez Linde, A. Bornet, J. Milani, B. Vuichoud, R. Melzi, S. Jannin, G. Bodenhauses. "Cross polarization from (1)H to quadrupolar (6)Li nuclei for dissolution DNP" . Phys Chem Phys. 2014 Dec 7;16(45):24813-7. doi: 10.1039/c4cp03592e. PMID: 25319311.