Conference of Texas Statisticians 2018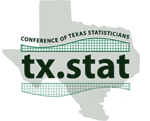 Dates: April 13-14
Location: UIW Student Engagement Center, 4301 Broadway, San Antonio, TX 78209
The Conference of Texas Statisticians (COTS) was established at the annual American Statistical Association (ASA) meeting in Houston, Texas in 1980. Tom Bratcher, Bill Schucany and Jim Davenport organized the first COTS meeting, which was held in Waco, Texas in February 1981. The conference has been held annually since then. After the successful 1985 meeting in Austin, the Texas Chapters of the ASA were invited to set up the Council of Texas Statisticians with representatives from each Texas Chapter. The COTS meetings afford Texas statisticians the opportunity for social and intellectual exchange on a yearly basis. Senior and junior statisticians, as well as students, present their research talks or posters at the COTS. These meetings also stimulate increased chapter membership, as well as visibility of the statistical profession in the state of Texas. A highlight of each meeting is the presentation of the annual Don Owen Award for excellence in research, statistical consultation and service to the statistical community.
Registration and Costs
Cost: $85 for faculty/professional, $45 for students (UPDATE: the late fees now in effect are $100 for faculty/professional and $50 for students). Each registrant may bring a dinner guest for $40. Visit our registration page to sign up. The deadline is Sunday, April 8 at 5 p.m.
Abstracts
We are accepting abstracts for posters. Visit our abstract submission page to submit your abstract. You can also view our speaker abstracts.
Lodging
A limited number of rooms are available at the Holiday Inn Express San Antonio Airport (91 Northeast Loop 410, San Antonio, TX, 78216) at a group rate of $85/night. Mention "2018 Conference of Texas Statisticians" for the group rate while booking. Please note: The block of rooms reserved by the event organizers has expired as of 3/30, so a group rate is no longer guaranteed.
Additional Information
Please contact the organizers if you have any questions.