Women's History Month Q&A
March 22, 2021
A Q&A with Dr. LuElla D'Amico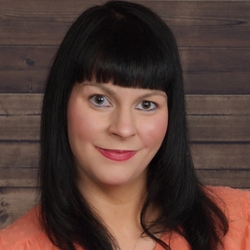 As part of the University's continued celebration of Women's History Month, we caught up with Dr. LuElla D'Amico, coordinator of the UIW Women's and Gender Studies program and associate professor of English, for another UIW faculty Q&A! Read below to learn about her take on what it means to be a feminist, how her love of literature and women's history go hand in hand and what UIW still has coming up for Women's History Month.
Tell us about your personal and professional backgrounds.
I was born in Spartanburg, South Carolina and have lived in Oklahoma, Washington state, and now Texas. My husband Scott and I have two children, a six-year-old son Jack and a five-year-old daughter named Emmeline. I grew up in an old mill town, where jobs were scarce for everyone; my family was no exception. My dad was funny and quick-witted, and my mom was thoughtful, lighthearted, and kind. They died about 10 years ago, which led to my conversion to Catholicism when I was seeking answers to some of the hardest questions we're faced with as humans. I am blessed to work at UIW where I can explore these same questions with students on a daily basis.
Professionally, I study early and nineteenth century American literature, and my primary research interests lie in girlhood and girl culture during this timeframe. I have edited two volumes on this topic, Girls' Series Fiction and American Popular Culture and Reading Transatlantic Girlhood in the Long Nineteenth Century (with Robin Cadwallader). As a feminist literary historian, I seek to recover voices and stories that have been lost or repressed because of authorship or subject matter. I have published works on topics, such as early female pirate narratives, the "mean girl" legacy of the Salem Witch Trials, the girl savior motif in Harriet Beecher Stowe's Uncle Tom's Cabin, Christian Evangelical feminism in Amelia E. Johnson's Clarence and Corinne (the first novel thought to be published for a Black child audience), and the power of female friendship in Wynema (the first novel known to have been written by a woman of American Indian descent). My work centers on sentimental literature, a genre that takes seriously tenderness, compassion, and emotions as a force for sweeping cultural change.
Who are your female role models and how have they influenced your career?
There are too many to name, and I believe that a Christian feminist life is one lived in collaborative engagement and appreciation of those whom you love and admire. I'll share two gems of advice from career role models and an important UIW specific story. The first gem comes from Dr. Beth Lueck, who was a longstanding president of the Harriet Beecher Stowe Society. I met her as a graduate student at a conference when I happened upon a mentoring session about balancing an academic career and motherhood. At the time, I didn't have children, and my husband and I were having trouble conceiving. I thought that perhaps this might be for the best—that if I was going to try to get a job that perhaps this wasn't the best time for motherhood. Dr. Lueck told me at that session about how much she loved her son with specific stories about him that I will never forget. She said I should never let the academy, or any job, dictate a timeline for decisions that matter to the heart and soul—that there will never be a good time—and that the world is always going to tell women that they cannot achieve what they want in their family and social lives for various reasons. She told me not to listen to the world, that life will always be messy, and that I should never let the academy choose any life plans for me because it does not make those demands of men.
The second gem of advice is from Dr. Pam Parker, a fierce Victorian scholar, and the department chair at the institution I worked at before here. Dr. Parker found out she had skin cancer quite suddenly and passed away the summer before I moved to Texas about five years ago. We had pie at a café the day I left, and she said, "I know you're looking for a piece of advice from me. And what can I tell you? Make hay! Do everything! Love everyone! Love God! Write! Grab! Ask! Don't wait. Enjoy it all now." In the year that she found out she had cancer, Dr. Parker and I shopped a lot, played a lot, went to church together, ate a lot of pie (and other food), and she travelled the world and told me all about it. She was the most giving person whom I've ever known, and the brassiest—the one with the most energy, the biggest laugh, the biggest opinions, and the most fun. With her, there was always a seat at the table. Her unique combination of frankness, certitude, and openness is the type of role model that I think about every day in my career here, and I try to live up to the energy and the expansive love she had in her career and life for everyone in her path.
Finally, my patron saint is Elizabeth Ann Seton, whom I chose in graduate school when I converted. She founded the first American Congregation of religious sisters, the Sisters of Charity and is the patron saint of Catholic schools. Throughout my academic career, I have asked for her intercession. I have always thought it providential that I have come to work here. I will never forget meeting Sr. Walter Maher for the first time or the moment when I saw this particular job ad come open. During the pandemic, I have often asked for Elizabeth Ann Seton's prayers and shared this quote with my students during the Texas snowstorm, "The accidents of life separate us from our dearest friends, but let us not despair. God is like a looking glass in which souls see each other. The more we are united to Him by love, the nearer we are to those who belong to Him."
What has been your proudest career moment/accomplishment to date?
Although I've had books published that have been reviewed positively, the proudest accomplishment is an article I had published in 2019 in Children's Literature Association Quarterly titled "The Journey to American Womanhood: Travel and Feminist Christian Rebellion in Susan Warner's The Wide, Wide World (1850) and Martha Finley's Elsie's Girlhood (1872)." My husband found copies of the Elsie Dinsmore series at his grandmother's house in Oklahoma in 2009 and brought them to me, thinking from the old dusty covers and titles they might be books I'd enjoy. I read the series and noticed the third one held a striking similarity to a novel that coined the term "bestseller" in American literature, Susan Warner's The Wide, Wide World. I wrote a paper in a graduate school class about it, and after ten years and multiple revisions, it was finally published. It was by far my proudest accomplishment, as I could see the level of growth I had from my first idea to where it eventually ended up 10 years later. Moreover, it is now my third published piece on Martha Finley, who wrote the 28-volume Elsie Dinsmore series. The Elsie Dinmore series was published the same year as Louisa May Alcott's Little Women, and was vastly popular in the nineteenth century and is still being published today. Reviving and contributing to critical scholarship on Finley is an important part of my career and that includes putting her work in conversation with other, more well-known authors like Susan Warner.
In addition to being UIW's Women's and Gender Studies coordinator, you are also a full-time faculty member in the English Dept. How has your study of literature influenced your desire to teach Women's and Gender Studies?
They are inextricably linked. I remember sitting in a nineteenth-century American women's writing class as a graduate student with Dr. Alison Piepmeier and being somewhat amazed, cheated, and then, finally, angered, that I had not heard of the women that she was teaching me about—Harriet Jacobs, Frances Harper, Ida B. Wells, E.D.E.N. Southworth, Fanny Fern, Catharine Maria Sedgwick, and others. I love Jane Austen and the Brontë sisters. I had grown up loving British Victorian women's writing, and I learned in her class that American women had been writing at the same time, too, and that I didn't know their novels because of the way that the literary canon was formed—the way that scholars at the turn of the twentieth century decided to omit female voices because of exclusionary, cultural standards about what merited "good" and "bad" literature. Importantly, for me, that doesn't mean that the male voices of that time period should now likewise be excluded, but rather that we should tell all the stories—and make it known that they were all speaking to each other. Harriet Beecher Stowe was talking to Frederick Douglass, and they were both in conversation with Abraham Lincoln: all of these voices make up the fabric of a complex American experience, and none of them are perfect. This is what the process of recovery looks like—making sure that everyone's stories are heard; the complexities and nuances of literature reflect the vast human experience. Dr. Piepmeier was the head of the Women's and Gender Studies program at my undergraduate and master's institution and her research and living out of third wave feminist activism inspired me to see the study of literature not as simply rooted in the page but rooted in the story beyond that page. Literature, at its best, can help us see beyond ourselves. That's what Women's and Gender Studies does, too. It helps us try to make the world a more equitable place. I simply begin that work in the literature classroom.
What does feminism mean to you?
Feminism is a movement to treat everyone equally.
What do you want people to understand about what it means to be a feminist?
I think the most important thing to understand is that number 5 (the previous question) really covers it. There are many branches of feminism—and types—and I specifically—if I were to go into more detail—am a Catholic Third Wave feminist. However, what matters most is that you can be any race, religion, political party, creed, sexual orientation, have absolutely any background, lived experience, come from any part of the country, you name it, and be a feminist. It is simply about treating everyone equally and hold the belief that that we should all do that. Please enroll in my class in the fall Introduction to Women's and Gender Studies to learn about all of the different types of feminist discourse and types of feminism that are out there; there are many. They are all attempting this same outcome, though. Don't let charged rhetoric deter you from calling yourself a feminist. It's a term you should be proud to call yourself because everyone should believe in equality of the sexes.
If you had to pick one - what is your favorite book by a female author and why?
Louisa May Alcott's Little Women (1868-69) is probably my favorite novel by a female author because Alcott realized that girls' experiences matter and contain stories worth telling. Alcott's novel has always remained popular since its first publication not because it was taught in school settings, but because it was passed down from one generation of women readers to the next via families. My mom gave me a copy, as did other members of my family. I particularly love it because it displays a myriad of girl and women characters, none of whom are the same and yet all of whom are complex. The men in the story all seem interested in wanting to be a part of the women's activities, not the other way around, which is so often the case. Moreover, girls' lives and experiences—and that girls can have rich cultural, creative, and philosophical lives that matter—are taken into deep account. Finally, Louisa May Alcott herself is a philosopher worthy in her own right. She created a genre—the adolescent reform novel based in the transcendentalist movement—and this novel transformed American literature. Importantly, again, this happened because Alcott decided to take seriously the lives of young women and write about them for the first time with seriousness, attentiveness, and realism.
What literature would you recommend to students who want to learn more about women's contributions to society and/or the female perspective?
I love this question because it gives me the opportunity to list the books I couldn't decide from in the question above: Their Eyes Were Watching God (1937) by Zora Neale Hurston is the best novel from the Harlem Renaissance in my opinion and might be the most beautifully written novel I've ever read. My first time reading it can only be described as experiencing sunshine.
The Grass Dancer by Susan Power (1995) tells the story of women of the Standing Rock Sioux tribe, both historical and contemporary, and is another beautifully rendered novel of women's voices that need to be heard. You will not be able to put this one down.
I Am Not Your Perfect Mexican Daughter by Erika L. Sánchez (2017) is a bestselling book whose main character, Julia, is a 17-year-old Chicago girl who grapples with the expectations of her first-generation immigrant parents. "Part mystery, part love story, and part inner quest," is how it is described by National Book Foundation.
Tell us about some of UIW's upcoming Women's History Month programming and the work of the Women's History Month committee.
The Women's History Month committee has truly been a collaborative process, and one that has almost been a heroic effort this year. Our work got waylaid because of the Texas snowstorm, which occurred the week before all of our activities were supposed to be finalized for the University calendar. Our "final meeting planning" got moved twice, and our website got put together in a matter of days, with some on the committee emailing me in adverse circumstances making sure that their activities would make it on the calendar. To speak of the resilience of this committee during a pandemic year cannot be overstated. The committee truly is "valiant," as our 2021 theme suggests.
Throughout this 2020-2021 academic year, I've worked with Nataly Lopez from Campus Engagement coordinating Women's History Month. She created an organization portal in UIW Engage for Women's History to share events, resources, and messaging to the student body, and I worked primarily on the Women's History Month website for marketing. However, the bulk of the work has been the programming that our faculty, staff, and student committee members from all across the university have put together and/or supported throughout the month of March. From blood drives to commemorate Clara Barton, a conversation with the Sisters of Charity, a film screening about Florence Price (the first African-American woman composer to have a symphony performed by a major U.S. orchestra), a lecture by Graciela Sanchez from the Esperanza Center about Westside San Antonio Cultural Activists, and UIW's virtual participation in the UN's Women's Conference taking place this Friday and Saturday (the 19th and 20th)—the events already in March have been many and varied—and that's only naming some of them.
There are still many more activities to come this last week of March. On Monday at 4:15 p.m., Theatre Arts students from Margaret Mitchell's class will be performing a scene titled The Night I Found You, Confronting Dating and Sexual Assault and offering commentary after it. On Tuesday at 3 p.m., there will be a lecture by UIW graduate student Erika Haskins about Mary Saunders, a nineteenth-century Texas poet who wrote about Texas patriotism, battles, and scenery, and was once dubbed, "Texas's poet laureate." On Wednesday, March 24 at 6 p.m., Teresa Harrison and Renee Bellanger will be hosting Women's History Month trivia via Zoom, with prizes. And, on Thursday, we will round out Women's History with a read in from 12:30-1:30 p.m. Stop by DuBuis Lawn. Grab some books by women writers and a pre-packaged snack, and learn about topics that matter in women's lives and history.