Storytellers: Mikala Gibson and Ya'Ke Smith
February 27, 2021
Artists Ya'Ke Smith and Mikala Gibson, both graduates of UIW, have made their mark on the film world – Ya'ke as a filmmaker, director and educator, and Mikala as an actor, director, writer and teacher. For the married couple, art is both a craft and a tool of social change. Looking at stories through the lens of social justice and authenticity, they inspire, challenge and further critical conversations. We asked Mikala and Ya'Ke about their time at UIW, what inspires them and the power of art in transforming hearts and minds.
---
A Q&A with Mikala Gibson and Ya'Ke Smith
Tell us a little bit about your personal and professional backgrounds.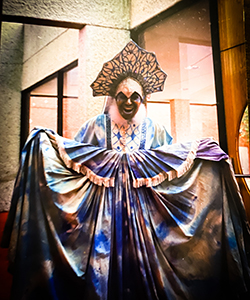 M: I was born in Kansas, but I have lived all over Texas. My father was a pastor in the African Methodist Episcopal Church and his job required us to move a lot. I consider both San Antonio and Houston home because we lived in these two places the longest. Ya'Ke and I have a beautiful 5-year-old son and reside in Austin, Texas. I'm an award-winning stage and screen actress, director, screenwriter, published writer and master teaching artist. I've appeared on major networks such as HBO, Showtime, BET, PBS and most recently in season five of AMC's Fear the Walking Dead as Doris. My work has also been featured at the Cannes International Film Festival, Sundance, SXSW, Austin Film Festival, Urbanworld Film Festival and the American Black Film Festival, to name a few. I'm also an artistic associate for Creative Action, a lecturer at the University of Texas and I serve on the board of ATX Interfaces.
Y: I grew up on the East Side of San Antonio and graduated from Sam Houston High School, which is where at 15, I made my first film. I didn't always want to be a filmmaker, but I knew I wanted to be in the business in some way. After seeing Boyz n the Hood, I knew that I wanted to write and direct, because that film had such a profound impact on me. It was that film that really opened my eyes up to the power of cinema and the way a great film can affect an audience spiritually, mentally and psychologically. Once I got to Sam Houston and had access to cameras, I made that first film and have produced content every year since.
Who are your personal and professional role models?
M: I've always admired the work of Phylicia Rashad and Debbie Allen. They both are directors, actors, and educators. I hope to have the opportunity to work with them someday. I also love Anna Deavere Smith. I love how she uses theatre to educate and comment on the people we walk by and ignore. She has shed light on so many situations through her work.
Y: There are so many, it's hard to name them all. Some of my filmmaking influences are Spike Lee, Charles Burnett, Haile Gerima, Julie Dash, Kasi Lemmons, Andrea Arnold, Wong Kar-wai, Alejandro Gonzalez Innaritu and Fernando Meirelles. I'm also very inspired by what's happening in television and am excited about folx like Lena Waithe, Felicia D. Henderson, Issa Rae, Michaela Cole, Misha Green and Donald Glover to name a few. I am also very inspired by the unsung heroes that have been most instrumental in pushing me forward both professionally and personally. My family (wife, sisters, mom), my longtime filmmaking partner and brother (Ralph Lopez) a host of professors, and the many people in my tribe that are constantly supporting and encouraging me as I continue on this creative journey.
How did you meet at UIW?
M: We were introduced to each other by the editor of The Logos. She asked Ya'Ke to write an article about me because I was nominated for an ATAC Globe award for my work as Maria in Twelfth Night. After the interview, we became friends but didn't start dating until the following year.
What clubs/organizations were you involved in as UIW students and how did your experiences as members contribute to your success today?
M: I was involved in the Black Student Association and Alpha Kappa Alpha Sorority, Incorporated. Being part of the BSA was fun and gave us an opportunity to bring awareness to the Black experience on campus and Black culture. We organized study groups, fundraisers to help our community and presented campus events celebrating Black culture, including the annual Black History Program. Alpha Kappa Alpha Sorority, Incorporated, founded in 1908, is the oldest Black sorority. My chapter, Delta Rho, was a city chapter with members attending Our Lady of the Lake, St. Mary's, Trinity and of course UIW. Joining this sisterhood taught me so much about leadership, business etiquette as well as creative and effective ways to serve my community.
In your recent UIW DreamWeek session, you both mentioned one UIW faculty member in particular – Dr. Fitzgerald. Can you tell us about the impact she had on your education and careers?
Y: I can vividly remember the day that Dr. Fitzgerald came in to deliver her job talk and how inspired I was. She talked about film language in a way that I'd never heard. She broke down film scenes from a critical standpoint, not merely an emotional one, for the first time really showing me what it means to evoke emotion via a composition, sound, language (or the lack thereof) color, etc. From that moment, I clung to her and wanted to suck up all the knowledge she had to offer, and from there, our relationship evolved from merely an academic one to a personal one. My family has become part of her family. Our families usually have dinner at least three or four times a year, and we talk on the phone about everything from film, to being Black professors in predominately white institutions. She's like a god-mother to me and I really do credit her with giving me the added confidence I needed to apply and be admitted into film school.
M: I didn't meet Dr. Fitzgerald until the year after I graduated. She was Ya'Ke's professor. She was one of two Black female professors that I remember being on campus at that time. Seeing someone in this academic space who looks like you is impactful. It is encouraging in so many ways. Not only was her presence encouraging, but she offered us so much great advice regarding being a Black creative. From music to film to books, she continues to introduce me to the works of other artists and challenges my growth as an artist. UIW is so blessed to have her.  
Various art forms have been used throughout history as political and social commentary. How do you use your art to contribute to national conversations and to impact social change?
Y: If it doesn't have some sort of social influence or will enact some change, I don't do it. Art for art's sake doesn't really move me, and for me, serves no purpose. I want to feel joy from a piece. I want to feel turned on by a piece. I want to feel inspired by a piece. I want to feel as though I'm furthering critical conversation by making a piece. If I'm not doing that, or having those feelings, then for me, I've wasted my time and energy.
You have both stayed true to your morals and values throughout your careers. What pillars keep you grounded and guide your career decisions?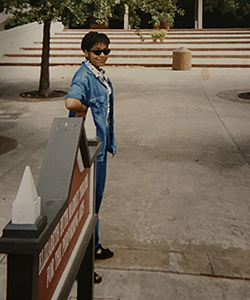 M: God. My purpose is bigger than me and my selfish desires. I believe that God gave me my talents for a reason. That reason is not just for my own glory, but to empower people. Once I understood that, it became a little easier to say "no" to certain opportunities that could possibly help my career but didn't align with my beliefs. Honestly it is still a struggle and I don't always get it right, but I trust God. I sit in his presence every day and ask him to help me recognize what is and isn't for me.
Y: God and my spiritual practice lead and guide everything that I do. I am a firm believer that all opportunities aren't good opportunities, yet if you see things through merely a physical lens, you'll oftentimes miss this critical component of long-lasting and meaningful success. You must take time to listen to yourself, to weigh things long term, to not look at everything from a selfish (it's all about me) point of view. We've not been put here just to garner praise or attain wealth that will only benefit us, but I believe we have been placed on Earth to transform the world in some way. I always ask myself: how can this help me to be transformational? 
What's next for you in your careers? Where can people see your work next?
M: I'm working on my solo show exploring my experience as a pastor's daughter, and my journey into womanhood as I navigated between "the church" and "the world." I'm also working on another indie film project that I can't discuss yet.
Y: I'm working on developing two feature films right now and am constantly working on various projects. Please visit my website, exodusfilmworks.com, to learn more.
What advice can you offer current students about how to make the most of their time at UIW?
M: Be present! Yes, you are in college to prepare for your future, but take advantage of all that UIW has to offer without losing focus. Volunteer, join organizations, go to events, explore the city. The college experience is more than what you learn in the classroom.
Y: Be curious. Don't be afraid to ask questions and put yourself in spaces with people that you may not know. I've learned so much from individuals who didn't think like me, didn't see the world like me, but they offered unique and out of the box perspectives on so many things.
---
Mikala Gibson
You recently launched a new website called The Black Artivist Collective. What is an "artivist" and what is The Black Artivist Collective?
An artivist is an artist who uses their art to combat oppression and comment on social injustice. The Black Artivist Collective is a platform I created to specifically highlight these artists who are being intentional when it comes to addressing the injustices facing the Black community, as well as celebrate Black culture. The platform consists of a blog and a podcast right now, but more is coming. I want it to be a communal gathering of Black artists to celebrate each other. I want it to be a learning experience for young artists who are trying to find their voice. I know I've learned a lot from these artists so far.
How do you think art can be channeled to fight injustice and oppression? How do you try to do this through your own work?
Art has always influenced current social and political climates. When my ancestors were brought over to America as slaves, they used songs, drumming (when allowed) and dance to fight for their freedom. Those artistic expressions helped many survive the horrors of slavery. The Harlem Renaissance was more than beautiful poetry and colorful short stories. When Billie Holiday defiantly sang "Strange Fruit" she was doing more than entertaining. These artists were commenting on the oppression of their time. They wanted change. I strongly believe that my purpose in life is to create art that helps liberate my people: the mother trying to help her abused son heal from a traumatic experience, the woman who is trying to prove to her family and herself that she can stay out of jail and acclimate into a society that is not welcoming, the counselor who sacrifices her life to help men and women clean up theirs and fight the demons that have kept them from being successful. All of these characters that I've played have moved someone to change their life. People see themselves or a loved one in these stories. These stories ignite change.
What is your favorite role to date and why?
My favorite role so far is Nona from WOLF because that film impacted so many people. It started a conversation that many have ignored for years. I still get messages from mothers who are in a similar situation as Nona. They want to vent to me after seeing the film. They ask for my advice. Now I'm careful in giving advice and often refer them to a professional counselor but I'm glad that they are seeking help. I'm proud that my work sparked them to do something about their situation. That's the power of art.
You are a firm believer in continuing education. How do you strive to continue your education even after all your professional success?
I am a lifetime student. I believe that you should always create space to learn something new. That might be a dance class. That might be an improv class. Who knows, I might decide to pursue another degree. I love taking classes/workshops/seminars. I love learning new things. I even love learning from my students. Some of my former students and mentees taught me about podcasting. I also believe that I must continue to study my craft, so I try my best to take two workshops/classes a year. This industry is constantly changing, and these classes definitely help me stay abreast of these changes.
---
Ya'Ke Smith
During your recent talk with UIW students, you discussed that UIW taught you how to connect your spirit to your art. Can you elaborate on this?
Being at a university that first spoke about art and literature as an act of courage, and one's voice having the ability to offer spiritual transcendence for the speaker and for the hearer, brought the idea of film as offering a type of freedom into clear focus for me. I can remember being in Dr. Gilmore's class and reading James Cone's The Spirituals and the Blues, which laid bare the way that Black slaves and their descendants used both the blues and the spirituals to not only get closer to God, but to really get closer to their humanity and reaffirm their existence. To sit in a class and read about this, dissect it and discuss it; a discussion that for me amounted to tapping into the soul of creation, getting to the soul of why one creates. Being in a class like that just affirmed for me something that I'd already instinctually knew, that art must be more than beauty. It must provoke, challenge and offer humanity back to those that consume it.
You also said that your art can leave a viewer either "changed or damaged." How do you try to positively change your audiences with your films?
I'm not sure I want to necessarily "positively" change the audience, but I do want them to leave changed in some way. I'm all about making audiences uncomfortable, because I believe that being uncomfortable is one of the first steps towards true liberation. One of the reasons why our world remains the same, is because we're too afraid to really confront things head on and oftentimes refuse to acknowledge our faults and mistakes. The idea of that level of transparency frightens all of us, yet if we allow that uncomfortable confrontation to happen, so many great things can happen for us personally and for the world at large. With my films, I hope that viewers see themselves, even if it's just a small part of themselves that they needed to see reflected on screen, and that the seeing transforms them in some small way.
Tell us about one of your most recent works, The Pandemic Chronicles. Where can viewers find this latest work?
The Pandemic Chronicles is an anthology series about love, grief and joy during quarantine. It was produced this past summer as both a way for me to process the craziness that was 2020, and also as a way to talk more broadly about the collective way that we're getting through. It also allowed me to look at the unique circumstances that each individual is facing during this season of COVID-19. Experiences that can be very different depending on socio-economics, location, race, age, relationship status, etc. Each episode is very different in its visual and story approach. They run the gamut from romantic dramedy, to social drama, to purely romance, covering everything from the immigrant experience to the experience of our health care workers, and the different sacrifices that come with each of these. The series has won numerous film festivals, recently winning Best Web-Series at the Denton Black Film Festival and is currently being distributed through Full Spectrum Features. You can watch here. 
You were named UT Austin's first associate dean of Diversity, Equity and Inclusion in the Moody College of Communication. What work in this role are you most proud of? 
Operating in the DEI space can be pretty daunting, as the work you're tasked with doing can oftentimes put you in direct opposition to the institution that you're working with. Academia can be a very exclusionary place when it comes to both race and gender, and my position is to not just bring awareness to the many inequities that exist, but to find solutions. To that end, I'm really excited about some of the initiatives we've already gotten underway and also the ones that I'm planning to start moving the needle on. We started a Student Emergency Fund, created a Diversity, Equity, Inclusion and Justice Pedagogy Program, appointed a cohort of students that will be both advisors to my office and also create content centered around issues of Equity and Inclusion, and we're one of the first colleges on campus to mandate diversity training for all faculty, staff and graduate students. My dean has been very supportive of these initiatives and it's that support that has allowed us to get things done. Also, I'm just really proud of the conversations that we've created throughout the college when it comes to issues of equity and justice, and how those conversations are slowly, but surely, changing the culture of our college.