Hispanic Heritage Month Feature: UIW Provost Dr. Barbara Aranda-Naranjo
October 15, 2020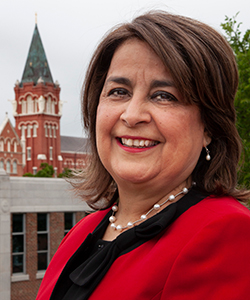 The granddaughter of immigrants, the daughter of migrant workers and a first-generation Hispanic college graduate – these are the makings of UIW Provost, Dr. Barbara Aranda-Naranjo. Dr. Aranda-Naranjo now has more than 30 years experience in education, community-based care and federal service. While she is a beloved member of the UIW community as an alumna and educator, before she came back home to UIW, she served in various public health leadership positions at the local, state and federal levels. She is also widely recognized as a public health leader for her work to better the care and quality of life for those living with HIV/AIDS. She served in this capacity for the United States Department of Health.
Throughout her time at UIW, she has made it a priority to position the University as a Hispanic-Serving Institution through collaborations with the National Hispanic Medical Association, Excelencia in Education and others.  In honor of Hispanic Heritage Month, we asked Dr. Aranda-Naranjo to share a little bit about her heritage, the lessons she learned from family that she carries with her today and her vision for a more inclusive world.
1. Can you tell us a little about your heritage and family?

I am second generation Mexican American from Irapuato, Guanajuato. My paternal grandfather and my grandmother were born in the state of Guanajuato in Mexico. My maternal grandmother and grandfather were from Cadereyta, Nuevo León in Mexico.
My father was born in Cameron, Texas and my mother was born in Mercedes, Texas. I was born in Houston at St. Joseph Hospital. I am one of nine siblings – the eighth in a line of seven brothers and one older sister who served as a missionary in Sub-Saharan Africa and Brazil for ten years.
2. You are the daughter of migrant workers, grew up in Houston and were one of nine children in your family. What influence did your upbringing have on your career path?
When my parents met and fell in love, they were migrant workers traveling from Mercedes up the northern migrant route to Ohio to pick crops. My parents did this work until my father, who had a high school education, accepted a job as a shipping and receiving clerk for A&P Grocery Warehouse in Houston.
Many of the migrant families did not have access to health care and many of the migrant children, like my mother, never finished high school. My mother started picking crops when she was only 5 years old and only attended school through the third grade.
My mother valued education so much because she was unable to go. She instilled in me the love of  learning for the purpose of completing my education and being of service to my community. My mother shared with me the stories of many migrant women and children dying during childbirth and before the age of 6 due to lack of health care.  
These stories influenced me not only to become a nurse, but to dedicate my life to the underserved, wherever they may be.
3. What influence do you think it had on the way you approach serving others?
I learned early from my mother, father and aunts from Mexico not only to be of service to others, but also to be gentle with the "stories" of others, since many still carried the painful loss of a loved one.  
As a nurse, I have had the honor of listening to many stories from patients, family members and community workers, and I have treated each one as a "sacred moment" of human-to-human interaction.
4. UIW is a proud Hispanic-Serving Institution. What assets do you think your unique background brings to the University's commitment to serving Hispanic and diverse students?
As an American of Hispanic descent with roots in Mexico, I bring a deep respect for cultural diversity of every staff member, faculty, student and administrator. I see the world through rich, bi-cultural lenses and approach leadership with this diversity in mind.  
I value the history of both Mexico and the United States, how intertwined the stories of these two great countries have been and how they continue to influence each other.  
I recognize that even though the majority of our Hispanic students are of Mexican descent, there are many Hispanics from other South American countries such as Puerto Rico, Colombia, Peru, Spain, Dominican Republic, El Salvador and Nicaragua, just to name a few that have attended UIW.  
I also value the exchange of our students and faculty from our campuses in Mexico City and Irapuato, Guanajuato.
5. You have had an extraordinary career in fields from nursing to public service and, now, to provost. What impacts or contributions would you like to make to UIW throughout your tenure that would help first-generation, Hispanic or otherwise traditionally underserved students have extraordinary careers of their own?

I was blessed to have many people, especially the Sisters of Charity of the Incarnate Word, as faculty, mentors and friends early in my educational pathway.
As a first-generation, Hispanic college student, it is very important to have mentors who value your story and are willing to translate the variety of cultures you will encounter in your educational journey and need to self-manage.
The self-management of the cultures you will encounter in your college pathway are part of becoming a full human being and flourishing. You will need to be mentored to manage the culture of college life, the culture of faculty-student interactions, the culture of classroom learning, the culture of advisor-to-student relationships and how to maintain your own culture with your parents and family as you transform from student to professional. 
As provost, I hope to continue to work with administration, faculty, students and support staff to create a strong mentoring program for all students to flourish and fulfill their educational goals and share their gifts with others for the common good. There is no more fulfilling life as a UIW graduate than one of service to others. Everyone should have the opportunity to live their dreams, and as UIW graduates, we are graced by our Mission for every student to become the light for others, especially the vulnerable across the globe.  
6. You have also begun spearheading the University's DEI efforts. What does this initiative mean to you and how could these efforts positively impact the UIW community?
Diversity, equity and inclusion have been embedded in UIW's Mission and values since its founding, inspired by the three Sisters who arrived from Leon, France to serve the needs of a wounded country after a painful Civil War and cholera epidemic. The Mission continues, and we are called – each and every one of us – to once again answer the needs of our fellow human beings and country. We are in pain as a world and we need to take time to listen to each other's stories, stories of joy and pain. We have all been wounded in some way, but it is in our mutual stories that we can heal as a country and world. My hope for the continued UIW DEI reflection meetings and subsequent action interventions is that we each embrace our Mission to hold each life sacred, because we all are a spark of the Divine. Praised be the Incarnate Word. Forever. Amen.