Academic Resources During the COVID-19 Response
At-Home Learning Resources for Students and Faculty
These resources help students and faculty meet the challenges of online learning as we respond to the COVID-19 pandemic. For the latest on the University of the Incarnate Word's response to the coronavirus, visit UIW's Coronavirus/COVID-19 Updates page.
---
A Message from the Dean
Dear students,
The H-E-B School of Business and Administration remains committed to the success of our students as we meet the challenges of learning during the University's response to the COVID-19 pandemic. Please do not hesitate to contact myself or the school office with your questions or concerns during this time.
Sincerely,
Dr. Jeannie Scott
Interim Dean, H-E-B School of Business and Administration
Technology Questions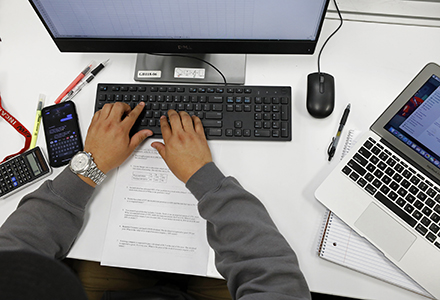 UIW Help Desk
The UIW Information Technology (IT) is available to assist students and faculty with questions about online learning from home. IT answers questions about technology limitations, accessing files and much more.
Students and employees who might not have the necessary technology resources at home should contact the UIW Help Desk between 7 a.m. and 5 p.m. to discuss additional options.
Contact the UIW Help Desk:
Student Resources
A wide range of resources and services are available to students as we transition to online teaching and learning. Explore the information below to find the help you need.
Internet Access
If you do not have access to a reliable Internet connection, please see the following options currently available.
Spectrum/Charter Residence Internet
Spectrum will provide full wired high-speed internet at no cost for 60 days.
There are no installation costs, no data caps, no fees, etc.
Spectrum is available in virtually all San Antonio locations, but they will validate your address.
You will have to cancel by the end of the 60 day mark.
Call 1-844-488-8395 immediately to schedule installation.
WiFi Hotspots
Spectrum, AT&T, Comcast and other providers are opening all public WiFi hotspots for at least the next 60 days.
This does require finding a hotspot, but there are many in the San Antonio area. Locate Spectrum WiFi hotspots. 
Cellular Data (if applicable)
If you have a smartphone and a carrier, you may be able to rely on cellular data.
Sprint and T-Mobile are making all data plans unlimited for next 60 days and increasing mobile hotspot tethering. Check with your carrier to see if this option is available to you.
Library Resources
UIW Library staff are available to support students, faculty and staff as we transition to online instruction. Library staff are available to assist with:
Ask-A-Librarian email, chat and phone.
LibGuides to help with discipline research.
Assignment guides specific to a course or an assignment.
General information on how to use the library from off-campus.
Visit the Library website for more information.
Using Zoom in Your Classes
Instructors will be utilizing Zoom more for video conferencing while courses are taught remotely.
Zoom can be accessed through Cardinal Apps and from within Blackboard courses. UIW students are able to host Zoom sessions. These sessions are limited to 100 participants and may not be longer than 40 minutes. Sessions may be recorded to a local device or to the Zoom cloud. Recordings must be retrieved from the cloud within 30 days of the recording date.
Contact its@uiwtx.edu with questions or concerns.
Click here to learn more about Zoom.
Click here to learn how to open a Zoom meeting in Blackboard.
Professional Video Conferencing
As we make the transition to online learning, the goal is to make at-home instruction feel as much like a normal class as possible. Faculty at the School of Mathematics, Science and Engineering put together the following advice for students while utilizing video conferencing at home.
Mute your mic when you aren't speaking to minimize feedback.
Avoid being backlit. Make sure the brightest light is in front of you or at the side.
Look into the camera when you're speaking, not at your screen.
Watch the short video below for more helpful tips to maximize your video learning experience.
Advising During COVID-19
Until further notice, academic advising will operate electronically for the H-E-B School of Business and Administration. Students working with Academic Advisor, Ms. Gloria Ramos-Cortes, will receive an appointment link with further information and direction about setting up a phone appointment.
Students working with Academic Advisor, Ms. Haley Ayres (now on medical leave), can also set a phone appointment with Ms. Gloria Ramos should questions or concerns arise.
Click here to download an advising guide for business students.
Click here to visit the UIW Advising website.
Click here to learn how to prepare for your advising appointment.
Please continue to check your student email as the semester progresses for important information as it develops.
Due to the high volume of correspondence, please allow up to two business days for a response from your academic advisor. Every email will be answered in the order received. For the latest information from HEBSBA Advising, follow @HEBSBAadvising on Facebook and Instagram.
Accessing Writing and Tutoring Services Remotely
The Writing and Learning Center and Tutoring Services are now offering online tutoring for course content, study skills and writing. Students taking undergraduate courses will be able to access the following services:
Weekly drop-in group sessions for a range of courses in the sciences, business and nursing
Individual sessions for writing and study skills
Individual online tutoring for a range of subjects in the sciences, business, mathematics, writing and Spanish through Smarthinking, accessible 24/7
Students can self-enroll in the Blackboard page "Tutoring Resources" to access tutoring. More information can be found on the Writing and Learning Center website and the Tutoring Services website. Students can also call (210) 829-3870 or email wlc@uiwtx.edu or tutoringservices@uiwtx.edu with any questions.
Free Access to Digital Books at Cengage Unlimited
Online learning resource Cengage Unlimited is offering students free access to all of its online books during the COVID-19 pandemic. Please call (800) 354-9706 to speak with a representative.
Faculty Resources
Below are resources for the faculty of the H-E-B School of Business and Administration to serve as an aid in the online teaching process.
UIW Information Resources Division (IRD)
Center for Teaching and Learning
Visit the Center for Teaching and Learning website for assistance: CTL website.
Faculty-Shared Resources
Below are resources shared by UIW faculty. The list will be added to as new resources are shared.