MIS Department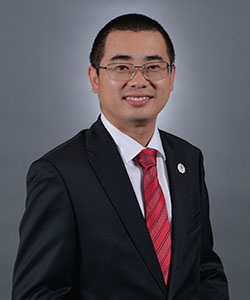 Contact
Email: yiliu5@uiwtx.edu
Phone Number: (210) 

832-5673

Office: AGO 107 | Agnese Sosa Building
Research Foci
Platform-Centric Competition
Business Analytics
E-Business
IT Business Value and IT Strategy
Hobbies and Interests
Fishing
Golf
Hiking
Travel
Ph.D., Business Administration: Management Information Systems, Florida State University
M.S., Information Systems, Auburn University
M.B.A., Auburn University
B.S., Management Information Systems, Anhui University of Science and Technology, Huainan, Anhui, China
Foundations of Management Information Systems
Introduction to Information Systems
Information Management Application
Systems Analysis and Design
Introduction to Business Analytics and Business Intelligence
Predictive Analysis and Forecasting
Data Mining and Data Analytics
Association for Information Systems (AIS)
Refereed Journal Publications
Liu, Y., Armstrong, D. J., and Riemenschneider, C. 2018. "The Relationship between Information Systems (IS) Assets, Organizational Capabilities, and Is-Enabled Absorptive Capacity in Us State Information Technology Departments," Communications of the Association for Information Systems (42:1), pp. 125 - 146.
Liu, Y., and Tang, X. 2018. "The Effects of Online Trust-Building Mechanisms on Trust and Repurchase Intentions: An Empirical Study on Ebay," Information Technology & People (31:3), pp. 666 - 687.
Conference Proceedings
Liu, Y. (2015). The Effects of Big Data Analytics and Innovation Culture on Absorptive Capacity and Innovation. In SIGBPS Workshop on Business Processes and Services 2015 Processing Research Papers, Fort Worth, Texas.
Armstrong, D. J., Liu, Y., and Riemenschneider, C. K. (2015). How Managers and Workers See Their World: Perceptions of the Relationship between Organizational Capabilities and Absorptive Capacity in US State Information Systems. In the European Conference on Information Systems Completed Research Papers, Munster, Germany.
Liu, Y. (2019). Intra-platform Competition: The Role of Strategic and Operational Evolution in App Success. In the 18th Wuhan International Conference on E-business (WHICEB2019) Special Address, Wuhan, Hubei, China.