MIS Department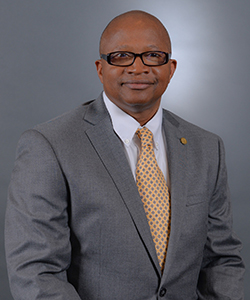 Contact
(210) 805-2538
Office: AGO 107 | Agnese Sosa Building
Research Foci
Information Privacy
Information Security
Operational Risk
Hobbies and Interests
Ph.D. Organizational Leadership | University of the Incarnate Word
M.S. Technology Systems Management | University of Maryland
B.S. Information Systems Management | University of Maryland
2013 – Present | University of the Incarnate Word 
2011 – 2012 | Bank of America, Sr. Business Control Specialist, AVP 
2005 – 2010 | Wells Fargo Corp, Operational Risk Consultant, AVP 
1982 – 2005 | United States Air Force
Intro to Info Systems
Info Systems Applications
Electronic Business Arch and Design
2016 | Fulbright Association member, San Antonio Chapter
2016 | Decision Sciences Institute member
2014 | Information Systems Audit and Compliance (ISACA) Association Academic
2012 | Member Institute of Internal Auditors (IIA)
2011 | Member American Society for Quality (ASQ)
2010 | Six Sigma Black Belt Certificate, University of Villanova
2007 | Information Systems Audit and Compliance (ISACA) Association
Certified Information Systems Auditor (ISACA)
Washington, R. (2016) Enabling Change: Faculty and Student Perceptions of Blended Learning (Doctoral dissertation).
Kiser, I. A., and Washington, R. (2015). The Information Gap amongst the Generations and the Implications for Organizations. International journal of digital literacy and digital competence.
AnneMarie Hooge, Ronald Washington, Laura Varela, and Wanita Mercer (2014). Pilot study proposal for the development of a blended learning assessment survey tool; presented at the Dreeben School of Education Student Research Symposium, San Antonio Texas.
Washington, R. and Kasraie, N. (2014). The effects of computer-mediated communication in organizations; Presented at the Clute Institute International Academic Conference in San Antonio, Texas.
Washington, R. and Lemay Burr, P. (2013). Dissolving a digital divide: An academic case history in a community framework; presentation at the Academy of Business Research Conference in San Antonio, Texas.
Washington, R. (2012). Cultural critical pedagogy as an alternative teaching methodology in the African American community, presented at the International Conference of Cultural and Social Aspects of Research at the University of the Incarnate Word.