Marketing Department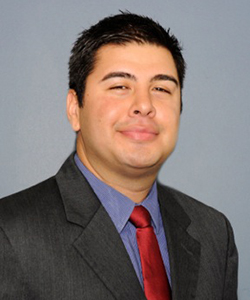 Contact
(210) 805-2537
Office: AGO 102 | Agnese Sosa Building
Research Foci
Investigating consumer responses to corporate social responsibility
Multicultural consumer issues in the marketplace
Ph.D. Marketing | University of Texas, Rio Grande Valley
Ramapo College of New Jersey (September 2014 - August 2016)
University of Texas at Brownsville (August 2013 - May 2014)
University of Texas-Pan American (Jan 2012 - July 2013)
Principles of Marketing
Marketing Research
Consumer Behavior
International Business
Sales Management
Marketing Strategy
Integrated Marketing Communications
Music Marketing
New Product Development
International Marketing
American Marketing Association
Academy of Marketing Science (2009 - Present)
Beta Gamma Sigma (2014 - Present)
Society for Marketing Advances (2009 - Present)
Ph.D. Project (2009 - Present)
Zolfagharian, M., Saldivar, R., & Williams, J. D. (2019). 'Owned By' and 'Made In': Cognitive and Affective Dimensions of Country of Origin Effect in Immigrant Markets, International Marketing Review,47(1), 29-55.
Oyedele, A., Saldivar, R., Hernandez, M. D., & Goenner, E. (2018). Modeling Satisfaction and Repurchase Intention of Mobile Smart Wristbands: The Role of Social Mindfulness and Perceived Value, Young Consumers, 19(3), 237-250.
Zolfagharian, M., Saldivar, R., and Braun, J. (2017). Country of Origin and Ethnocentrism in the Context of Lateral, Upward and Downward Migration, International Marketing Review, 34(2), 330-352.
Zolfagharian, M., Saldivar, R., and Sun, Q. (2014). Ethnocentrism and country of origin effects among immigrant consumers, Journal of Consumer Marketing, 31(1), 68-84.
Flores, J., Baruca, A., and Saldivar, R. (2014). Is neuromarketing ethical? Consumers say yes. Consumer say no. Journal of Legal, Ethical, and Regulatory Issues, 17(2), 79-93.