Nürşen Albayrak Zanca, Ph.D.
Economics Department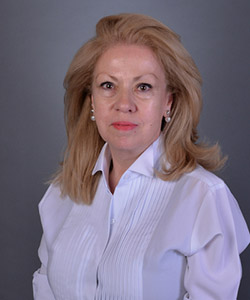 Contact
(210) 829-3178
Office: GB 226 | Gorman Building
Research Foci
Economic development
Economics and peace
Meta-analysis
Economic literacy
Hobbies and Interests
Volunteering for animal rescues
Ph.D. Economics | Leicester University, England
Principles of Macroeconomics
Principles of Microeconomics
Managerial Economics
Econometrics
Economic Development
Analyzing Economic Data
Math for Economists
Quantitative Business Methods
Forum for Economists International (2016)
Economists for Peace and Security (2014)
Missouri Valley of Economic Association (MVEA) (2014)
Rotary International (2014)
American Educational Research Association (AERA) (2011)
The Humane Society of United States (HSUS) (2011)
The National Anti-Vivisection Society (NAVS) (2011)
Zanca, N. A. (2016-17). "Peace Through Commerce and Peace Through Education" (under review) Palestine-Israel Journal of Politics, Economics and Culture.
Zanca, N. A. (2016-17). "The Economic Value of Peace to the World: An Economist's Perspective" (under review) The Exchange.
Zanca, N. A. (2017). "Time as an Economic Resource: Scarce and Unequal" Paper Presentation at the 28th Economics Teaching Conference at Robert Morris University, February 2017.
Zanca, N. A. (2016). "Putting Peace into UG Economics Curriculum" Journal of Business and Economics ISSN 2155-7950, Fall 2016.
Zanca, N. A. (2015). "Lecture vs. Experiments in Economics Learning: A META Analysis from Journal of Economic Education (1969 to 2015)" Financial Education Association (FEA), 16th Annual Conference, Received Best Paper Award.
Piazolo, M. and Zanca, N. A. (2011). "Medical Tourism-A Case Study for the USA and India, Germany and Hungary" Journal of Applied Sciences, Volume 8, Issue Number 1.