Phillip Rangel, B.A. Criminal Justice '17, M.S. ODL '18, Current Ph.D. student in Organizational Leadership
Why did you choose UIW?
The university was suggested by my wife, Sharon Landes-Rangel. She convinced me to visit UIW when I was researching universities to attend and to utilize my VA Education benefits. She had a good experience while she was helping our son on his college search and recalled the hospitality the university exhibited on their visits. If my family was welcomed at UIW, then it was a good place for me.
What is your favorite UIW memory?
There are several favorite memories from my UIW experience. However, the memory that stood out the most is knowing my son, Landes Rangel, was following right behind me in the same degree plan, having the same professors who had already taught me, and those same professors recognizing that he was my son. If I were to name the one moment, it would be the two of us participating in the same ring ceremony and celebrating the awesome achievement as a family. His mom was proud!
Has a UIW faculty member inspired you?
Dr. Doshie Piper! I served 28 years in the United States Air Force, and after serving such a long time and being newly retired, I began to search for like-minded people. Dr. Piper, besides being one of my professors, was also my Academic Advisor. She epitomized the same characteristics of the same service members that I had served with over my military career, which were integrity, service before self, and excellence in everything she put her hands on. She was inspirational not only because she taught her classes with personal experience and humor, but because she is an African American female who was successful at a young age. In-turn, she positively affected my motivation as an older retired military veteran sitting in a classroom full of millennials that think nothing like I did—inspiring me to achieve her level of academic success. Thank you, Dr. Piper!
If you had to describe UIW as a person, what would you say about him or her?
I feel it is important to be a well-rounded individual. A person that can engage in conversation at any level whether it be with the first-year college student or entry-level employee, up to the president of the university. Any people attached to the university should emulate this profile. He or she would be of high integrity, honesty, empathy, loyalty, forgiving, understanding and open to others' ideas and a little common sense.
How did UIW help you realize your academic/professional dreams?
UIW was the vehicle for my academic dreams with the smaller classes and welcoming environment, but it was my wife that was the motivation to pursue them. If it was not for her pushing me everyday and her continuing up to now, I would have never thought of pursuing my undergraduate and graduate degrees, much less my doctorate degree.
What advice do you have to offer college students hoping to have successful careers?
The number one piece of advice is to find your niche and do not worry what your family and friends think. However, you should be dependable, loyal to your assignments, and have a personal code of ethics that can guide you in the difficult situations. Remember, do not make your work a job—make it a passion!
Why should other alumni donate?
When we give back, we help future and current students.
Anything else you want to share with us?
Being a two-time graduate of UIW, I see myself as an ambassador of the University to include family members such as spouses, children and grandparents. We are all representatives and stakeholders, and play an important role to the growth, sustainability and success of The University of the Incarnate Word. "WORD!"
Student and Alumni Spotlight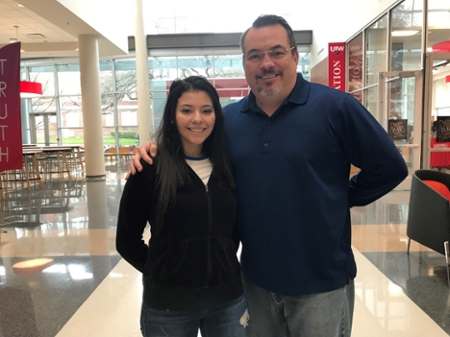 Eddie Davila B.S.N. '04, M.B.A. '14
Eddie Davila and his daughter, Isabella, visited the Student Engagement Center (SEC) to take a tour and have lunch. Isabella is a freshman at Harlan High School (Go Hawks!) and already thinking about how she can attend UIW to get her bachelor's in Nursing. Eddie shared that he has been pledging consistently for five years straight during our fall and spring Phonathon fundraisers and never turned his pledge into a donation. This year, he chose to give. It's never too late to give your gift to UIW. Your gift supports the dreams of current and future students like Isabella. Eddie's dream is to come back and get his Ph.D. from UIW. We look forward to the day when we can call him Dr. Davila! Thank you to Eddie and the Davila family for your generosity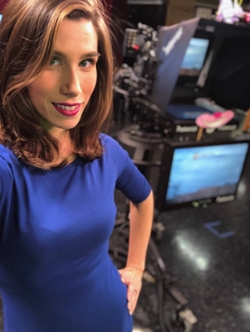 Janice Davila, Meteorology Major
Why did you choose UIW? 
I chose UIW because it's the only university in Texas that offers a broadcast meteorology program. I love the one-on-one learning with professors and am honored to be part of a program with such phenomenal reviews.
Do you have a favorite UIW memory? 
The one that stands out happened this past Spring 2019 when a cold front moved into our area—bringing wind gusts and some rain, along with some dark ominous clouds. After reviewing the radar system on the 3rd floor of the Bonilla building, I went downstairs to take some photos for social media only to find my Meteorology professor, Dr. Mulvey, outside doing the same thing.
Has a faculty member inspired you? 
There are many professors that will cross your path at UIW and most will not just teach you a class subject but will help show you the type of person you are. Because of that, this answer is not as simple as naming one person. I have met so many amazing faculty members/professors and learned many things about myself.
If you had to describe UIW as a person, what would you say about him or her? 
If UIW were a person, I would describe him/her as a college student. UIW would be the student who would help you study, stay after class, Facetime with you when you need help, pray when you need the spiritual guidance and help volunteer with you.
How is UIW helping you realize your dream? 
UIW has been helping me achieve dreams of cosmic proportions. Ever since I was in third grade, I wanted to pursue a career with the weather, but it wasn't in my future until years after high school. I never even thought I would go to college, let alone try and achieve a bachelor's degree. Even if things ended tomorrow, I would be eternally grateful for the opportunity I've been given by UIW to gain and study the prodigious amount of knowledge in the Atmospheric Science Department.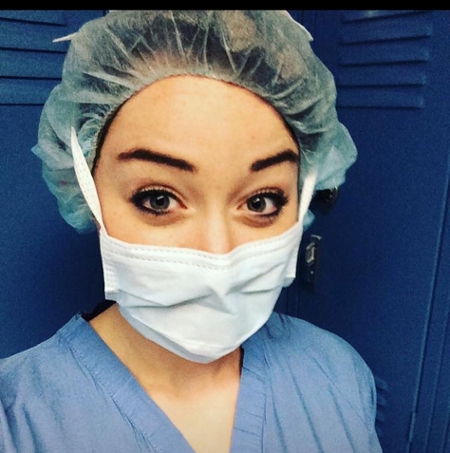 Aimee Oates B.S.N. '19
Why did you choose UIW? 
I transferred to UIW. I spent my freshman year at a different school and felt like I was a number on a conveyor belt of degrees. My mother graduated from UIW about 33 years ago. Growing up, I had always heard her talk about the campus, the hard-working nursing students there, and the many friends she made. When I made up my mind to change schools, she gave me a tour of the campus. I fell in love instantly with the charming red buildings, the friendly students and the small community. Here at UIW, I am more than just a number. My success and growth as an individual is important to this school. I love praying with my professors before tests. I love that I can talk to them about anything. This is more than a school. It's a family.
If you had to describe UIW as a person, what would you say about him or her? 
UIW is inclusive, hard-working, assiduous and humble. It never forgets its roots, but always strives to excel in all things, be it academic, athletic, religious or simply hobby-related. It's the jack-of-all-trades that manages to make friends in every circle at school.
How is UIW helping you realize your dream? 
My dream is to leave an impact on this world with my work. I plan to become a critical care nurse after graduation and pursue my master's degree in nursing shortly thereafter. UIW is creating the foundation necessary to even begin pursuing this dream. This school is not merely giving me the knowledge and skills to treat patients but is teaching me to comfort the broken and heal the sick. UIW nurses are known around San Antonio for being knowledgeable, professional, hardworking and most importantly, kind. We are known for seeing the value in treating patients with more than just medicine, but with hope and care.
Why should someone donate? 
Without donations to UIW, my dream would not be attainable. My scholarships are made possible by generous donors. Without them I would be worried and stressed about paying off mountains and mountains of debt. Perhaps I would not have even been able to make it this far. It is because of giving donors that I am nearing my graduation day and can comfort, care for and even save the lives of many patients. The donors themselves have directly enabled me to accomplish this. Your donation can create a future teacher that will touch young minds everywhere. It can develop an artist whose work will be world-renowned. It can educate the next president of the United States. These may sound like outlandish claims, but I speak from experience. The donations that funded scholarships I received helped me grow into a nurse that can save your life one day. Is that not something worth investing in?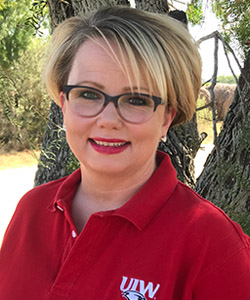 Jennifer Stuart, Dreeben School of Education
Why did you choose UIW?
I chose UIW for my bachelor's degree because of the flexibility and online learning options. Being a single mother working full time, flexibility was important to me. For my graduate degrees, both master's and doctoral, I chose UIW because I fell in love with the contagious passion of the faculty and staff at the Dreeben School of Education.
What is your favorite UIW memory?
My favorite memory attending UIW is bringing my daughter to volunteer checking light bulbs for Light the Way. It is a perfect time of the year to get you in the Christmas spirit, and to show my daughter my passion for the school in a way she could experience with me. Since then, every year when we attend Light the Way, she brings up the time we checked the light bulbs.
Another favorite memory is going on a hike at the Headwaters on campus. Having that serene environment in the middle of the hustle and bustle of a major highway is breathtaking. The rich history of that property is something that should be celebrated. It is, and always will be, one of my favorite things to do on the campus when life catches up to you and becomes chaotic. When life caught up with me, I remind myself that there is a release of calmness in a natural environment that is right around the corner.
Has a UIW faculty member inspired you?
Yes, there are many faculty members that have influenced and inspired my academic career at the Dreeben School of Education. I know Dr. Anne David personally, and as a faculty member. Dr. David would always give me inspirational sayings to get through certain tough times of the year. To this day, I keep in mind one of her sayings, "Research is never done, it is just due." After she explained this to me, my world became much simpler to deal with the day-to-day life as an adult in graduate studies.
Another faculty member, Dr. Norman St. Clair, would be the most inspirational person in my academic career. I had Dr. St. Clair in my master's program and have the honor of having him for courses in the doctoral program. Dr. St. Clair is one of those professors who truly understand the meaning of facilitation. His method of andragogy gives you the power and pride of succeeding at your readiness and a desire to push more. Dr. St. Clair can see student's individual strengths and builds off them for you to succeed in a way that is pertinent to your individual success. I can clearly state that I would not have enrolled in the doctoral program if it had not been Dr. St. Clair and his clear, concise and realistic point of view in learning. I often tell my work colleagues and fellow students, "I want to be just like Dr. St. Clair when I grow up!" It is an honor and a pleasure to have a wise and respected faculty member that can connect to his students in a way that is life-changing for them.
If you had to describe UIW as a person, what would you say about him or her?
If UIW were a person, I would say he or she is rich in spiritual belief, and in community and in empowerment. UIW pushes you beyond your own expectations to not only succeed but to thrive in a growing community with passion, grace, and excellence.
How is UIW helping you realize your academic/professional dreams?
UIW has helped me become aware of my community and the need for helping others. Being in the early childhood profession, I have a passion for this field of education and have a desire for something big.  Early childhood typically is thought of as "lesser" in the education field or just "babysitting." I am driven to change that way of thinking towards education and push for an emphasis in the community on early childhood and the importance of young children that can ultimately change our outcomes of future generations in communities. Although, I am unaware of what my doctoral degree will open for me in my professional dreams, I know that UIW has instilled in me to always push myself for improvement and not be afraid of taking chances for growth and improvement and for the betterment and facilitation of others.