Welcome to the University of the Incarnate Word's Annual Report.
2018-2019 year was a year of transformational growth, important advancements and milestone celebrations.

We will care for every student and their families while working toward graduating them with the lowest possible debt; securing a career that lifts their lives and their communities; and empowering them to reach their fullest potential through God's love and grace. Additionally, we will commit to facilitate and support the work of the faculty and staff.

Vision Statement
University of the Incarnate Word
Strategic Planning
A UNIVERSITY WORKING TOGETHER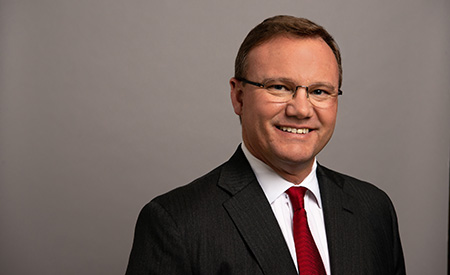 The year 2018-2019 saw transformational progress for the University of the Incarnate Word.
Strategic Planning work continued from a busy 2017- 2018 academic year. After sharing the Vision Statement and Strategic Priorities with the University earlier in the year, then-Provost Dr. Kathi Light invited members of the faculty and staff to participate in a survey seeking community insights that helped refine the University's strategic priorities and inform plans for their implementation. The results were enlightening and a confirmation of community support and participation. Eighty nine percent of respondents reported a positive reaction to the priorities. Additionally, two more priorities emerged from the responses: Strengthening our Catholic Identity and Improving Infrastructure. During August's fall faculty welcome, UIW President Dr. Thomas Evans shared those results and a timeline for work yet to be done.
Simultaneously, the University's Campus Master Planning Task Force continued to examine the most efficient and effective use of the space and its impact on the Strategic Planning efforts. This is in addition to its work on such issues as academic infrastructure, standards and policies, business services and operations, and more.
The academic year began by inviting more in the community to learn about UIW's strategic plans and the vision for the future.
In October, after a presentation to the Board of Trustees, Evans invited the community to take part in a series of five Town Halls where he shared information about enrollment, retention, fundraising, revenue and expenses, strategic priorities, and planning processes, including campus master planning, to name a few topics. During the meetings, he shared a comprehensive review of UIW's financials leading to an update of the Vision and Strategic Priorities. Hosted at UIW's San Antonio campuses, including the School of Osteopathic Medicine, the Rosenberg School of Optometry, the School of Physical Therapy, the Feik School of Pharmacy and the Broadway Campus, the meetings brought together faculty, staff and administrators. Evans also addressed student leadership through a presentation to the Student Government Association.
In December, Evans met with the Board of Trustees to present the Vision Statement and Strategic Priorities, as shared during the Town Halls, as well as an updated Campus Master Plan, as approved by the Master Campus Planning Taskforce. The Board unanimously approved each proposition. The work that informed the plans and their presentation required the dedication and efforts of so many throughout our University, and the success of those efforts was affirmed by our Trustees.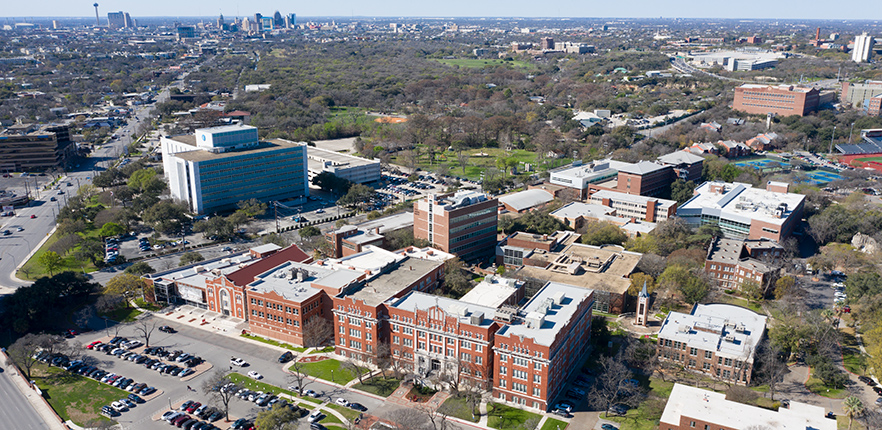 The year closed with news of one of the most significant opportunities in University history. In May, Evans shared that the University had begun the process of making a once-in-a-generation acquisition that would expand the footprint of the Broadway campus by 20 percent. Located across the street from said campus, the expansive property at 4119 Broadway includes a 10-story building with approximately 450,000 square feet of office space, a 500-car garage and a surrounding parking lot over a 10-acre plot. The acquisition was completed in September 2019.
A Global University at a Glance
The University of the Incarnate Word system is global, dynamic and complex.
6
K-12 Catholic Schools in the Brainpower Connection
5
Health Professions Schools (Pharmacy, Optometry, Osteopathic Medicine, Physical Therapy, and Nursing and Health Professions)
2
University Campuses in Mexico (Centro Universitario Incarnate Word and Campus Bajio)
1
School of Professional Studies
1
Historic Incarnate Word Campus
Inclusion. Opportunity. Outcomes.
The University of the Incarnate Word welcomes students of diverse backgrounds and faith traditions. This commitment is key to both the University's Mission and to creating a vibrant community that's reflective of the world UIW students will soon help to steer.
#1
Private University Conferring Degrees to Hispanic Students
25%
of Enrolled Students are International
20%
of Student Body are Military Service Members and Veterans
$13,000
Average Discount Provided to Students
$150M
in Financial Aid Awarded Annually
76%
First-Time in College Retention Rate
Excellence in Education
ACADEMIC ACHIEVEMENTS AND ACCOLADES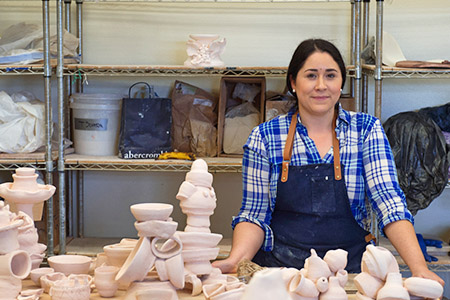 College of Humanities, Arts and Social Sciences (CHASS)
CHASS faculty received multiple awards, including the University's Moody Professor, awarded to Dr. Stephanie Boswell, (Psychology); the Presidential Teaching Award to Dr. Lopita Nath, (History); Provost Legacy Teaching Awards to Dr. David Armstrong, (English), and Dr. Brett Richardson, (Music Education/Bands). Dr. Kevin Salfen, (Music History), was elected president of the American Musicology Society, Southwest chapter and performed Phoenix Fire, an intercultural work in honor of the 2020 Tokyo Olympics. It hosted CHASS Distinguished Speaker Anthony Graves, an exonerated death row prisoner turned author and advocate. English and Theatre Arts students were invited to speak at national conferences. It also published Quirk, a literary journal.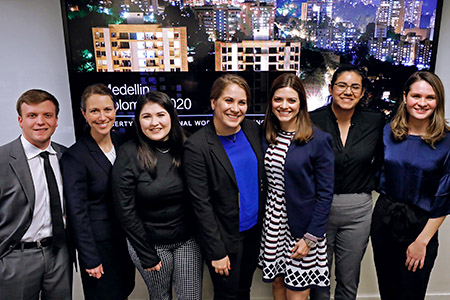 H-E-B School of Business and Administration (HEBSBA)
HEBSBA celebrated recognitions for members of its community and its efforts to shape principled professionals. HEBSBA student Victoria Presas, an accounting major, received a $15,000 scholarship from the Texas Business Hall of Fame for her start-up trailer company. Four UIW students won $10,000 in seed money for their health-conscious chocolate company through the H-E-B School of Business & Administration New Venture Challenge. The Master of Health Administration (MHA) program was named a top-pick for graduate health care administration programs for 2019-20 by HealthGrad.com. Plus, the new Information Systems Audit and Control Association (ISACA) student group formed, making them part of a network of more than 145,000 professionals.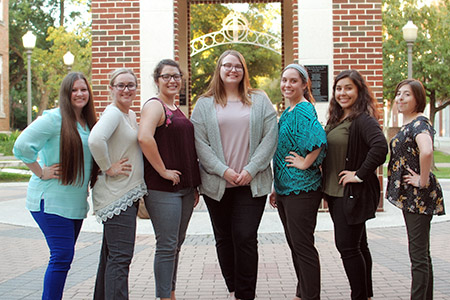 Dreeben School of Education (DSE)
DSE continued preparing the exceptional educators and education professionals of tomorrow. Its Teacher Education Program became a member of Association for Advancing Quality in Educator Preparation. The UIW Teacher Network, which supports UIW education graduates in their first three years of teaching, held a workshop that focused on trauma-sensitive classrooms. Students also reported a 97 percent pass rate for the Pedagogy and Professional Responsibilities Exam. Among many faculty accolades, Dr. Arthur Hernandez (Graduate Studies), was elected president of the Texas Association of School Psychologists. Dr. Danielle Alsandor (Graduate Studies), received the 2018 Faculty Member of the Year Award from the Texas Association of Colleges and University Student Personal Administrators.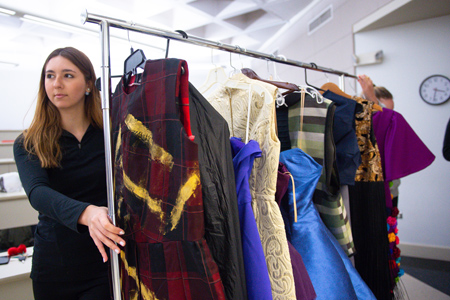 School of Media and Design (SMD)
SMD faculty and students continued their professional development. Dr. Trey Guinn (Communications Arts) serves on the Fulbright Association's national board of directors. Teresa Treviño (Graphic Design) presented at the XIV Latin American Design Meeting. Matt Tovar (Animation and Game Design) contributed to Crystal Dynamics Studios' Avengers game. Dr. Adam Nash (Interior Design) was named a 2019 American Society of Interior Designers One to Watch. Jim Collins (Computer Information Systems and Cyber Security Systems), established a grant scholarship for students pursuing careers in intelligence services. Advanced fashion design students worked with The Children's Rehabilitation Institute Telethon to create accessible garments for special-needs children.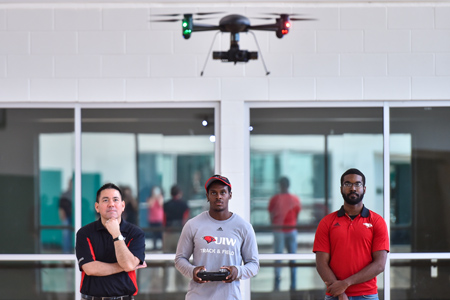 School of Mathematics, Science and Engineering (SMSE)
SMSE students continued their practical and scholarly experience work. The Chemistry Scholars Program, funded by a $1 million National Science Foundation grant, completed its first year. Five students were awarded summer research appointments across the country. The Autonomous Vehicle System Laboratory Student Drone Team under the direction of Dr. Michael Frye (Engineering), finished the Phase I CPS Energy UAS Program, which explores the use of drones in power line inspections. Twenty-nine undergraduate students participated in research experiences under the direction of Biology faculty. Two Environmental Science students are in the development phase of a research project to map the Urban Heat Island in San Antonio.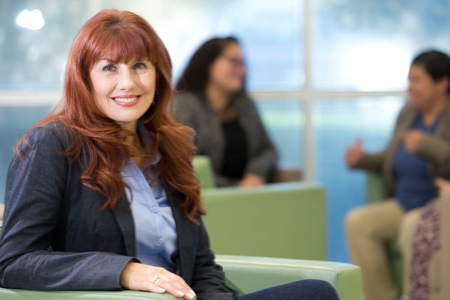 School of Professional Studies (SPS)
Designed to support adult learners complete their degrees and advance their education, SPS was recognized many times by many different organizations throughout the year. Among its accolades include: Best Online Bachelor's Project Management Degrees and Most Affordable Online Bachelor's Project Management Degrees by SR Education Group; Best Colleges; and Top Colleges & Universities, Military Advanced Education & Transition, Best for Vets, by the Military Times (No. 27). U.S. News and World Report also named the school among its lists of Best Online Bachelor's Programs, (No. 49), Best Online Bachelor's Programs for Veterans (No. 32) and Best Colleges for Veterans, (No. 22).
Health Professions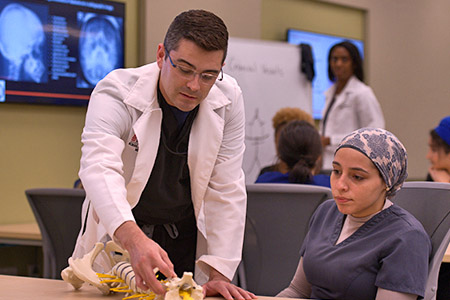 School of Osteopathic Medicine (UIWSOM)
UIWSOM faculty and students, led by Dr. Hans Bruntmyer, are developing Mobile Osteopathic Medicine outreach projects for the underserved with partners Southside ISD, St. Luke's, Catholic Relief Services, SAMM, UIWSOM Street Medicine and others. UIWSOM was awarded a $400,000 Hogg Foundation grant for researching social determinants in the areas of mental health, diabetes and amputation prevention. It also forms a critical part of the Corner Store Project, which makes more fresh produce available to people in food deserts.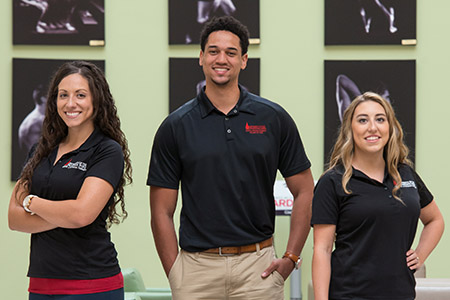 School of Physical Therapy (SOPT)
In 2018, SOPT's first time pass rate was slightly higher than the national average on the on National Physical Therapy Examination (NPTE) with 98 percent passing. Among the Class of 2019, 10 students qualified to take the NPTE early and all 10 were successful. SOPT stressed interprofessional learning and launched a course with students of FSOP. It also began an interprofessional poverty simulation, where students discuss the impact of poverty and the social determinants of health on the interprofessional care plan for a patient.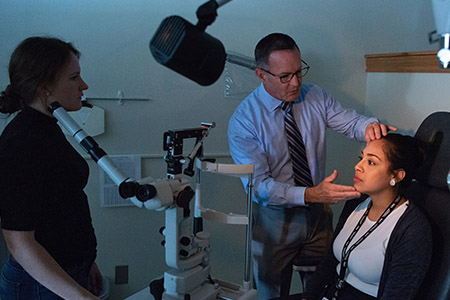 Rosenberg School of Optometry (RSO)
RSO has a higher percentage of Student Fellows in the American Academy of Optometry than any other optometry school in the world. A 2018 graduate won the 2018 Alcon Case Report Award from among graduates from every U.S. optometry program. Two other students claimed the top prize and a $15,000 scholarship in a national competition sponsored by Walmart/ Sam's Club. RSO hosted the National Optometric Association and the Association of Contact Lens Educators' annual meetings. It also published the Journal of Optometric Clinical Practice.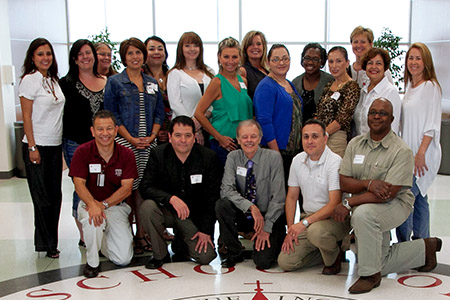 School of Nursing and Health Professions (SNHP)
The School of Nursing was ranked No. 9 in Texas in the Top Ten List of Bachelor's Degrees by RegisteredNursing. org. NCLEX-RN, Family Nurse Practitioner and Psychiatric Mental Health Nurse Practitioner first-time exam rates remain at 100 percent. One hundred percent of students taking the Kinesiology Teacher Certification passed on their first attempt. Sport Management conducted its first Women in Sport Management Mentoring Symposium. The nursing program was awarded a four-year, $2.6 million HRSA grant to increase RN presence in ambulatory/ primary care.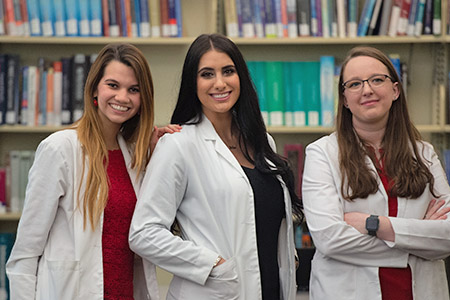 Feik School of Pharmacy (FSP)
FSOP's Class of 2018 ranked 3rd in Texas in the North American Pharmacist Licensure Exam (NAPLEX), one of the final required components in a pharmacist's licensure process. In addition, nearly 97 percent of UIW students taking the test for the first time passed, surpassing the national average of 89 percent and putting FSOP in the top 17 percent of schools in the nation. FSOP graduated the highest percentage of Hispanic pharmacists in the continental U.S. in 2014, 2015 and 2018. It is the only pharmacy program in Texas at a faith-based institution and consistently ranks among the top three programs in the nation to graduate Hispanic pharmacists.
Economic Impact
$559,131,065 TOTAL IN DIRECT AND INDIRECT SPENDING
$38M+
University Spending
$24M+
Capital Expenditures
Advancing the Mission
Every gift helps UIW share its mission with more students each year and provide them with an education that will transform their lives.
$3.9M
Total in new pledges, an 89% increase from fiscal year 2017-18
$6.7M
Total of cash and in-kind gifts, a 27% increase from fiscal year 2017-18
$10.6M
Grand total, a 44% increase from fiscal year 2017-2018
Foundation, Corporate and Government Grants
$3,574,951
Some of the scholarships and programs made possible through benefactors and grants include:
Betty Stieren Kelso Endowed Scholarship for the Fine Arts
Hearst Foundations Surgical Suite
Healthy Corner Store Initiative
Health ProfessionsScholarships
Defense Intelligence Agency Critical Technologies Studies Program
miniGems and megaGems STEAM Camp
Graduate Medical Education and Residencies
Standard and Spanish Pharmacy Scholarships
Cardinal Wellness Care for Mature Women
Stewarding Philanthropy
Giving starts with us. Employees, students and even social media fans of UIW gave from their hearts this year through a number of initiatives designed to gather support for our students.
Student Philanthropy
Students know the value of supporting their peers as they pursue their academic dreams. The UIW Philanthropy Ambassadors, an undergraduate student-organization, strive to engage their fellow students in philanthropy and show them the difference that their gifts can make on their campus. The group awarded five scholarships in 2019-2020.
Day of Giving
Giving to UIW is as easy as a few clicks. For the first time ever, UIW participated in a digital day of giving called One Word. One Goal. Social media followers and fans, were quick to like and share. Thanks to our donors' support, the inaugural day of giving exceeded all expectations and brought in gifts from 381 donors, 131 over the goal.
131
Over the Goal of Individual Donors
Download the Report
View and download current and past annual reports.