| Osteopathic Medicine
Doctor of Osteopathic Medicine and Master of Biomedical Sciences
By the Numbers
1 of 35
Schools of Osteopathic Medicine in the U.S.
34%
Student population are underrepresented minority students
$44K
Average aid awarded per student
Continue the UIW Mission of providing education and improved health to the underserved across South Texas by meeting the need for primary care physicians.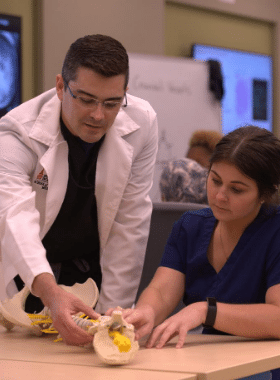 The University of the Incarnate Word School of Osteopathic Medicine (UIWSOM) is located at Brooks, a historic district being redeveloped into a thriving educational and economic area in San Antonio, Texas. With a 33% under-represented minority (URM) population, UIWSOM has one of the most diverse student bodies of any medical school in the country.
Doctor of Osteopathic Medicine (DO)
Our transformation from a medical student to a fully-reflective Doctor of Osteopathic Medicine begins with our unique curriculum.
stresses independent study and self-directed learning
teaches and integrates biomedical sciences as they would be applied in clinical settings
provides early exposure to experiential learning and patient contact
fosters professional identity formation
emphasizes the interpersonal skills required of successful healthcare teams
awakens in you a sense of social accountability and cultural awareness
Master of Biomedical Sciences (MBS)
Pursue a broad graduate degree (science, research, bioethics and medical humanities) and benefit from distinguished clinical faculty and state-of-the-art facilities. UIWSOM offers an innovative one-year master's program designed to enhance the scientific knowledge of graduates who desire to pursue a professional degree in the biomedical sciences or in healthcare. The MBS program includes a rigorous curriculum that integrates science, research, bioethics and medical humanities, culminating into a final capstone project.
Doctor of Osteopathic Medicine
We are one of 34 American Association of Colleges of Osteopathic Medicine (AACOM) institutions in the United States. Combined, we educate more than 30,000 future physicians — 25% of all U.S. medical students.
With over 100,000 practicing DOs in the US currently, the US healthcare system stands to benefit from the care and treatment by DOs who embody the osteopathic philosophy.
It is estimated that there will be a shortage of 35K primary care physicians by 2025.
Texas ranks 47th out of 50 states for number of primary care physicians for the population. 


(Source: Association of American Medical Colleges) 

Because of our whole-person approach to medicine, 56% of all DOs choose to practice in the primary care disciplines of family practice, general internal medicine and pediatrics. 
Doctors of Osteopathic Medicine (DOs) are fully licensed physicians who apply their distinct philosophy to patient care in every medical specialty. They are taught early on that optimal health is a dynamic interaction between the mind, body, and spirit. From this philosophy, osteopathic physicians naturally focus on understanding the person they are treating rather than only the presenting symptoms. The goal of the osteopathic physician is to enhance the body's natural self-healing processes. This holistic approach is the heart of osteopathic medicine and is done with empathy and compassion whether hands on osteopathic manipulative treatment is used or modalities such as pharmaceuticals or surgery.
Request Info Today
Contact our Recruitment Coordinator if you would like to learn more about UIWSOM or if you have questions.

The doctor-patient relationship is a unique and precious one. I want to be a doctor who does not take that for granted.

Allison Ogle
UIWSOM Class of 2021